Posted on April 9, 2018
6 Ways to Boost Profits at Your Medical Practice + Free Website Analysis!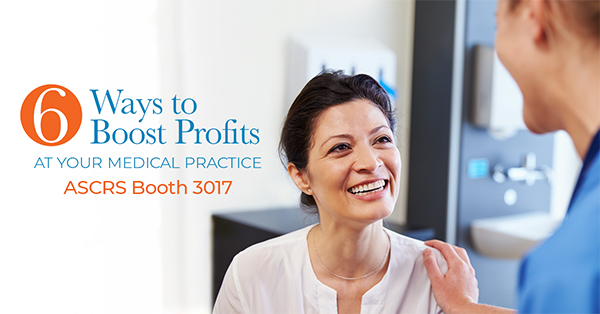 An effective medical marketing strategy can drive new traffic to your website, increase patient count and skyrocket your practice to the top of search results. Best of all, when done right, a complete marketing strategy can boost profits for your practice.
But where do you even start? Internet marketing is constantly evolving, and most doctors and medical staff struggle to find time to plan complex campaigns. Keep reading to learn how six essential pieces of a medical marketing strategy can impact your bottom line.
Attending ASCRS 2018 in Washington, D.C.?
Register for your FREE website analysis or visit booth #3017
1. CHOOSE THE BEST WEB HOSTING PROVIDER FOR YOUR PRACTICE
The best medical web hosting solution will ensure your website is secure, easy to access and blazing fast.
Reliable web hosting is fundamental for your practice revenue and growth. Not only is your website the most likely place for someone to find your practice, having your site online and accessible at all times is vital in order to maintain SEO rankings, run advertising, and collect patient information.
Website security is also of growing importance in the medical industry, and reliable web hosting is at the root of site security. With search engines and all major browsers requiring SSL's for websites by the middle of 2018, having a hosting company who is dedicated and knowledgeable of web security best practices helps keep your website at the top of people's searches.
Website accounts are set up in under 10 minutes when hosted through Glacial. Join 200+ medical clients and host your site with us.
2. INVEST IN RESPONSIVE WEBSITE DESIGN
The goal of responsive web design is to create a website that looks good on every device, not just your desktop computer. If your website isn't easily accessible from a phone or tablet, you're losing potential customers.
Web traffic from mobile devices is rapidly on the rise, in many cases exceeding traffic from other devices. If your leads can't fill out a form on their phone to contact you, or schedule a consultation via their tablet, it's a huge missed opportunity for your practice.
Medical website design is also not the same as designing for businesses in other industries. At Glacial, we use our 20+ years of medical design experience to create websites with special emphasis on medical contact forms, custom content about your services, overall site structure and more.
Not sure if your website is responsive? Register for our FREE website analysis.
3. MAKE SURE YOUR WEBSITE IS HIPAA COMPLIANT
Failure to comply with HIPAA requirements can result in up to $50,000 in fines for each violation, plus jail time.
Any time protected health information is stored or transmitted through a website, technical security must be a top priority. Potential patients are also more likely to trust you if your website is HIPAA compliant, which can help eliminate barriers to filling out lead generation forms.
At Glacial, HIPAA compliance is a crucial part of our business model. All client websites are extensively vetted during the design process to ensure HIPAA criteria is met. All Glacial employees are also HIPAA certified.
4. PRIORITIZE LOCAL AND ORGANIC SEARCH ENGINE OPTIMIZATION (SEO)
A solid SEO strategy can rocket your practice to the top of Google search results. Search engine visibility is key to helping potential patients find your practice so they can quickly learn more about your services and schedule an appointment.
In this era of mobile technology and on-the-go information, it's more important than ever to ensure that your practice stands out from the competition when potential patients are looking for a medical provider. Here at Glacial Multimedia, we've turned the science of search engine optimization into an art — we are the industry leaders in promoting medical practices through both on-page and off-page website optimization.
We recommend that your site contains a wealth of information on your primary product or service offering. Google prioritizes authoritative yet conversational (e.g. "easy to read") content over content that is overly technical. We also recommend maintaining a solid online presence through regular social engagement and community outreach. This extends to fostering link exchanges with other businesses and practices whenever possible.
Google also continues to add extensive interactive features to Google My Business (GMB), a free and easy-to-use tool to help organizations manage their Google presence through local search. Google My Business allows users to ask you or your local community a question about your practice, write a review or contact you directly from your Google profile.
Whether your patients are searching for you on Google or Google Maps, these features make it easy to discover your practice and learn more about your services. Our local search strategies also help optimize your business profile for other online business directories such as Yelp, Superpages, Foursquare, Yellowbook, and Bing Places for Business page.
Find out how your website performs in search engines like Google, Yahoo and Bing. Sign up for a free SEO audit to learn more.
5. DEVELOP A SEARCH ENGINE MARKETING STRATEGY (PAY-PER-CLICK)
If you want to instantly appear at the top of search engine results and start generating leads, or simply want to build awareness of your practice, pay-per-click (PPC) advertising is where you want to be.
Search Ad Campaigns within Google AdWords allow you to show up at the top of page one by bidding on keywords you care about — keywords that generate new business — LASIK Eye Surgery, LASIK Surgeon Near Me, Best LASIK (city) and the like. AdWords Search Campaigns are among our best lead generators and result in a great deal of actionable data to build upon in the future.
Branding Campaigns work best when run with Search Campaigns, but we utilize a different strategy. Instead of targeting individuals actively searching for your keywords, we target individuals based on their demographics and interests as they browse the web, including Facebook and Instagram. These campaigns are designed to engage people who may be unaware of your practice or product, but are ready to learn more.
Pay-per-click campaigns can be a powerhouse that will make rival practices envious. The end result? You bring in lots of new patients, especially when combined with a lead generating landing page.
Need a custom pay-per-click strategy and landing page for your next Adwords campaign? Request a quote to learn more.
6. EDUCATE PROSPECTS WITH CUSTOM CONTENT MARKETING
Show your expertise and authority within the medical industry by publishing original content such as blogs, whitepapers, eBooks and infographics.
Establishing a brand identity is essential to every successful medical marketing strategy. A strong brand differentiates you from your competitors and can establish you as the authority in your area. Sharing original content on social media marketing platforms like Facebook, Instagram and Pinterest will help you build your brand and gain valuable insights about potential patients.
Content marketing provides you with an opportunity to loosen your cuffs and connect with your prospective patient base on a more personal and social level. This increases brand loyalty and creates a more friendly and relatable experience for your patients. Don't let your brand be seen as one that is concerned with profits first — let your patients know that they are your number one priority and you welcome them with open arms.
Developing a strong, comprehensive internet marketing strategy for your practice requires a credible partner. Glacial Multimedia has what it takes to take your medical practice to the next level. We're a full-service medical marketing agency with 400+ clients from specialties like LASIK and ophthalmology, bariatrics, aesthetics, orthopedics, dental and dermatology. We can't wait to work with you!
Attending ASCRS 2018 in Washington, D.C.?
Register for your FREE website analysis or visit booth #3017
---