Posted on May 14, 2015
Medical Website Design Experts Glacial Multimedia Win (IMA) Interactive Media Awards Best in Class Healthcare Website Award!
We are deeply grateful to announce that Glacial Multimedia has been awarded the 2015 Interactive Media Awards "Best in Class" Healthcare Website Award! The website selected was the Southwestern Eye Center website project, which is a progressive ophthalmology practice with locations in Arizona and New Mexico. The (IMA) Interactive Media Awards organization recognizes the highest standards of excellence in medical website design and development. The award honors individuals and organizations for their outstanding achievement.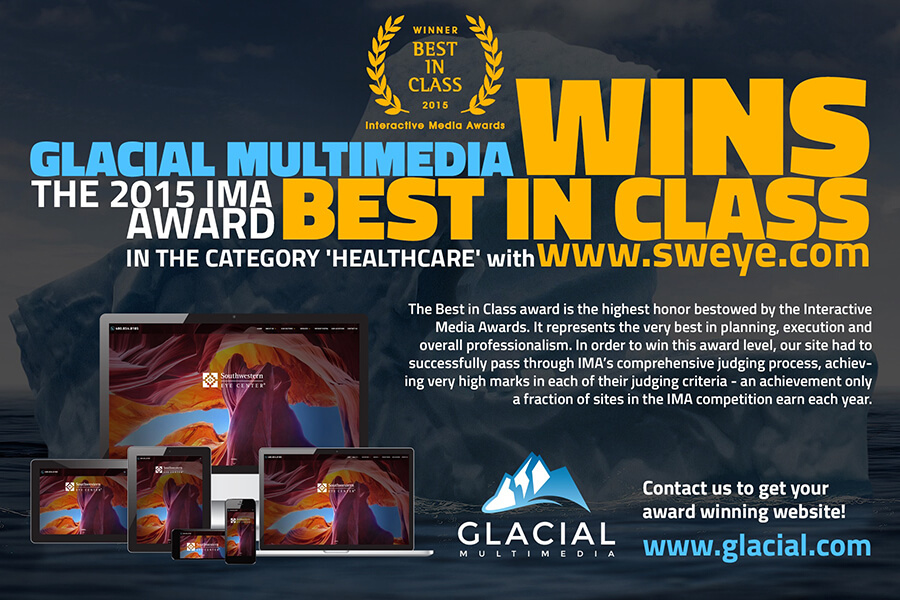 The IMC council is a non-profit collective organization consisting of major media companies, advertising agencies, lead web developers, programmers, and web industry professionals. The IMC competition is designed to elevate the standards of excellence in website design. The Interactive Media Awards judges from range from companies including Forrester Research, Huffington Post, OgilvyOne, Microsoft Corporation, and MIT Technology Review. IMC members come from all over the world, united by a common purpose: to improve the quality, usefulness and accessibility of the Internet for all people.
Visit www.sweye.com to experience it for yourself.
Glacial Multimedia is very proud to enjoy ongoing success. After more than fifteen years of medical website design work, we remain dedicated to creating innovative designs that improve the patient experience, in both style and functionality. Glacial Multimedia Inc. started in the year 2000 and was founded by Michael Dobkowski, (Business Director), Maxim Havlicek (Art Director) and Onur Birsen (CTO). Originally located in Chicago, Illinois the group relocated to Portland, Maine and then created another office in Istanbul, Turkey. The main focus of the company has been with medical website design, specifically in the field of Ophthalmology. The company has been regular exhibitors at various ophthalmology meetings including ASCRS (American Society of Cataract & Refractive Surgery as well as American Academy of Ophthalmology since 2001.
Working on the Southwestern Eye Center was a major endeavor due to the sheer size of practice, the amount of procedures performed and the number of locations. The practice had a very defined focus led by Melissa Pipkin and Shane Armstrong, a clean and minimal design with a user friendly interface was their goal. Many practices try include so much content into a website and it ends up being busy to a fault. Shane and Melissa in conjunction with Maxim Havlicek were disciplined enough to not let this happen. The website is also responsive in nature meaning that it adapts the site to the device that calls the site.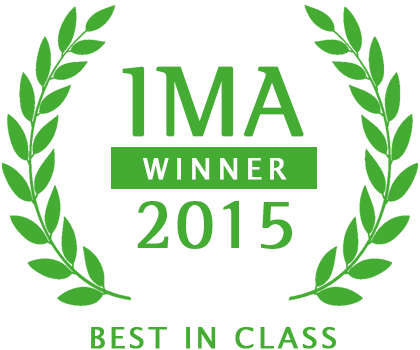 The principle of responsive web design and development ensures a website can be viewed from any device, with any size screen, with an experience that gracefully moves from step-down to step-up. It's about respecting the fact that users want to consume website experiences on their 4-inch mobile smartphone screen, their 7-inch mini tablet screen, their full-size 10-inch tablet device and their laptop screen.
Due to the progressive nature of responsive sites and being a medical website that included new technology features such as parallax scrolling, ajax, jquery and media feeds we had to be very careful with the browser testing. The process was long and arduous involving various practice personnel and Glacial Multimedia browser testing people.
After launch, the website gained significant notoriety and was previewed at the 2015 ASCRS meeting in San Diego. The response by ophthalmologists was remarkable and made it clear that we had developed something special. This website is a bold statement of confidence by the practice to enter into the minimal design space and not let the project be overcrowded by too much messaging.
Glacial Multimedia remains dedicated to medical website design and serving the field of Ophthalmology. "We hope to continue to bring innovative and cutting edge designs into Ophthalmology for a better overall patient experience…says Art Director, Maxim Havlicek, head designer on the project. "Our dedication to our website work speaks for itself after 15 years of designs that keeps setting the standard in this niche industry."
---