Posted on October 17, 2017
What an SSL is and Why You Need One!
UPDATED 3/14/18
FIRST, WHAT IS AN SSL?
The term SSL stands for "Secure Sockets Layer". I'm sure by now, you're now wondering what exactly that means. Essentially, an SSL creates a secure relationship between the web server (where your website files live) and the web browser (i.e. Chrome, Firefox, etc.) The SSL encrypts the data sent between your website and the browser, and vice versa. This encryption helps keep all of the website files on your site secure.
WHAT IS THE ISSUE AROUND SSL'S? (UPDATED 3/14/18)
Chrome and Firefox have launched browser updates that will flag all sites without an SSL to the user. You will receive a very large, alarming message when you try to visit a site without an SSL as shown below. Messages like this are likely to alarm anyone who may be reaching your website. The latest Chrome update, released on February 8, 2018, announced a hard deadline of July for the Chrome 68 browser update.
The update, slated for July 2018, will alert the user by displaying Not Secure messaging in the URL field as shown below.

Photo credit: A Secure Web is Here to Stay
DO YOU NEED AN SSL?
There are many situations where an SSL is required in order for a website to function properly. Online stores, secure forms, and any place that collects or sends sensitive information needs an SSL to perform properly. An SSL is required to collect patient information online in a secure, HIPAA-compliant manner.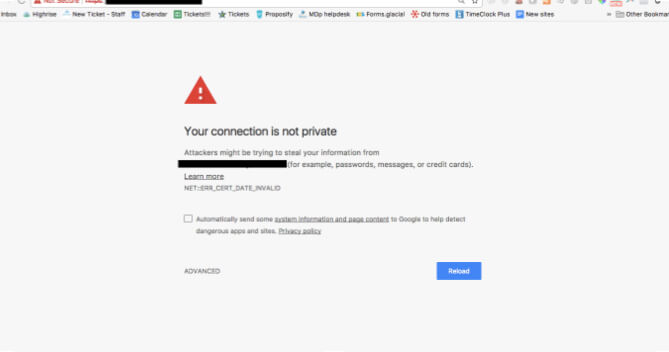 I highly recommend adding an SSL to your website domains as soon as possible. It is important to check the website to ensure you see the padlock and secure messaging.
HOW DO YOU KNOW IF YOU HAVE AN SSL?
You don't need to call your IT company to determine if you have an SSL. You can simply pull up your website and if you do not see 'https://' before your domain (www.mydomain.com) then you do not have an SSL or the SSL has been improperly installed.
HOW MUCH IS AN SSL?
SSLs are rather inexpensive, costing only $150 annually, with an intital $500 setup fee, and are an important investment when it comes to the overall health of your website.
---