Posted on August 9, 2013
Why A Strong SEO Strategy is Highly Effective for LASIK Practices
By Michael Dobkowski & Onur Birsen
Organic Search Engine Optimization (SEO) is the science of making adjustments and modifications to a website in order to make the site rank higher for particular search terms on specific search engines with the ultimate purpose of increasing traffic to the website. SEO combines programming with logic and business strategy. It is more than just placing tags and links on a website, it is actually a blend of many variables. Each search engine uses complex algorithms to analyze these variables. Why should SEO be one of the first focuses of your Internet marketing planning? Are you maximizing your SEO potential?
"Search engine optimization and Internet marketing mix continue to drive LASIK leads." Why are the top LASIK surgery practices aggressive about top SEO positions and website traffic generation?
1. SEO is a dominant generator of website traffic and subsequent leads. LASIK websites that get more traffic do more LASIK surgery. Over the course of benchmarking 150 LASIK eye surgery practices with Google analytics, the top practices for LASIK surgery volume are the same top traffic generators. A subsequent study by Rob D. Young at Search Engine Watch indicates that top SEO positions will get clicks over 18% of the time. This a pretty good CTR in our minds, especially compared with paid search marketing. This study also confirms that the second and third positions especially are getting more attention these days. The conclusion is simple – get to the first page, and as close to the top as possible.
2. TOP LASIK chains spend thousands upon thousands of dollars to maintain these top spots. Veteran LASIK marketers from LasikPlus and Joffe Medical spend large amounts on paid search and organic SEO to be at the top of the pack. Do you think they would spend thousands of dollars on search positions per month if they were not getting good returns? If you hire the right SEO Company they can exploit the weaknesses of large LASIK chains and grab the top spots. See the search graphic for LASIK Houston. The TOP paid positions reveal the TOP chains are after this position at a very high click cost of over $16.00 per click.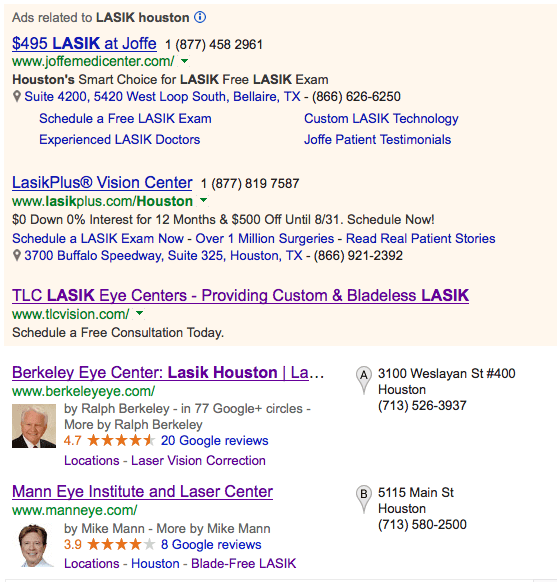 3. Organic SEO represents a natural and often un-obtrusive way with the lowest bounce rate of all Internet marketing. Compare paid search and social media traffic and you will see with absolute certainty that organic SEO visits are far more intentional and result in drastically lower bounce rates. The leads from organic SEO are among the best quality leads because they have more relevancy than other methods of Internet marketing. After a study of 150 ophthalmology practices it was concluded that bounce rates from SEO traffic are significantly lower than traffic from paid search or social media creating a better, qualified prospect. Our survey revealed the following bounce rate averages:
Data from 2013 Glacial Multimedia Google analytics traffic study of 150 practices.
Bounce rates from incoming traffic by Internet media type
SEO – 27%
Paid Search – 55%
Social Media – 81%
As you can see SEO leads are far less likely to bounce. The main reason is they conducted a very INTENTIONAL search.
4. Nielsen has made some usability studies to show the focus areas on a web page. Using this study you can get a lot of insight – both for your SEO and for your paid search marketing efforts. Take a moment below to understand the top spots that attract clicks. A sample of over 8 million clicks shows that over 94% of users clicked on a first page result and less than 6% actually clicked through to the second page and selected a result displayed there.
Nielsen, is a leading global information measurement company that provides market research, insights & data about what people watch & what people buy.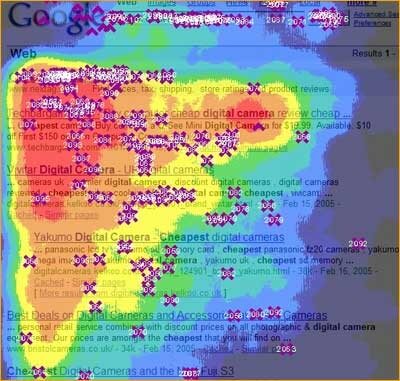 A few observations
A. It is important to be above the fold. Website visitors read from top to bottom and from left to right. Not only does your practice need to be on the first page, but you also have to above the fold to be noticed in the Google search results.
B. This heat map shows that most people are looking for the natural search results and not the paid ads. But on the other hand – we know that people click on Google AdWords. This is a complimentary marketing mix scenario.
C. Most people stop at the first page of the search results and some will go on to the second page. But after the second page – it really doesn't matter. The same pattern happens on the second page – you have to be above the fold to get noticed.
The Importance of Marketing Mix
When designing your marketing plan and patient acquisition strategy it is important to realize that although SEO is undeniably important, it is one aspect of your search marketing and that is one aspect of your traffic generation. The image below represents 3 main aspects of search marketing. All of these search modalities work and can be successful in the right circumstances.
If your LASIK practice is not using the Internet effectively, you are missing out on opportunities to gain new patients. If your brand is not adequately represented online, you can bet your competition is taking advantage. In a busy medical practice it is difficult to keep up with all of the changes in new media marketing. As a surgeon, you need to be focused on surgery, as an administrator, you are focused on various tasks to make the practice run as smoothly as possible. It can be confusing to find someone to guide you in the appropriate direction when it comes to Internet marketing.
Understanding the new SEO
It is no secret that the SEO algorithms of both Google and Bing have changed over the last 3 years. Most recently with the Google Penguin and Panda updates many websites have seen massive declines in search engine results, and in some cases, even in blacklisting. Please take a moment to review some of the new factors to look for in SEO work. SEO is no longer a strictly page-oriented game, but now a blend of on page and off page factors.
On Page VS. Off Page SEO factors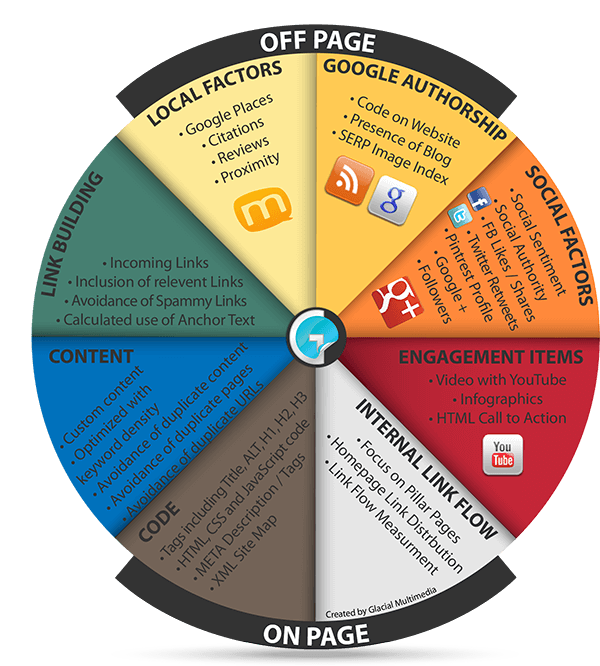 Summary
The evidence for gaining website traffic through search engine optimization is tremendous and furthermore SEO leads have the lowest level of bounce rate because these searches are very intentional. By creating a winning SEO strategy and implementing the new SEO elements, your practice can achieve top positions. With this being said, every marketing plan should acknowledge "marketing mix". Each marketplace has unique characteristics and what works in one location might not work as well in another. Over time you should be able to develop lead generation concepts and mix this with Internet marketing to develop a consistent flow of new business.
About The Authors
Onur Birsen, CPA, MBA
President & Founder
Onur Birsen's solid foundation in medical search engine optimization has enabled him to achieve a reputation of one of the best and most respected SEO people in medical marketing. After completing his undergraduate BA from Middle East Technical University in Ankara, Turkey he attended the University of New Hampshire's Whittemore School of Business. There, he completed his MDA and began a career as an IT auditor for PricewaterhouseCoopers in Boston. With a solid accounting background, he achieved a CPA (Certified Public Accountant) status for the state of Massachusetts. After years of working in corporate business, he later became a founder of several start-up companies in the Boston area specializing in hosting and e-commerce. In 1999, he completed an IT focused program at Harvard University and was awarded the Katie Yang Prize as the top International student. Upon completion of his work at Harvard, Onur joined forces with Glacial Multimedia, and established the first International liasion office for the company in Istanbul, Turkey where he now resides. Dunyagoz (World Eye Hospital) and Dentistanbul are among some of the Turkish projects that he manages. His participation in the ophthalmology world has been noted in various publications as well as public speaking engagements for the ASOA/ASCRS meetings.
Michael Dobkowski, MBA
Director of Business Development
Michael Dobkowski is an Internet marketing consultant with over 15 years of experience. Initially starting out in the design and marketing realm, he quickly gravitated towards web in the early search engine days. In 1998 Michael started in the medical field with QVS Technology Group and Sunrise Technologies Inc. During this time period Michael developed web marketing concepts and online patient education programs for the LTK laser procedure. Towards the end of 2000, Michael Dobkowski and Maxim Havlicek started Glacial Multimedia Inc., in Chicago, Illinois specifically designed to assist medical practices and companies with multimedia. Glacial Multimedia, Inc. quickly generated a quality reputation in the field of ophthalmology and has since expanded into other medical website development areas. Michael has been involved with various search engine research projects and conferences since the onset of search engine research.
BA: University of New Hampshire
MBA: New York Institute of Technology (Focus on Internet Marketing)
First ever lecture on SEO for ASCRS/ASOA, 2001
Yahoo Paid Consultant for Paid Search Research
Article Eye World Magazine 2005
Search Engine Strategies Conference New York 2006/2007
Administrative Eye published article on web development and SEO
Worked extensively on web projects with Richard Lindstrom, MD
First Google Analytics benchmarking study for ophthalmology websites
Minnesota Medical Management Service Group Keynote Speak 2010
---