Posted on April 7, 2020
2 Things To Do To Double-Down On Your SEO Right Now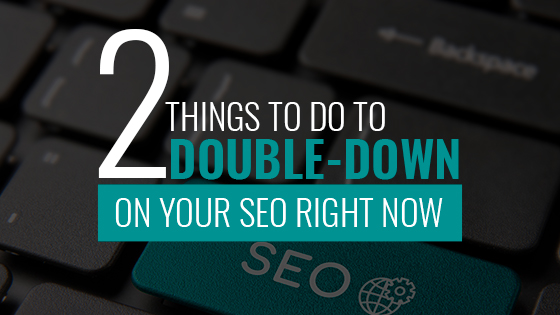 In the rush of running a day-to-day business, it's easy to let your online presence slide. Now is a great time to review your medical website and take a deep look at your search engine visibility.
When was the last time you looked at your website? Have you seen where your website ranks in Google search results if you try looking up your services?
It's nothing to be ashamed of if it's been a while since your last website check-up. But you do have to acknowledge that it's a critical part of your business' success to be visible.
If you're not showing up for searches for your services, or if your competitor is ranking just above you, there are ways to turn the tide. You can gain greater visibility in Google search engine results.
While there is a lot that goes into making a website rank well, these two simple strategies go a long way in increasing your web visibility. They can even be effectively worked on from the comfort of your own home. They are:
Updating your website content
Claiming and optimizing your online profiles
Looking for advice on how? Keep reading to learn how to get started with these strategies and how you can double-down on your SEO efforts.
Update The Content On Your Website
The bots that crawl your website every so often are used by Google to determine how trustworthy and authoritative your website is.
They evaluate which websites are linking to yours, how your content is organized and written, and determine your ranking results based on these, and other, factors.
They also scan how often you update your content.
To rank well in Google, your content needs to have several things:
Relevance to a search query
A clear focus
Original copy
Appropriate length
Regular updates
Taking a look at your content with these items in mind will help you build more engaging copy that can help enhance your rankings!
Relevance to a search query
This, for example, could be exemplified by a blogger trying to show up for searches about 'exercise routines'. They could write a blog about top exercise routines to do at home.
They could also write one on ways to develop a routine that's right for you. Correlating your content with the terms you want to rank for is crucial for building your strategy.
It's essential to have a clear idea of which keywords are important to you. A good starting point is to make a list of your top services and locations, building terms around the structure of '[Service] [City Name]'.
A clear focus
A clear focus means that the pages on your website have a primary topic and stick to it. They should explore the topic thoroughly, but avoid jumping to irrelevant information. An eye care website can have a page that describes all its services, but it's even better to have one dedicated to each of those services, too.
Original copy
The content on your website should be unique. If you copy content from another website, Google's bots will recognize this.
They may penalize your website, causing a drop in rankings. With that said, you should never buy content from a company that uses canned web-pages and blogs. This can harm your chances of showing up where you need to be to gain website visitors.
Appropriate length
If you really want a page to rank well, it needs to be fairly long. 1000 words or more is a great target to aim for when developing your content.
This should be true on both your blog and on the core pages of your website. It allows you to thoroughly explore the topic and answer questions users will be searching for.
One way to accomplish this is by adding a FAQ section to your services pages. This allows you to answer common questions your patients ask in a Q&A format, which is excellent for optimizing your content for Google search results.
Regular updates
Finally, the content on your website and blog should be updated regularly.
Imagine you've written a page about your practice technology… in 2010. Now answer this: has your practice technology changed in the last ten years?
Keeping your content up to date is important! It keeps your information relevant and shows Google that you aren't letting your website go stale, so to speak.
Blogs are a great way to do this: you can post topical, up-to-date information and share to your social media for an extra boost of external traffic to your website.
Claim and Optimize Your Online Profiles
Remember when we said that Google's bots are crawling your website to see if your content should rank well?
They're also scanning other websites, called citations. They scan these to see if the information you provide about your business on your website lines up with what others say about you.
NAPs are a good place to start – this stands for Name, Address, and Phone number. On websites like Yelp, Google My Business, YellowPages, Manta, etc., bots scan whether your business name, address and phone number appear to be accurate and consistent.
We regularly see businesses move or change their hours of operation and never update their online profiles, which can lead to confused, lost, or frustrated customers.
If your information is inconsistent, this can impact your visibility in Google's Map Pack. The Map Pack is the mapped listing that shows up above organic search results. It can also impact your organic search results.
Another important factor in your local ranking results is reviews. Your reviews help your business to rank and secure patient leads. Working to gain new reviews from your patients is an excellent way to improve your local SEO and boost patient leads.
Responding to your reviews is important, as well. We recommend responding to all negative reviews, and at least 20% of your positive reviews. The more the better!
There are other ranking factors for these map results that claiming your profiles can help you to optimize for. Adding photos, responding to reviews, and making regular updates can help your visibility in Google's map pack results significantly.
Not sure where to start?
We offer content and SEO services that can help improve and secure your ranking visibility. From website copy to blogs and search engine optimization, our team can supply you with engaging content that is SEO optimized and helps your rankings improve over time.
This can help keep you from spending hours writing, or from finding, claiming, and updating each one of your (many, many) citations.
Looking to identify where your SEO can improve? Contact Glacial Multimedia for a free website evaluation.
---