Posted on April 10, 2020
Announcing Our New Telemedicine Program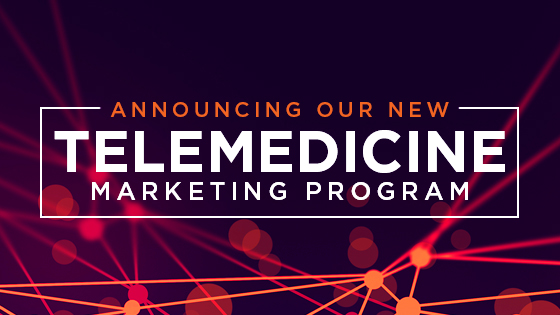 Concerned that your marketing will be less successful as we navigate COVID-19? Now is the time to turn to a more branding focused advertising plan with your digital marketing.
If you want to be top of mind and be where your patients are, branding is the best way to do it. But more than branding, it's also about how you can continue to bring in more leads.
That's why we're offering a new Telemedicine Digital Marketing Program! Keep reading to find out why our new program will help you stay in front of patients and new leads and fill up your appointments, even in uncertain times.
Google Display Ads
If you want to be top of mind, one of the best ways to do it is by utilizing Google display ads. Using Google display ads allows your practice to stay within a more branding focused plan. Telemedicine allows practices to continue seeing patients without worrying about the consequences of seeing them in person.
Facebook Ads
Facebook ads are the perfect way to support the branding efforts that you're already putting into place with Google display ads. For those that are working from home, Facebook is the place that everyone is right now.
That's why your practice needs to be where your potential patients and leads are. To be top of mind, it takes more than one modality, which is the beauty of using a branding strategy.
Simple but visually appealing ads that call for a virtual consultation make it easier than ever for leads to fill out a form and nurtured through the leads funnel.
Landing Pages
If you want your branding initiatives to be successful, you must use a landing page. Directing leads to your website causes confusion and may lead to fewer conversions.
Having a landing page makes it a snap for potential patients to fill out the contact form and schedule their telemedicine appointment. The great thing about our new Telemedicine program, of course, is we do all the hard work for you.
Telemedicine Program Add-Ons
Want to take your telemedicine program to the next level? We're offering the following add-ons:
Online Scheduling
With online scheduling, patients or potential patients can easily select an appointment time right from your website. This expedites the scheduling process, allowing you to see patients faster.
Your practice controls the available time slots, making it easier on your end as well.
Missed our webinar on how to fill your telemedicine slots? Click below to watch it now!
Email Responders
The telemedicine appointment with your patient should be the first step but not the last one! If you want to build a lasting relationship, especially with a new patient, nurturing the relationship is a must.
If you choose to add on with Email Responders, they include:
Response to completing a contact form
Post telemedicine appointment
A set of 5 follow up emails
That's a total of 7 responders! Want more information about this great new Telemedicine program?
Contact your client manager at Glacial to get all the details and find out how you can continue seeing your patients, even in the middle of this tough time. Stay healthy and safe!
---