Posted on August 22, 2022
Beauty is in the Eye of the Beholder: Showcasing Skin and Cancer's Website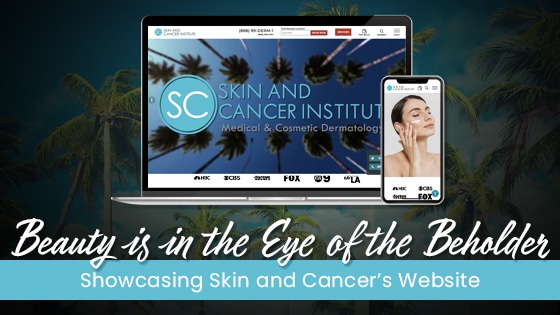 Glacial is proud to partner with Skin and Cancer Institute to help them update their existing dermatology website design. Incorporating a number of these great features ensures that users enjoy seamless access to valuable and up-to-date information.
Keep reading to learn about a few of the unique and essential elements that helped take their site to the next level!
Hero Section Video
A hero section video is an excellent way to catch the eye and attention of any visitor to your website. Not only is it visually appealing, but it also can showcase the character of your practice.
The new Skin and Cancer Institute website includes a unique and cinematographic video on the home page that is front and center for website viewers to see. When choosing to add a hero section video to your website, it's best to decide to film an original video.
An original video filmed in your practice adds a unique personal touch and provides future patients with greater insight into the atmosphere of your practice. The hero section video for Skin and Cancer Institute utilizes a variety of clips, including footage from the practice and of the doctors themselves. It also provides eye-catching contact information!
Another essential feature of the hero section video is that it is large enough to fill the screen to ensure that it captures attention. It is also vital that the video plays and loops automatically.
The loop should be smooth to create a seamless viewing experience. The mobile-user experience is just as important as the web browser experience.
Instead of having a video in the hero section of the mobile version, it's best to include an image. Using an image over a video for mobile viewing is purposeful to avoid bogging down the load speed.
Cosmetic Improvements Tool
Another feature on the website that improves user experience and educates patients is the cosmetic improvements tool. This interactive tool allows users to click the tab of their age on the left and receive useful information about skin care for that general age range.
This kind of tool can be implemented on a variety of clinical specialty websites. In this case, it works excellent for dermatology since these recommendations tend to change depending on each patient's age. 
This tool is interactive, user-friendly, educational, and visually pleasing. Implementing a feature like this on a website encourages visitors to browse the site for helpful information or recommendations.
Skin and Cancer Institute
Skin and Cancer Institute is a group of California dermatologists specializing in managing conditions related to the skin, nails, hair, and cosmetics. They are a full-service dermatology practice with office locations across California, Arizona, and Nevada.
The specialists at Skin and Cancer institute are dedicated to providing their patients with the most advanced treatments for acne, skin cancer, rashes, skin growths, laser treatments, and cosmetic injectables. They strive to provide the best medical and personal care available.
With over forty locations, the Skin and Cancer Institute is available to provide excellent preventative care regardless of what skin-related concern you may have.
Featured Testimonials
The Skin and Cancer Institute's website also has a feature that showcases testimonials. This is an excellent way to share the many positive words that others have said about your practice.
Not only do easily accessible and visible testimonials support Skin and Cancer Institute's excellent reputation, but it also increases credibility. Testimonials are a great way to boast about your expertise and excellent patient outcomes without having to sell your practice to prospective patients with your own words. Instead, the testimonials do the boasting for you.
Also, on the Skin and Cancer Institute's website is a button to read more testimonials. For visitors who are interested, they are invited to read more words from previous patients about their experiences at one of their locations.
This is an easy way to encourage viewing additional testimonials and further reap the benefit of collecting those testimonials.
Dynamic Contact Buttons
The addition of dynamic contact buttons encourages patients to contact Skin and Cancer Institute and are visible regardless of where they are when scrolling on the page or maneuvering through the website. With this, patients won't struggle to find phone numbers or other contact methods because it stays on the screen regardless of where you scroll.
These buttons can encourage more website interaction and will result in increased contacts to the practice. What's especially important about the dynamic contact buttons on the Skin and Cancer Institute's website is that although it is present all the time, it is small enough to not obstruct any other pertinent information on the page.
Easy Online Scheduling
Along with the easy-to-access contact button for the practice's phone number, there is also a link for patients to schedule appointments online. Easy online scheduling integrations capture more prospective patients than traditional call-to-schedule methods.
Online scheduling is inviting and convenient for patients. It also improves the number of no-shows and patients' loss-to-follow-up.
This tool can improve the patient experience, reduce empty appointment slots and allow all day and night access to scheduling appointments. With 24/7 access to the online-scheduling system, patients can make their appointment when it's most convenient for them.
Streamlined Location Finder
The website's theme includes a streamlined location finder that makes it easier for both users of the website and those working on the backend. Instead of having to update the provider location in each part of the website that's necessary, you are able to update the information in one spot, and it automatically will add them to the other pages.
For example, if the doctor's information is updated, it will automatically update on both the service and location page.
Are you interested in learning more about how Glacial can help you? Schedule a call with a client manager from Glacial Multimedia to learn how we can help enhance your website!
---