Posted on December 8, 2022
Glacial Multimedia and Dry Eye Access Announce a New Strategic Partnership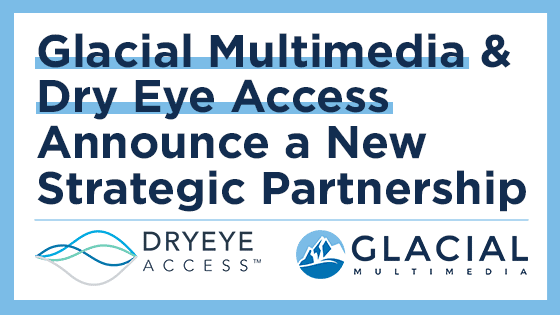 A new strategic partnership between Glacial Multimedia and Dry Eye Access has been announced! Through this partnership, both parties aim to assist eye care professionals expand their dry eye services. In addition to patient acquisition tactics from Glacial Multimedia, this offer includes training from Dry Eye Access, one of the most successful companies in the field.
Since Glacial Multimedia has supported Dry Eye University for more than four years, this new strategic alliance is the logical next step. The collaborative partnership will help enhance future students' experience at Dry Eye University.
Keep reading to learn more about dry eye and this new partnership!
What is Dry Eye Disease?
Dry eye disease is among the world's most prevalent eye conditions.
One in every eight adults, or 33 million Americans, has some form of dry eye disease.
Dry eye disease, also known as dry eye syndrome, occurs when there is an issue with appropriate lubrication of the cornea. The cornea is the clear dome-shaped tissue that act's as a window to the eye.
In order for someone to have a clear and comfortable visual experience, the cornea must be adequately lubricated. In most cases, dry eye disease is caused by one of two things: a lack of tears or a lack of quality tears.
Dry eye disease can cause numerous symptoms, including eye irritation, burning, increased tearing, redness, and blurry vision. Although anyone can develop dry eye disease, it is more common in women than men, and its incidence rate increases with age.
Symptoms can range from severe to mild. This chronic, multifaceted, chronic disease has typically had low or no diagnosis rates.
Dry Eye Access aims to change this by teaching eye care practitioners how to create new expertise around all aspects of dry eye disease.
What is Dry Eye Access?
Dry Eye Access is a learning tool designed to assist every member of your staff, from ophthalmologists to technicians, to help support dry eye patients and their care. This subscription-based online educational tool aids eye care professionals in understanding how to recognize, diagnose, and treat individuals with dry eye disease.
Dry Eye Access has already helped many eye care facilities improve education surrounding dry eye disease. According to Patti Barkey of Bowden Eye Associates, Dry Eye Access has relaunched its education and training portal with courses designed to get staff up to speed on discussing dry eye with patients.
The dry eye industry can be a great place to increase revenue. Patients with dry eyes require non-elective treatment. Dry eye disease can be frustrating, uncomfortable, and exhausting to experience for many people.
Many people with dry eye disease struggle for years, trying over-the-counter eye drops and other remedies or lifestyle changes that have not done an adequate job. Although these treatment methods work in some cases, a large majority of chronic dry eye disease patients will require greater intervention from their eye care professionals to adequately reduce their symptoms.
For this reason, the dry eye industry can be a great place to increase revenue. This area can be excellent if you are weighing options for revenue-generation at your eye care practice.
How Glacial Multimedia Can Help
Working as a team, both Dry Eye Access and Glacial Multimedia can help get your practice on the map. Michael Dobkowski of Glacial Multimedia Inc. says: "There are millions of people suffering from dry eye in the US, and this partnership will help patients find the practices with the best dry eye programs."
If you are interested in becoming a certified Dry Eye Access Best Dry Eye Doctor, please complete our submission form to be considered for the program. Our team, including various dry eye experts, will review the credentials of each practice evaluated.
Do you want to learn more about how this partnership can benefit your practice? Contact Glacial Multimedia today to learn more!
---