Posted on August 31, 2011
Dr Carlos Martinez To Perform Vision Restoring Cataract Surgeries in Honduras, January 2012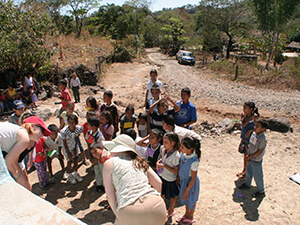 Dear Friends and Colleagues in the Ophthalmology Community,
Glacial Multimedia is privileged to share a unique opportunity with you to support your peer, Dr. Carlos E Martinez, MD.
Last year, Carlos began volunteering his skills as an eye surgeon in a Honduran medical clinic. Right now, there are an estimated 45,000 people in the impoverished southern region who could benefit from sight-restoring cataract surgery. Carlos' team completed 46 of these life-changing surgeries last year, and are planning another 100 just a few months from now, in January 2012.
To give you some idea of the poverty level and what Carlos' work means to the people of Honduras:
Honduras is the third poorest country in the Western Hemisphere, with an average yearly income of $1,600. However, this number doesn't account for unequal wealth distribution, and the majority of Hondurans live well below that income level….and Dr. Martinez's team travels to the southern Dry Corridor, the most impoverished region of the entire country. For a person in this region, to receive vision-restoring surgery is nothing short of receiving a miracle.
In the United States, the average cost for the correction of a cataract in one eye is $2,038.00.
In Honduras… the same surgery can be funded for a tenth of this price.
How can you help support Carlos?
Glacial Multimedia has a goal of raising enough money to restore vision to 25 people. We're hosting a fundraiser on the evening of 29 October 2011, and I invite you to learn about this fun MadMen-inspired charity event by becoming a fan of our non-profit page here:
www.facebook.com/GlacialNonProfit
Most people enjoy knowing that 100% of their donations will go to helping a specific individual. This is our primary goal and I'm certain it will be the most popular option. However, I need to make a personal plea for your help in donating to the venture capital to fund this fundraising event! To be honest, I'm a little nervous about pulling it all together 🙂 If you are interested in helping me personally (so that all of the proceeds FROM the event can go directly to helping an individual in Honduras), I would ask you to contact me for more details. Either way, your support of these efforts will change the life of a person in Honduras forever and we are so humbled to be able to invite your help.
Three ways to give:
Support Dr. Carlos Martinez's efforts in Honduras. 100% of your donation goes towards restoring a person's vision. Checks can be made payable to:
GCPC–Project Vision/Honduras
And mailed here to:
Glacial Multimedia Inc.
625 Main Street
Westbrook, ME. 04092
Help me to fund the event expenses, so that all proceeds from the event itself will go towards a deserving person in Honduras! (please ask me for details, and I really appreciate it!)
Donate an item or service to be raffled off at the event.
---