Cataract Marketing for Ophthalmologists
If you are seeking to improve your cataract surgery volume, you have come to the right place. Like you, we recognize the opportunity at hand and wish to make sure our clients are well suited to obtain cataract market share in their regions.
Not Just One Case Study…Decades of Data
We have spent over $25 million dollars on the Google ad platform giving us the most ophthalmology search date by any ophthalmology company. We have spent roughly $5 million on Facebook ads in ophthalmology.
Our process is refined and well-honed for this market. This is the type of campaign that is intelligent because we understand the mathematics of which keyword converts to surgery at what percentage.
Our approach is 100% different than the competition and on average our clients spend far less to get more leads. With the advent of increased baby boomers moving into the cataract years, many cataract surgeons have an opportunity to increase surgical volume and provide patients with a plethora of lens implant options.
These options can dramatically improve their quality of life. Baby boomers will literally change the face of healthcare in a movement many call the "gray tsunami".
The Opportunity
According to data from the 2020 census, the baby boomer generation is estimated at 73 million. By 2030, all baby boomers will be over the age of 65.
The baby boomers are expected to stay in the workforce longer and live longer. A Mayo Clinic study found the incidence of cataract surgery more than doubled from 2005 to 2011 in one Minnesota county.
Nationwide, age-related cataracts currently affect 22 million individuals, but that number is expected to grow to 30 million by 2020.
The baby boomer generation is different than the generation before them. This generation places a high emphasis on their quality of life.
As a result, cataract patients are younger and have higher expectations of outcomes in cataract surgery. With technology improving, we can meet this desire and position practices by providing options for the best possible visual outcomes
One of the biggest issues with marketing cataract surgery begins with education and communication. Patients generally have little awareness about their options for how they will see after surgery.
Many patients have worn glasses their whole life and cannot imagine what life could be like if they reduce their dependence on glasses or no longer need them at all. Additionally, they have no idea about the difference between laser cataract surgery and standard phacoemulsification.
Paramount to your cataract surgery marketing strategy is a clear and concise plan to communicate your message and educate your patients. You may or may not have seen the 2019 AAO presentation at the Lensar user group meeting. It was during this meeting that we first initiated the idea of the strategy.
We had Mitchell Jackson, MD, and Lisa Chumura of the Eye Max Group participating in the sections of this presentation. Before jumping into digital marketing, we suggest taking a look at these important points.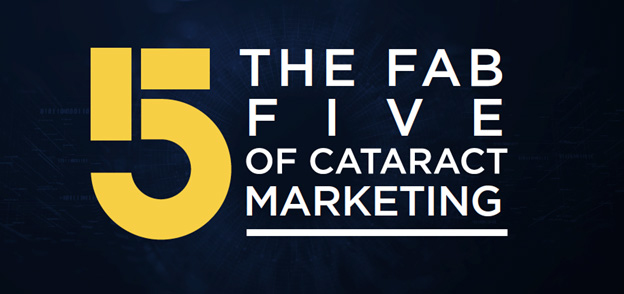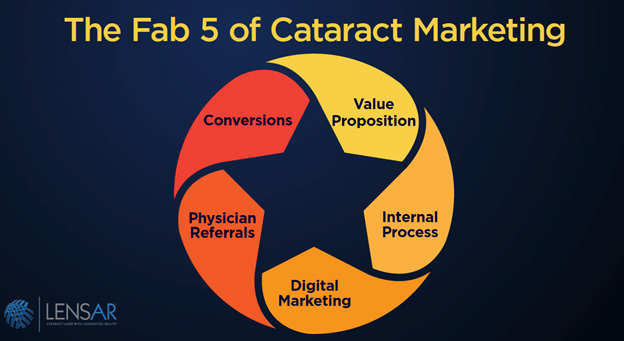 1. Get Your Value Proposition in Place
The importance of this concept was first made clear with Dee Stephenson, MD. When Glacial visited her boutique practice in Venice, Florida, our team realized why she spent so much time with her patients and got the technology right.
She has the most appreciative and loyal patients anywhere in the country. With cataract marketing, you need to be more than just a mill.
You need to be an entire experience from not seeing well to revolutionizing how an active lifestyle can be experienced. Ask yourself a question: Why would a patient choose you over any other surgeon in town?
Are you communicating this properly to your patients? It is time to craft your story and make this part of your value proposition.
2. Figure Out Your Internal Process
Whether you are using consumer-focused marketing or referral marketing, you need to be able to handle calls and web forms and put these into a conversion-ready system. There are both internal and digital aspects to making this process effective.
On the internal level, you a need conversion/scheduler that is accountable and trackable. On the marketing automation level, you should be equipped with a CRM and overall funnel process with email drip campaigns.
Setting these up can take time and using them requires discipline. It is very easy to get distracted and you need good information logged in the system.
3. Put Digital Marketing into Play
Digital marketing is key to generating a lot of interest. Now that the baby boomers are digitally connected, you can reach them with multiple media platforms.
Tracking each platform for conversion effectiveness is key when setting budgets. It is important to understand the buyers that want to buy now from those that may eventually buy and learn how to use automation to maximize the conversions.
The best way to succeed in this space is to develop a solid plan that will utilize SEO, PPC, local maps, and social media advertising. Make sure tracking and conversion systems are in place or the media costs will be a waste of money.
4. Make Referring Physicians a Key Component
Do you have a co-management system in place? If not, now is a great time to get started on this project.
Getting a patient sent by another doctor makes getting the surgery much easier. With some of the new OD portal technology available, now might be a time to convince some ODs to switch over.
Do you have an easy referral process? Have you created digital intake forms? Can the OD schedule be directly pulled into your system for cataract evaluations?
We realize obtaining referrals can be hard, but you need to start somewhere. Starting with regular CE events for your OD community is a great place to start. Maybe the next step is putting an OD liaison in place at your practice.
5. Track Conversions
Conversion to surgery is the metric we care most about. However, you may get confused with the marketing to lead conversion rate because digital marketers talk about this a lot.
The conversion process is vital to the success of your cataract marketing efforts. This requires disciplined callbacks and follow-ups to get appointments scheduled. Remember patients have choices these days!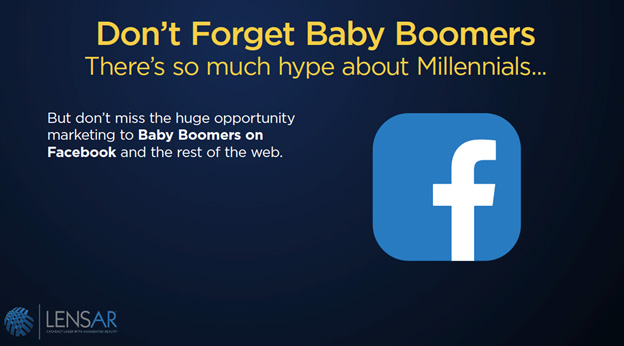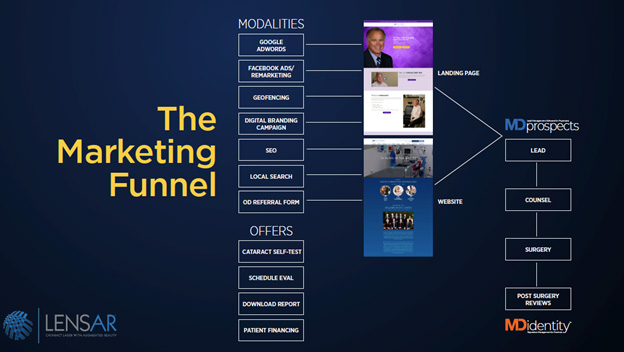 Using Technology in Marketing
The advanced technology lens implant opportunity is tremendous for both patients and doctors. There's never been a better time to educate your patients about premium lenses than right now.
Patients may not understand the differences between premium IOLs and standard monofocal lenses. They may also not grasp the subtle nuances that advanced lens technology brings to the table.
As a practice, it is your responsibility to educate your patients, but how you do it is key. Using a medium like content marketing to further your SEO efforts has many benefits. Not only can it be used as a way to boost your rankings, but by writing informative, accurate content, you can educate your patient base at the same time.
To have a successful content marketing strategy, you need to create content that is both compelling and engaging. Think about the frequently asked questions that you already answer during appointments with your patients as a good place to start.
The other thing you need to consider is the way you're answering these questions. Any content that you're creating, whether it's for your website, your blog, or other avenues, needs to be easy to understand.
This is not the time to try and stuff as much medical jargon into your content as possible. Having easy-to-understand content will pay off, as this is the kind of writing that Google appreciates and is most likely to rank.
Explaining how lens technology works will serve to educate your patients. Whether they are at the beginning of the cataract surgery process, or they need more information about which lens will help them lead the lifestyle they want, helping them understand the differences between cataract technology is only a benefit for your practice.
There's never been a better time than right now to make cataract marketing a priority. Take your practice's cataract marketing efforts to the next level by contacting Glacial Multimedia to learn about our digital marketing services!