Posted on June 17, 2016
Glacial Multimedia Inc. and iMedicWare, Inc., Announce Their New Technology/Marketing Partnership
Finally…EMR Integration with Practice Marketing & Lead Management. 2 Companies Focused on Ophthalmology Now Working Together for The Benefit of Ophthalmologists.
iMedicWare, Inc. and Glacial Multimedia Inc., are announcing a technology/marketing partnership and integration program for the benefit of Ophthalmology practices. iMedicWare, Inc. is a leading provider of certified EMR/EPM and ASC software specifically designed for and created by ophthalmic professionals. Glacial Multimedia Inc., also catered to the field of ophthalmology, is an Internet marketing, website development and software firm. The partnership provides mutual customers with comprehensive strategic integrations, time savings, security measures, focused ophthalmic technical planning, and more. This partnership will make practice level systems work more smooth and efficiently.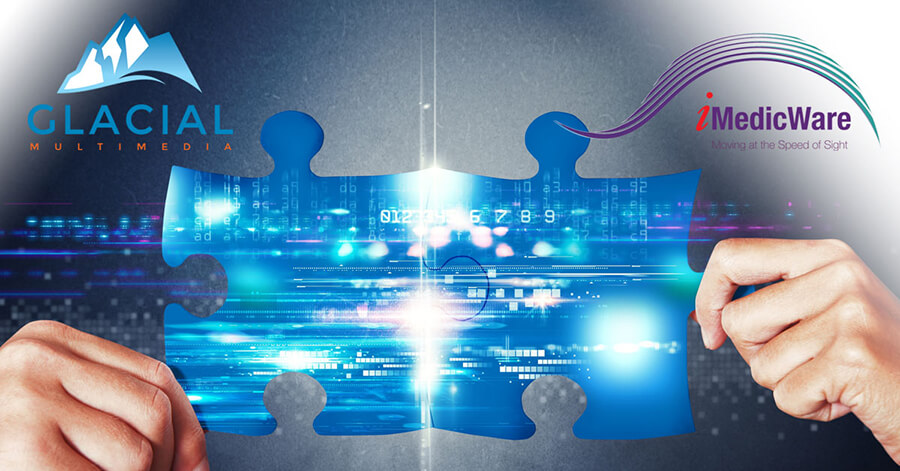 "I am very excited about our partnership with Glacial and MDprospects™. Here at iMedicWare, we take pride in being able to provide our customers with a comprehensive solution through our software and strategic partnerships. The integration is impressive and will enable our mutual ophthalmic customers to capitalize on the growth of their business through MDprospects™ while increasing the efficiency of their patient onboarding process in iMedicWare. It's a win for all involved and we are looking forward to our collective success." Arun Kapur, President & CEO
"We are proud to partner with iMedicWare," says Michael Dobkowski, CEO/ Sr. Partner and Managing Director of Search Strategy for Glacial Multimedia Inc. "We believe this integration is a perfect fit for customers that need to connect pre-patient and patient systems for maximum practice level efficiency. By reducing data entry with demographic data pushing, reducing redundancy, sending appointment reminders, and bridging portal information, these big ideas will result in very good outcomes for our mutual ophthalmology clients.
iMedicWare will also integrate with MDprospects™, the flagship lead management software that was originally created by Glacial Multimedia Inc. MDprospects™ is a pre-patient, lead management and marketing tracking CRM system specifically created for ophthalmology practices. There is a planned integration process starting in 2016 between MDprospects™ and iMedicWare. Because both of these systems were created specifically for ophthalmology practices, this is going to be powerful partnership in the ophthalmology field.
Michelle Pelletier, product manager of MDprospects states, "I believe this integration will make end users very happy and simplify the patient and lead management process. I also believe these products compliment each other well."
"Today's ophthalmology practices are complex and ever-changing, making it extremely challenging to identify key areas for efficiency improvement. Between new EMR objectives, HIPAA issues, security risks, and Internet marketing challenges it can be very difficult to determine where to pin time and effort. This new partnership and integration serves to help physicians spend more time practicing medicine and less time messing around with EMR, scheduling, and lead monitoring.
About iMedicWare, Inc.
iMedicWare has always been focused on ophthalmology. A thought leader in technical engineering, founder and CEO of iMedicWare, Arun Kapur worked with leading ophthalmologists to design a software solution that met their unique needs. Together, they founded iMedicWare Inc. along with its flagship EMR/EPM.
iMedicWare's goal is to provide the software solution that is right for its customers. It never requires a physician to adapt to a system that changes the way that they approach the patient. Rather, the system is customizable according to the practice's needs and workflow. As the company grows, iMedicWare always aims to provide the newest and most efficient software features. Today, it's one of the fastest growing EHR providers in the U.S.
About Glacial Multimedia Inc.
Westbrook Maine based, Glacial Multimedia is an experienced medical digital marketing agency utilizing a wide array of talent to achieve our customers' goals. By combining programmers, designers, marketers, copywriters, strategists, consultants, and IT professionals, Glacial provides a high quality digital marketing experience for ophthalmology clients. Founded in 2000, Glacial Multimedia has since worked with over 500 medical practices, many medical equipment companies, numerous medical non-profits and medical societies. Glacial Multimedia is an excellent choice for ophthalmology practices that are looking for a medical internet marketing company dedicated to excellent customer service, quality design, and relentless innovation.
PR Contact
Barbara Baxley
Glacial Multimedia Inc.
[email protected]
---