Posted on May 10, 2012
Glacial Multimedia Inc. Attends ASCRS Ophthalmology Conference for 10th Year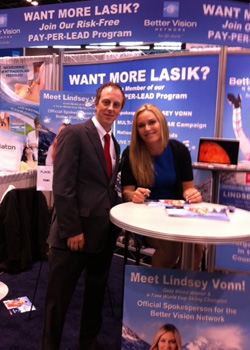 As usual we had a very good and productive time at ASCRS this year. First of all, it is really great to get together with all of our customers and is the single most important reason for us to attend this meeting.
The meeting started off with a major bang on Friday when we attended AMO University. This was a well-orchestrated event that was a full day of learning and motivation. The social media lecture by David Merriman Scott was outstanding as he referred to the "United Breaks Guitars" social media example that has already given us, and many clients great ideas for handling PR disasters. Mr. Scott should be happy to know we are following his advice and putting positive spins otherwise negative reviews and making the best out of bad review situations. The AMO university program was well attended and full of great information. Bonnie Navarre gave a great course lecture that not impacts the methodology of how ophthalmology practices talk with patients but it even had applications for website development companies like Glacial Multimedia Inc.
On Saturday we rolled into the exhibition hall at the McCormick Place in Chicago, Illinois and I am always amazed at how huge this venue is. Over the past years I think we have exhibited in all three of the giant halls that this venue entails. It was great to be back in this environment seeing all types of practices and surgeons. MDprospects, our lead tracking software really seemed to catch on right from the start of this day, which of course made us happy. It appears that many practices are seeing great value and many practices lack a CRM lead system to keep them organized on a lead tracking and marketing tracking level. This program can really impact the bottom line for LASIK eye surgery leads. We also found a new group doing LASIK TV commercial marketing who has Lindsey Vonn as a spokesperson. I actually got to meet her in person! We discussed skiing of course and the fact that we are both HEAD ski fans.
On Sunday morning I proceeded to go to my course lecture on Internet Marketing Conversion Optimization. For an 8:00 start time I felt really good about the audience size. My lecture was swift, comfortable and energizing to say the least. Many practices approached me after the lecture to discuss ideas and implementation issues. If you were someone amongst this crowd feel free to talk with anytime. We had another lecture coming up after me so we had to move off the stage. I am very honored to be apart of the ASOA lecture series and after 10 years of doing this type of course I can honestly say I am not nervous anymore when I do presentations. Thanks ASOA for improving my public speaking skills. After a FULL day on Monday we proceeded to the Care Credit/ASOA party at the House of Blues. It was great to be at this event with so many wonderful friends from the field of Ophthalmology.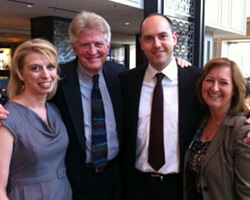 Overall the meeting was a positive experience for all at Glacial Multimedia, Inc. We look forward to attending ASCRS next year and seeing everyone again. Glacial Multimedia Inc. is dedicated to serving medical eye care practices in ophthalmology. Our extensive experience in ophthalmology website design make us a highly efficient company that can solve complex website design and programming issues. For more information regarding our ophthalmology website design services, contact us through this website.
---