Posted on November 7, 2016
Glacial Multimedia Launches New Website for Loden iVision Centers!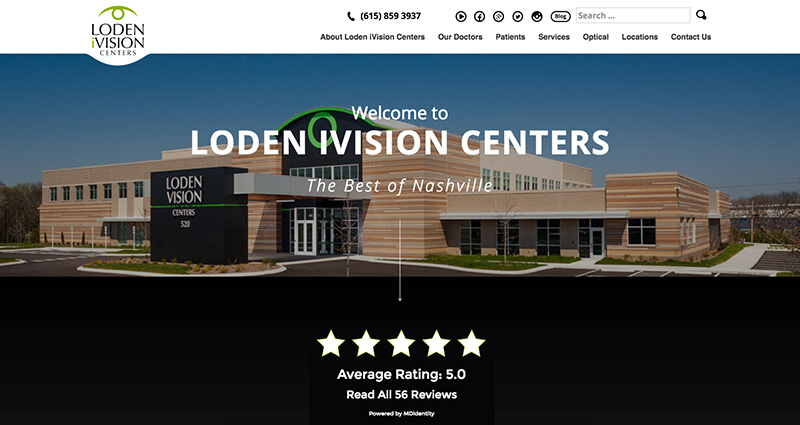 On October 6th of this year, Glacial Multimedia launched a new website for Loden iVision Centers! Located in Nashville, TN, Loden iVision Centers has long been a top competitor with a strong mission: to uniquely provide the most advanced vision technology and best possible care, while exceeding their patient's expectations in every way. We believe their new website helps reflect these values!
Since 1968, Loden iVision Centers has been responsible for providing some of the best eye care in Nashville. Whether it's LASIK surgery, cataract correction or routine eye care, Loden prides themselves on providing the best of the best. Throughout the 4 month long process of building their website, we made sure to carry that sentiment through: only the best of the best.
Taking very few tries to find the right design, their project manager, Angie Grosso, remarked on Loden's preparedness, saying "The design process was very simple. They provided videos and content, knowing exactly what they wanted from the start. It was a great experience. I wish all launches were like this one."
The main coder for Loden's new site, Dan Eastwood, had this to say: "It was a smooth coding experience, translated well to the new site and contributed to a great user experience. There was a good mix of collaboration between the client and our designers, coders and project managers."
Loden iVision Centers also opted to install both Interactive LASIK and Cataract self-tests, as well as an online LASIK exam scheduler. These products give our clients more of an edge in this industry, and have been proven to increase the number of LASIK and cataract surgery consultations our clients see.
MDIDENTITY
In addition to self-tests and an online scheduler, Loden chose to install MDidentity onto their website. MDidentity, a Glacial Partner, is an online reputation management system that allows you to manage your online reviews through an easy-to-use dashboard.
---