Posted on November 3, 2016
"New" Social Media: Becoming a Digital Advocate in 2017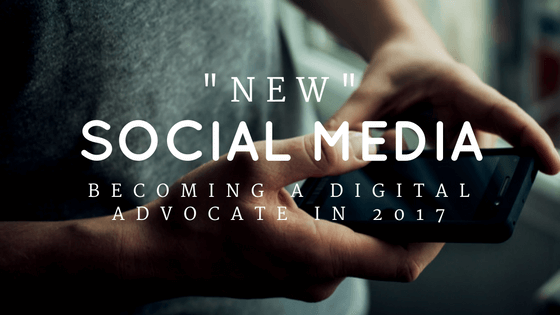 We are continually getting closer to the year 2020 – it's time to start thinking of your 20/20 eye acuity puns. More importantly, it's time to reevaluate your social media presence as both a business and a healthcare practice.
Social media has skyrocketed this past year. No longer is social media a way to just connect with friends or family. You have the ability to keep tabs on every part of your life – follow your favorite band, your favorite restaurant, your favorite clothing store, your barber… the list is endless.
Everyone is on social media, and it makes sense why. What was once a platform used to see what your high school lab partner is up to is now a conglomerate of worldwide content-sharing networks. Social media is how we discover current events, political happenings, pop culture phenomenons, how-to guides; the best new artist, the biggest breakout invention; that video, that discount, that recipe. If you're not on social media, you are simply missing out.
Social Media + Medical Practices?
"…But how can we use social media as a medical practice?"
We hear this question a lot at Glacial. Every business has to approach social media differently, of course, depending on their niche and relationship with patients, guests, customers, clients, and what have you. Even so, interacting with your audience is easy. It's boiled down to a friendship. Think: you want your patients to trust you. You want a friendship! Patients follow their practices online for that exact reason. If you think this presence wouldn't gain much attention, think again.
When posting to your social media accounts, keep these 4 goals in mind:
Personification. Your patients see every part of the process – from the front desk staff, nurses, to the doctor, the assistant, and optical administrator. They want to see your practice as a team. Use social media to showcase your personality, your mission, your brand, your staff, and individual employees. Post about birthdays, holiday parties, new hires, etc. to remind patients (especially leads who have never stepped foot in the office) that you are human.
Staying "in the know". What is happening in your town? Are you connecting with locals? Are you collaborating with other businesses? Stay a current, active member of your community – this resonates with patients.
Educating. Use social media to educate patients before their appointment (this will save time in the long run). Keep them interested and curious about what you offer. Choose a new product, service, technology, eye disease, or surgery each month that you want to focus on. What are the symptoms? Treatments? Uses? Causes? Myth vs. facts? Proper usage?
Offering. Give patients an initial incentive to follow you on social media. Offer themed promotions to be used as an ad campaign, such as 1/2 off your second pair of prescription sunglasses for the month of June. Join forces with the Red Cross to host a blood drive, and enter each donor into a drawing to receive free LASIK surgery. Start a promotional campaign available to only those who follow or like your page.
When it comes to posting on social media and deciding how to implement these four tactics, it's important to know how to target your followers. You must be able to choose the right jargon to appeal to your audience. If your patient-base is mostly cataract patients with a mix of optometry patients, Facebook would be the best tool to utilize. If you deal with a lot of Generation Y LASIK patients (those in their 20s and 30s, our favorite "millennials"), then branding-based platforms like Snapchat may be the best tool. If you're still not convinced, aim to target your cataract patients' successors, the ones who may be doing the research for their mother or grandmother.
Facebook
Everyone and their grandma is on Facebook… literally. Having a strong presence on Facebook as a business, especially in healthcare, is crucial. Patients no longer follow their practice on Facebook just to see the occasional closing or holiday blessing. They like to see a familiar face. Post a group photo each month. Update followers on the new stock of contact lenses you just received. Offer a new promotion each quarter. Respond to reviews (yes, both good AND bad). Reach out to those who comment or virtually check in at your practice. Ask questions in your posts. Connect back to your website – link to your request an appointment form, or help patients prepare for their eye exam. Facebook is a platform that helps you create that valuable friendship:
Facebook Live
Connect with your followers instantly with Live Video – give them an inside scoop on your new Wavescan technology, post a FAQ session with a doc, or a sneak peek at the practice's booth at your town's annual founder's day event.
Advertisements
Facebook ads appear in the news feeds of the audience of your choosing – regardless of if they follow you or not. Facebook ads can be used for both branding and lead-generating purposes, and are targeted and trackable just like Google ads (but without putting a big dent in your budget). Your patients and leads peruse Facebook on a quiet Sunday night, preparing for another week… these are the people to target.
Boosted posts
Spend a couple of bucks to get your event or update at the top of users' news feeds for a few days (yes, regardless of if they follow you or not!) Your Facebook page is an extension of your business, and will likely show up in Google searches, too.
Snapchat
One name: Dr. Miami. The (you guessed it) Miami-based plastic surgeon, whose real surname is in fact Dr. Salzhauer, got his claim-to-fame because of this unique, real-time app. Dr. Miami and his team of surgical specialists use Snapchat to record their surgeries – raw and uncut for all of Snapchat to see. Trust us, viewer discretion is advised.
Snapchat provides users the ability to snap a photo or video, choose from an array of filters, effects, or stickers, and send off to their friends or added to their "Story" for everyone to see at their leisure. The catch? The photo or video can be viewed for 10 seconds at most, and then disappears forever. Stories have a little bit of a longer life, expiring after 24 hours. Snapchat's exclusivity makes it a foolproof content marketing tool.
Dr. Miami has gained an incredible following because of it – and an incredible patient base. Though Snapchat has no measurable or trackable ROI, the proof is in the pudding – one of his patients flew over 1,000 miles just to have Dr. Miami operate on her because of his Snapchat stories. "What's wrong with transparency?" Dr. says.
He's right. And you don't need shock-value content to gain a following!
Perhaps the most intriguing part of Snapchat is that in itself – the mystery. Snapchat allows you to open the curtains for an afternoon, or 5 minutes, and close them again. You can show off a slice of life working in your office. Follow an M.D. as he/she preps for surgery. See the Customvue Wavescan technology in action. Watch the staff surprise the O.D. on his birthday. Get a sneak peek at next month's new frames at the optical shop. Watch a post-LASIK patients' reaction to their new pair of eyes. Hand over the account to an admin for a day to host a Front Desk Takeover (imagine: live photos from the waiting room!). The possibilities are endless.
At Glacial, we're even in the process of offering customized geofilters for our clients! Advertise your surgery days, holiday events, or simply get your practice name out there to those in your area. Take a photo of yourself on Snapchat in the geo-targeted area (whether in or around your office) swipe right, and voilá.
Instagram
Instagram, which has recently gone head-to-head against Snapchat, is a platform for your patients to view (and judge) your visual identity as a practice. Many medical practices tend to send Instagram to the wayside, claiming their patient base is simply not there. However, an October 2016 report by DMR, a directory of social network and digital statistics, confirmed that there are over 89.4 million active Instagram users in the United States. 53% of all U.S. adults (ages 18-29) use Instagram. Click here to read our full article on Instagram and how you can implement it within your practice's social media & branding strategy!
SEO + Social Media
And now, the sentence everyone likes to read: It helps your SEO.
Social signals (likes, comments, tweets, mentions) not only make your reputation solid, but they let google know your site is being talked about. …Remember, Google? The Queen of the Internet?
It's when those likes and comments turn into shares that the real value comes out. The more likely people link to your site, the more likely your quality content will be bounced around the web.
A stronger presence on social media also makes for a stronger presence on page 1 of Google. Ideally, when a lead types your practice name into Google, you should appear in every position of page 1: your website, doctors' Healthgrades profiles, profiles on third party review sites, and your social media accounts should dominate. Talk about a perfect first impression. Contact one of our SEO specialists to learn more!
Is social media not really your forte? Let us help. It's almost 2020, and you need to be there.
You see your waiting room full of eyes glued to smartphones – now capitalize on it, you digital advocate.
---