Posted on February 9, 2017
Going Live: The Shift in Social Media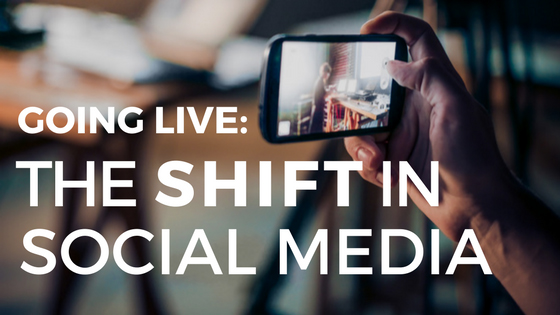 Unless you've been living off the grid this past year (and no one would blame you), you've probably noticed a trend across major social media platforms. Facebook, Instagram, and even Twitter are hopping on the "live post" bandwagon. So, what's the big deal with live posts? Is there a reason people are gravitating towards this type of content besides the fact that it's new and shiny?
The short answer? Yes. The long answer? We'll get to that.
FIRST THINGS FIRST: A BRIEF HISTORY OF LIVE SOCIAL MEDIA
Live content is making an appearance in just about every major social media platform. While live-streaming on social media seems new, it has actually been around for years.
YouTube has been offering live streaming since 2011 (before it was cool, in their words.) During the Royal Wedding in 2011, millions tuned in on YouTube to watch events unfold live. While Felix Baumgartner leapt from space in 2012, one-sixth of internet users looked on.
More recently, Periscope and Meerkat were released in 2015 as live-stream-only social media apps. Periscope grew quickly, gaining 10 million users in its first four months. Periscope was then acquired by Twitter. Meerkat did not do quite as well and shut down in 2016.
In December of 2015, Facebook officially released its live video feature to the public. In December of 2016, Instagram followed suit and released their very own live stories feature. That same month, Twitter launched its own live video feature (powered by Periscope.) YouTube, who we know has been live-broadcasting on desktop for six years now, is working on integrating a live-stream feature into their mobile app!
IT SEEMS LIKE EVERYONE WANTS IN, BUT WHY?
Social media platforms are constantly changing and adapting to their users. Luckily for us as marketers, and for you as business owners, this means more ways to reach more people, and in even more meaningful ways.
As marketing and advertising become further distrusted by the average consumer, we have to find ways to make ourselves seem less like car salesmen and more like humans. (No offense to car salesmen.) Raw, unedited, and interactive video streaming is the next logical step.
THE BIG SHIFT
Your old social media marketing strategy (i.e. throwing the occasional blog post, infographic or silly image up on your social accounts) simply isn't going to do it anymore. Your audience wants true engagement. Live video on social media provides a type of user engagement that was, only a few short years ago, unheard of.
Imagine that you're a patient searching for a LASIK surgeon. Finding a qualified surgeon you feel comfortable with can be difficult, and it's been hard to find straight answers to your questions. You finally find a local LASIK surgeon that meets your requirements, but you aren't sure if you want to commit to a consultation just yet. Are you more likely to watch this doctor's pre-recorded Q&A video or a live Q&A video which allows you to ask questions and get answers from them in real time?
The amazing thing about social media (or frustrating thing, depending on who you are) is that it is constantly adapting to its users. Essentially, our fear of missing out (FOMO), our need for instant gratification, and the overall immediacy of our social media culture could only lead to where we are now.
Businesses everywhere have been benefitting from the advent of features like Facebook Live. It's time to hop on the bandwagon!
Keep your eye out – we're bringing you tips and tricks all month on how to make the most out of your live posts. Interested in going live, but aren't sure where to start? We can help.
---