Posted on February 10, 2017
How to Keep Your Leads Warm This Winter [Podcast]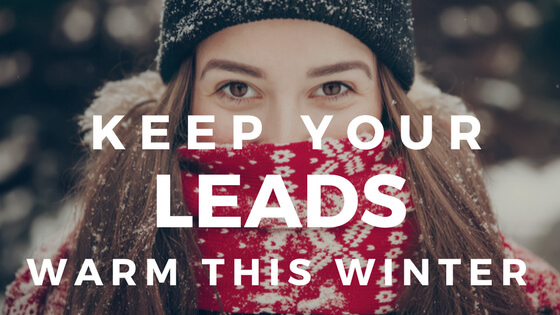 To listen to the "Keeping Your Leads Warm" podcast, download our app! Available on iOS and Android.
Back in the day, our marketing specialists ran into a frequent sentiment from clients:
"We're funneling all of this money into our marketing campaigns. Where is our return on investment?"
Our specialists quickly went to work to solve this issue. How could successful marketing campaigns not be helping our clients increase revenue? They found an interesting trend. When our team explored this issue, they quickly realized that our clients were indeed getting leads, but were not following through with them. The leads were coming straight from their campaigns and into their email inboxes. That was it.
Fast forward to the birth of MDprospects
MDprospects was created out of necessity. Our clients needed something to help them capture, communicate with, and convert their leads. MDprospects exists to do just that! Listen up, because we're going to explain exactly how MDprospects can help you keep your leads warm!
MDPROSPECTS: YOUR LEAD-WARMING POWER TOOL
Everyone who eventually gets LASIK (or any other type of surgery) starts their journey in the research phase. Sometimes, you will get a lead that is not necessarily ready to book a consultation. It could be days, weeks, months or even years before this lead decides to pull the trigger and book a consultation with you. During this time, it is extremely important to keep your leads engaged. Here's how MDprospects helps you do that.
Patient engagement with your practice's coordinator is key to keeping leads warm. With MDprospects, your coordinator can automatically be notified when it's time to contact the lead. You can also monitor how long it is taking your coordinators to interact with leads. Contacting your leads more than one time is absolutely vital. It is so important to keep your practice and your services at the top of your lead's mind. This results in high conversion rates overall, and a higher ROI! Another benefit to frequent lead contact is that when you have promotions, they are more enticed since they've already been thinking about your services.
MDprospects helps you identify leads who have shown interest (but are noncommittal) in order to create a successful email list. This is helpful for practices who want to send periodic email blasts to their leads. What's more, they can even help design those email blasts, whether they're about a seasonal special or an informational seminar.
When sending emails, you need to know your audience. Providing them with the information they are looking for takes more than a "one-size-fits-all" approach. For example, it's important to make sure your leads that signed up for LASIK do not receive an email about cataract surgery. If you want to keep your leads warm you must keep them active and interested.
Need help keeping track? Tired of letting leads slip through the cracks? If you feel like you're leaving your leads out in the cold, it's probably time for a change. Be sure to contact our partners over at MDprospects to find out more!
---