Posted on July 14, 2016
Google Premier Partner: What Does it Mean?
Glacial Multimedia, long-time Google Partner Agency, was recently awarded to Google's new top-tier of Partnership status, Google Premier Partner.

According to Google, the newly created category recognises "partners who manage a substantial portfolio of Google advertising campaigns and deliver great results for their customers. Premier Partners are required to maintain additional certification requirements and receive increased support from Google."
Glacial has been a Google Partner since 2013 and benefited from personalized AdWords support and education from teams at Google, as well as an Glacial/Google 'breakfast' presentation on-stage as AECOS Deer Valley in 2015.
The new, upgraded Partnership promises to provide even more AdWords support, plus new trainings, beta access, competitive insights, account analysis and more.
We are looking forward to continuing our great relationship with Google to make our AdWords campaigns as profitable and effective as possible for our customers.
If you are interested in doing Paid Search with Glacial, or simply want us to take a (free) look at your campaign, our certified AdWords Specialists (Spenser Pontbriand & Amanda Stacey) are happy to discuss. Just ask your client manager.
P.S – Thanks to Google for the popcorn & swag!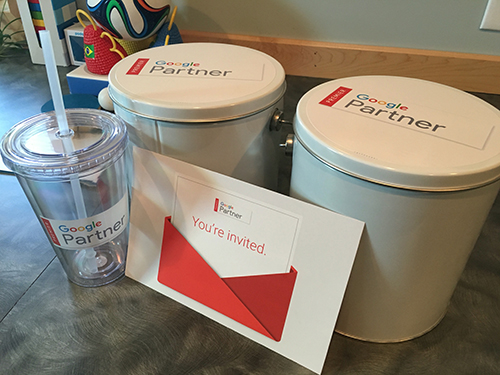 ---