Posted on November 30, 2020
How Doctor Bio and Location Pages Boost Medical Website SEO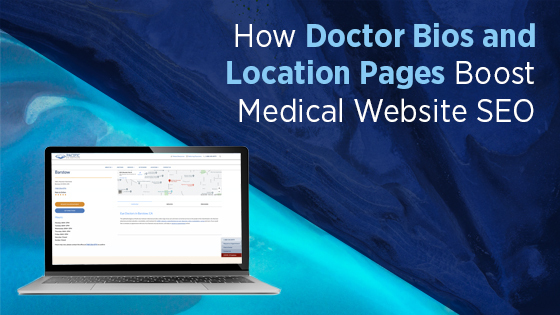 The benefits of high search rankings are countless. They can set you apart from your competitors, maximize website visits, and provide helpful insights to your local community about your services.
But, does your website have all of the elements it needs to secure high rankings in Google search? Without top rankings, practices lose an opportunity to be found by potential patients, placing heavy reliance on word-of-mouth marketing.
Ways to enhance these rankings are countless, from site speed and mobile optimization to strong blog content and services pages. Some of the unsung heroes of your medical website may just be your location pages and physician bio pages.
Keep reading to learn why these pages are so important to your SEO strategy, and ways to create an outstanding bio or location page for your medical website!
How do bio and location pages boost medical website SEO?
More than ever before, bio and location pages are showing up in search engine results for service-related queries like "LASIK near me".
Because of this, having well-optimized doctor bio pages and location pages can have an enormous positive impact on your overall rankings. This means two basic elements are needed in your website structure:
Individual bio pages for each of your physicians

Individual location pages for each office affiliated with your practice
Having a separate page for each physician at your practice allows you to optimize for their particular services. Dr. Jane may be an excellent retina surgeon, while Dr. Jack excels in refractive surgery. Both should be highlighted separately for better, more relevant ranking results.
Meanwhile, separate location pages help you to get found when individuals are searching for a service in your vicinity. If you have practice locations in multiple areas, this will help you rank for "Medical Service in Town A" as well as "Medical Service in Town B" more effectively.
Simply having these separate pages can be helpful, but there are many ways to take a location or bio page from good to great, both from a user standpoint and in search engine results.
How to create a great physician bio page
A great physician bio serves as an introduction to your patients. It provides answers to common questions they may have about you as a prospective care provider.
Your physician bio page is a tool to introduce yourself to your patients, share your care philosophy, and set yourself apart from other doctors in the area.
Some basic elements your physician bio should include are:
An up-to-date, professional headshot

A basic overview of your qualifications, educational background, and credentials

A list of your specialties and areas of expertise

A "human element", providing details about your hobbies and interests

Reference to which locations you practice at

Any languages you speak
We recommend that you write your doctor bio in the third person, and include any details that set you apart from other providers in the area!
Adding this content to the page can accomplish several goals: it helps create more reference to the services you provide, as well as where you provide them. This helps tell search engines (and patients!) that when someone is looking for a service in your area, you are a viable option.
Looking to go the extra mile? If you want your doctor bio page to really stand out, you can try these techniques as well:
Add video content to your bio page
Video content can bring your physician bio to the next level, allowing patients to hear you speak about your care philosophy and add a human element to your biography. Prospective patients will feel like they've gotten to know you before even meeting you, adding a level of comfort and confidence to their experience.
One of Glacial's clients Chicago ENT does a great job of this by including an introductory video for each of their providers on their bio pages: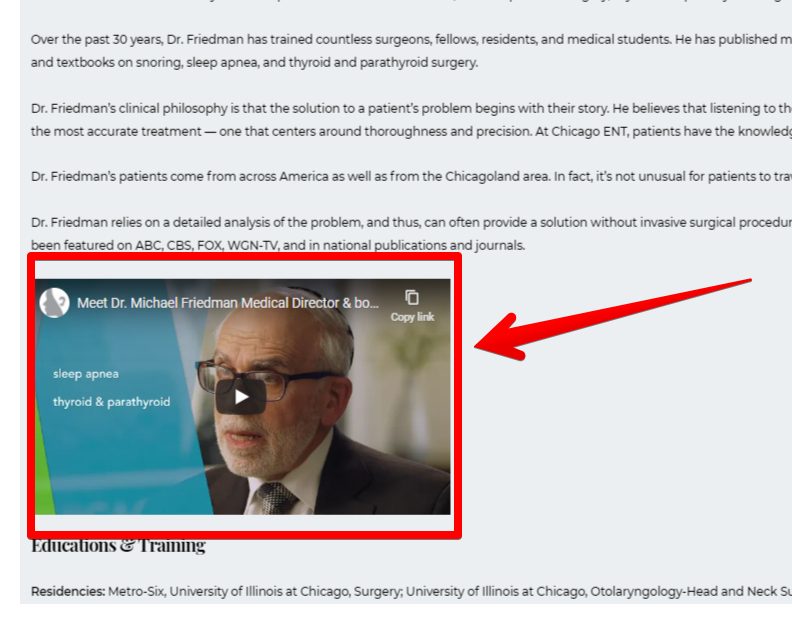 Another reason to implement video on your bio pages: some people simply won't read your website copy! Having both written and video content helps the page cater to different user preferences, and can keep visitors on the page a little longer.
Showcase your online reviews
Adding a review embed to your bio page is a streamlined way for patients to see your glowing online reviews, and get a sense of how others view the care they received.
An excellent example of this is on pacificeye.com, where each physician has a floating review showcase embedded directly onto their bio page, powered by MDidentity: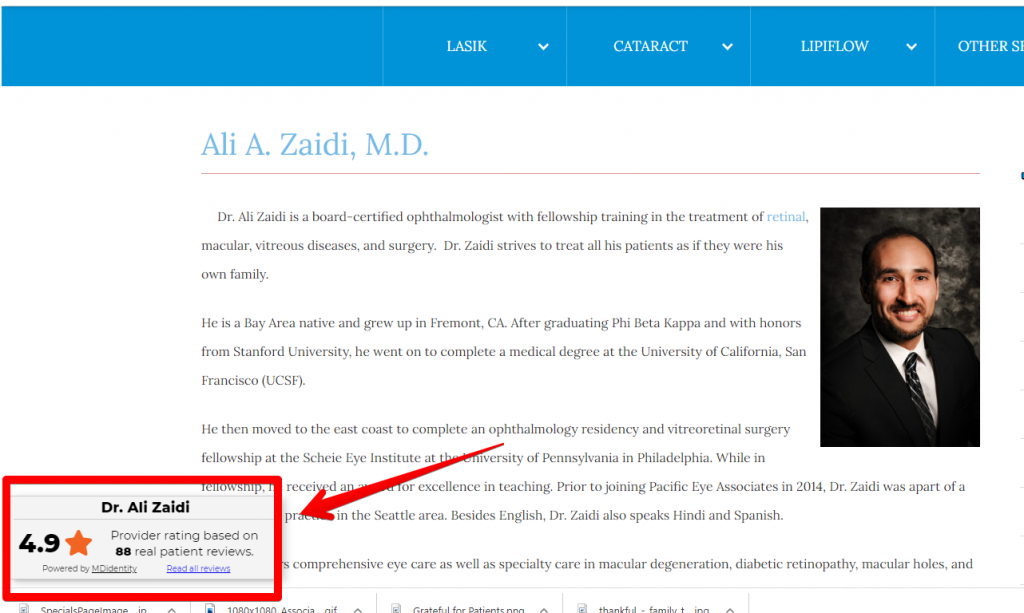 Showcasing your average star rating, how many patient reviews you have, and giving patients the opportunity to read the reviews shows you are a credible provider with great back up from your community!
Reputation management is critical for building your online presence. If you don't have reviews you can showcase that speak to your expertise, it's time to begin building up your online reputation and gathering reviews. This is what your prospective patients will be looking for!
Optimizing your practice location pages for SEO:
We've established that each of your locations should have its own page on your website, but what information can you include on the page to help bolster your online presence?
A few basic elements each location page needs include:
Practice name, address, and phone number

Hours of operation

A Google My Business map embed
These three elements are not only critical for patient use but they help search engines align your business information with the information provided on online directories like Google My Business, Yelp, YellowPages, and Apple Maps. At a minimum, each location page on your website should include these elements.
If you really want to enhance your practice location pages to be a tool for Local SEO, you can embellish the content by adding the following:
A list of the doctors who practice at the specific location
This allows search engines to draw connections between providers and locations and helps your patients know who will be available at the location nearest them.
This is also a great opportunity to enhance your internal linking strategy by providing a link to their bio pages, helping users and search engines better navigate your website.
Web copy detailing medical services available at the location
This copy is critical for enhancing rankings and helping to drive top search engine results. Listing out each individual treatment option and service available at your location provides patients with great information to determine whether to book at the location and helps provide content for search engines to crawl and index.
A great example of this is from Tewksbury Dental Associates, who list the dentists available at their practice location and provide robust copy about the services available at their Tewksbury office: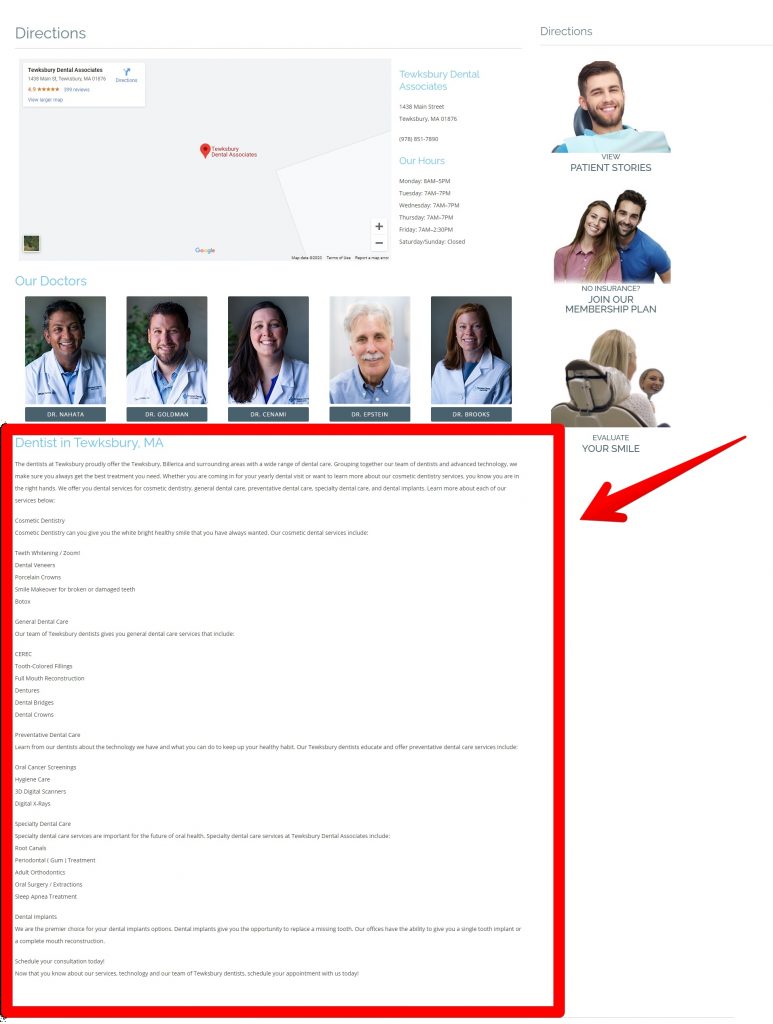 We've found that pages with close to 1,000 words tend to perform best in search engine results. Don't be shy with the volume of copy you include on your location page.
Even if your patients don't read the copy, adding it to your location page will tell Google (and other search engines) that these services can be attributed to the specific location.
SEO Strategy for Physicians and Medical Practices
By cultivating robust location and physician pages on your medical website, you can drive stronger ranking results and provide helpful information for your patients. The result? More website visitors and appointment requests that help build your practice.
To learn more about how you can build your website rankings and enhance your online presence, request your free website analysis from Glacial Multimedia! With over 20 years of medical marketing and SEO experience, we can help you find solutions that will drive new patients.
---