Posted on August 26, 2020
Top 5 Non-Negotiables for Ophthalmology Websites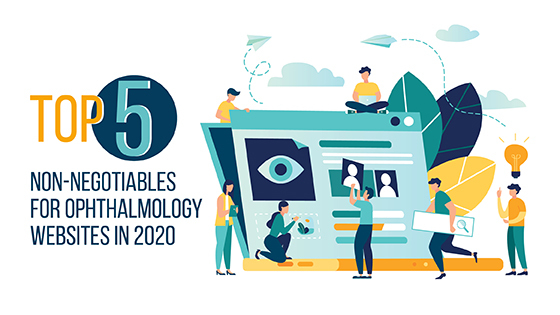 Does your ophthalmology website feel old and outdated? Has it seen better days but you're not really sure what's wrong with it?
There's plenty that goes into making a website great but there are a few key pieces that can make your medical website stand out from the crowd. Keep reading for the top 5 non-negotiables that need to be on your ophthalmology website in 2022!
1. Online Reviews
How do you get new patients? Is it word of mouth, referrals, or do you not know where they came from sometimes?
Online reviews are a resource on your website that you cannot ignore. Patients have the ability to decide how they feel about your practice before they ever walk through the door or see you.
If you don't have online reviews from Google, Facebook, or other sources, patients will find them in other places. Having them on your site is the easiest way to control what potential new patients see about you. You only get one first impression, so make sure it's a good one!
2. A Responsive Website
As it is 2022, it should go without saying, but your website must be responsive. If your website doesn't load well on mobile or other devices, you are already behind other practices in your area.
If you have to zoom in, pinch, or wait ten seconds or more for your site to load, it's probably not responsive and you need to redesign it as soon as possible.
Now, you may have a responsive website, but is your website also ADA compliant? Having an ADA compliant website refers to a website that is accessible per the Americans with Disabilities Act.
The good news: if you've built your website with Glacial recently, all of our websites are already ADA compliant. But if you haven't, there's a good chance that your website isn't.
Ophthalmology practices (or any business) with non-ADA compliant websites can result in significant fines. More importantly, you want your website to be easy to use for everyone, including people with disabilities.
Not sure if your site is ADA compliant? Contact Glacial and we'll take a look at your site.
3. Calls to Action and Engagement Objects
Many ophthalmology practices think that having a beautiful website is all that matters, but it's not. Your beautiful website also needs to be functional and bring in leads.
The best way to get new leads is with calls to action and engagement objects. Do you have things like a LASIK or cataract self-test on your website?
These engagement objects are proven to help bring in leads because they capture contact information for people interested in learning more about a procedure. This is especially helpful for those that are already thinking about having a procedure like LASIK but aren't quite ready to make a decision.
4. Well-Written Content
Another crucial component for ophthalmology websites is your content. Yes, these are the words on the page, but it's a bit more than that.
Content is a large part of how your practice can rank for keywords and be found on Google. But the kind of content you have matters as well.
You need pillar pages for the services that you offer. Do you offer LASIK or cataract surgery?
To make the most impact, you need more than a few paragraphs on these services to make a difference. Patients also care about the staff and the doctors at your practice.
Do you have individual bio pages for each doctor that are up to date and informative? Ideally, these pages should make it easy for your patients and new patients to get to know their doctor or ophthalmologist before they schedule their first appointment.
Do you update your content regularly, or is the content on your website outdated? There's no need to update your content daily, but if you want to look like you care, blogging is a simple way to populate your site with new content.
Blogging once or twice a month can be the personal touch that helps a patient see that your practice is modern. It's also an easy way to help Google see that you update your website on a regular basis.
5. HIPAA Compliant Web Forms
As an ophthalmologist, you already know about the importance of HIPAA. But did you know that your web forms also need to be HIPAA compliant?
Having patient information like date of birth, social security numbers, and other personal information is a violation of HIPAA. The easiest solution to this problem is to make sure all the forms on your website are HIPAA compliant.
If you work with Glacial, this is something that you've probably heard your client manager offer you over and over again. If you haven't taken them up on it yet, take them up on it now, because it's important!
This is the easiest way to make sure any and all PHI is safe and secure when patients fill out forms on your website.
Take Your Practice To The Next Level With These Services
Want to take your ophthalmology practice and website to the next level? SEO and Local SEO are the perfect services to do this. Yes, having a responsive, ADA compliant website is great, but it's really only the tip of the iceberg, especially when it comes to digital marketing.
If you want to get the most out of your website and increase your leads, SEO and Local SEO are two services that can take you to the next level. Ranking well on Google is the easiest way to increase visibility, but if your local profiles aren't accurate, new and old patients alike won't know how to find you.
Keeping your local listings accurate and up to date with any and all changes is part of what's included with Local SEO, so all you have to do is take care of your new patients!
Ready to take your marketing efforts up a notch with a new website? Contact Glacial Multimedia to find out how we can help your ophthalmology practice!
---