Posted on May 14, 2020
Watch How Practices Shifted Marketing Strategy During COVID-19 Now!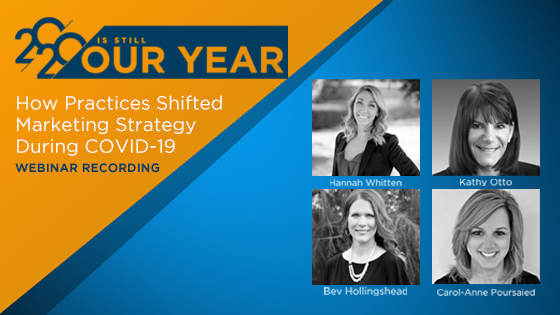 Did you miss Tuesday's webinar featuring the boss ladies of the refractive marketing community talking about how they've shifted their marketing strategy during the COVID-19 pandemic? You're in luck because you can now watch this fantastic webinar, featuring Hannah Whitten, Director of Client Services at Glacial Multimedia, Kathy Otto, Director of Marketing at Fichte, Endl & Elmer Eyecare, Bev Hollingshead, Marketing Director at Frantz EyeCare, and Carol-Anne Poursaied, Refractive Practice Development Manager, Carl Zeiss Meditec, Inc.
This has been the most popular webinar for our 2020 Is Still Our Year virtual workshop and it contains plenty of advice and results that have worked for these practices. Check it out below right now!
For everyone that has attended a virtual webinar or participated in one, we just want to say thank you for making this a success! And it's not over yet!
You can still sign up for office hours with the Client Managers of Glacial Multimedia for Friday, 5/15. To sign up for your time, just email [email protected] with your availability. This will be during our office hours of 9 AM-5 PM, so please be aware of that when scheduling your time with a Client Manager.
If you missed yesterday's How to Use Content to Increase Traffic to Your Website webinar, we will be releasing the recording shortly as well for anyone that wants to review it. And don't forget about today's FAQ Happy Hour at 3 PM EST with Hannah Whitten, Director of Client Services, and Bethany Powers, Assistant Director of Client Services.
Registration is required, so sign up here for your spot: https://us02web.zoom.us/webinar/register/WN_sbuWB5x2R2WkGLAcsr01BA
---