Posted on December 10, 2020
The New Ophthalmology Website: Redefining IQ Laser Vision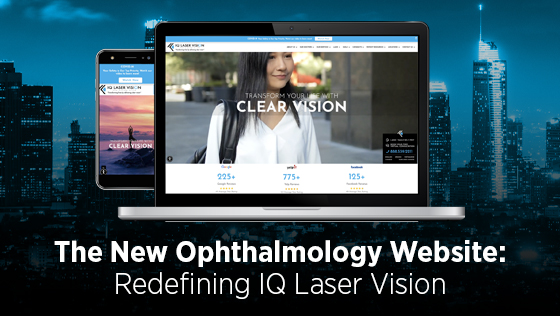 Glacial is proud to announce the launch of the new IQ Laser Vision website. The opportunity had arisen to work with Cindy Wong and Edward Lu on a new website to redefine the look and feel of the practice.
IQ Laser Vision has made tremendous strides to become one of the top vision correction practices in the Los Angeles area. Spearheaded by the longtime refractive surgeon, Robert Lin, MD this group has transcended the average LASIK eye surgery practice by adding a complete suite of vision correction options including SMILE and the Visian ICL.
Opening the options for patients made this practice far more attractive to young consumers who are trending towards quality vision care instead of low-end LASIK providers. IQ Laser Vision has been visited by many LA celebrities including California congresswoman Judy Chu.
Glacial Multimedia was honored to work with such a progressive group of ophthalmologists. In typical Glacial fashion, the discovery meeting was held to understand the client's goals.
Both Cindy and Edward were heavily involved in this process. Having this involvement with Angie Grosso, project management was critical for the success of the project. Some of the unique elements are listed below.
Video header
The decision to go with a video header instead of a static image or slide show is always a different one but video can really give you that "wow" factor. Everyone at Glacial was honestly pretty excited IQ Laser Vision went with video.
Many practices opt for a custom video but in this case, we were able to use some lifestyle action video that came out very nicely. In the future, this may be able to be a live video from the practice, but for now, this is an excellent and impactful option.
Engagement palette on all pages

Ophthalmology websites should be about much more than just beauty, although Glacial does take great pride in creating some of the best-designed websites in the field of ophthalmology. The engagement palette option works very well for improving conversions.
Having a place where at a moment's notice the visitor can contact you is vital. In fact, providing options is the "new normal". Objects like virtual consultation, phones, self-tests, and scheduling options will elevate your service level beyond your competition.
If you are serious about improving your conversion rate, especially from organic search visits, this needs to be considered.
Use of Celebrity testimonials
It's beyond impressive that this practice has invested the time to get some patient testimonials, and more importantly, to actually have some celebrities. Having people of noteworthy fame come to your practice is not a bad thing.
Many people use the ideology that if someone that is famous comes to the practice then they must be good. Glacial has seen this work for numerous clients over the years including professional football, baseball, mixed martial arts, and basketball athletes as well as entertainers, actors, and musicians.
Mention of all vision correction options
Dr. Lin has made it very clear that he wants to be not just a LASIK provider but a vision correction center that provides the best procedure for a patient. If LASIK is not a good fit, he does not have to do the procedure.
Instead, he can use Visian ICL for patients that are more nearsighted (myopia) or the SMILE procedure by Zeiss. One size simply does not fix all when you're correcting vision.
Dr. Lin even helped pioneer the All-Laser Soft Touch Comfort Micro-LASIK® technique to improve results and safety with LASIK.
Addressing cost
Not every refractive surgery practice likes to address COST on their website, but it is an issue for anyone getting LASIK. The 2 biggest barriers for patients are price and fear.
Since IQ Laser Vision addressed fear with all the safety protocols and vision correction options, price is the next barrier. Aside from providing the best rates in the industry, they have also made a graphic with some price comparisons.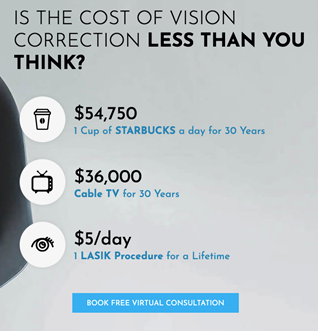 Use of self-tests and virtual consultations
As previously expressed, having engagement objects are critical to enhanced conversions. In today's new normal with COVID, having virtual consultations is simply smart.
Technology has been increasingly involved with ophthalmology and the COVID pandemic bridged the gap and now patients expect virtual capabilities. This will only continue as patients get used to the ease that telemedicine provides them with.
Use of blog article feed on the homepage
The inclusion of the blog post feeds on the homepage should make a nice impact on SEO over time. It demonstrates to the search engines that this practice updates their website and provides new and engaging content on a regular basis.
Feeds like this can provide major benefits, especially since search engines are accepting feed submissions and are interested in user-generated content. This feed will provide new information for visitors, push the administrators to update content (which encourages more spidering), and lower the need to send out newsletters for update reasons, and encourages repeat visits.
Thinking that it's time to update your old and outdated ophthalmology website? There's never been a better time than right now! Contact Glacial Multimedia to request a free website audit now!
---