Posted on December 15, 2020
Top Social Posts to Boost Your Practice's Engagement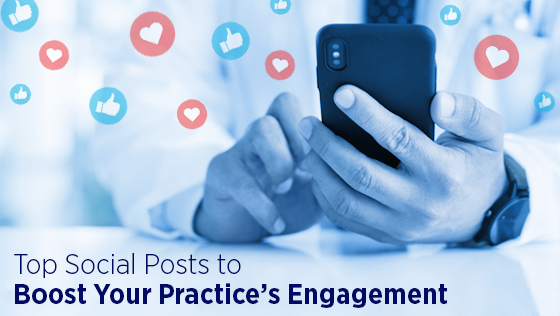 Social media is a powerful medium. Its strength is not only in brand awareness but as a marketing tool cannot be understated.
To get the most out of your social, you'll want to create engaging content. Engaging content can be defined simply as content people feel compelled to interact with.
A like, retweet, share, comment, and even a click (these are only a few examples) are all different types of engagement that your social media posts can generate.
Engaging content comes in a few different forms, and implementing even one or two posts like this into your posting schedule can do wonders for your practice's social media engagement!
Keep reading to learn some of the top posts to boost your practice's engagement!
Videos
Video is proven to be a great source of engagement when used in social posts! In fact, it is the most engaged with type of content on Instagram.
Whether it's a short video of your doctors showing their personality, an educational video on a procedure, or even a quick Boomerang, a video will boost your practice's engagement!
Williamson Eye is a practice that Glacial works with who does a great job of using video as an engagement tool across their social networking channels.
They're using video to show the personality of their staff members, as illustrated by this post they made back on Halloween.
Brag About Your Practice!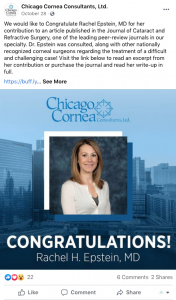 Is your practice one of the first to implement a new procedure or use a new lens? Let your followers on social know!
Not only do posts like this say "Hey, we're an innovative practice!" But it's a perfect way to encourage engagement. It gives your audience a reason to celebrate with you.
Don't stop at only procedures! Brag about your doctors a little too. They're prettygood at what they do. Letting your followers know exactly why is social media GOLD.
Take Chicago Cornea Consultants. They're featuring doctors monthly on their Instagram, as well as taking to social media to let everyone know of their doctors' accomplishments!
Use Your Patients!
A general rule to remember on social media is that people love people. They especially love people who are like themselves.
If you have patients willing to take a photo before a procedure or give a video testimonial when they come in for a post-operation check-up, that is perfect for creating engaging content!
Your patients can make the content relatable. LASIK or cataract surgeries being life-changing are not mutually exclusive. People that have experienced it will be thrilled someone else is about to share that with them. This is where the engagement comes from.
Omaha Eye and Laser regularly share patient testimonial videos, as well as patients post LASIK as part of a content series dubbed "20/20 Vision".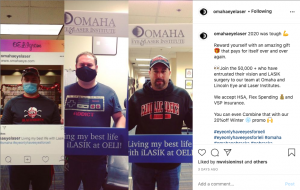 Posts like this are very good for achieving consistent engagement! Using a mix of professional video and photos taken from a phone helps to give a more "in the moment" feel to the content that your practice is posting.
Does your practice need help with creating engaging content? Contact Glacial Multimedia today to learn more about our Social Media Management services!
---