Posted on June 13, 2022
The Importance of Adding New Ophthalmic Content to Your Website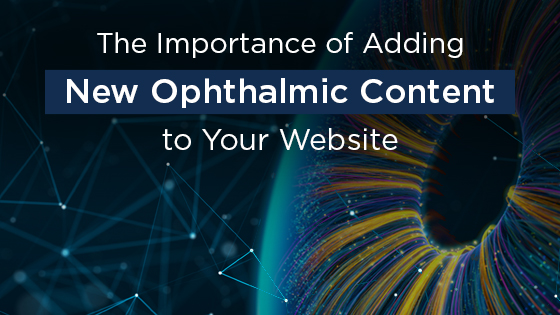 As a dedicated healthcare provider, you want your patients to know they are receiving top-of-the-line care from qualified physicians and surgeons. Part of this includes showcasing the advanced technology and surgical techniques you offer.
Adding any new technology offered by your practice to your website can increase patient loyalty and improve your reputation of expertise.
Newest Ophthalmic Technology
You may have recently introduced some of the recent surgical advancements and devices into your practice like the EVO Visian ICL, Vuity eye drops or the Eyehance IOL. Adding content to your website about these new technologies can increase awareness of these options and drive potential patients to make appointments.
By adding detailed and accurate information to your website about technology that can alter the lives of your patients, they are able to gain insight prior to their appointment. Not only will they be able to learn about these products on your website, but it will also be convenient for them to schedule an appointment to learn more.
Unique and keyword focused content can also help patients be able to find your practice more efficiently. Utilizing SEO strategy and techniques may allow your practice to be the source of the first information a person receives on that technology.
It is important to get new technology information up in a timely manner. In order for this information to be visible to the largest number of people, it's best to add these new technologies to your site as soon as you start offering them to patients.
Increase Patient Loyalty and Retention
Existing patients may visit your website regularly to schedule appointments, learn more about an upcoming surgery or get more information about their eye doctor. By adding information about new technology to your website, existing patients will recognize that your practice is a leader in the field.
Content about new technology on your website can go a long way to exemplify your practice's dedication to providing the best and most advanced treatment methods available. By proving this through to your patients, they will be less likely to venture to other practices.
Although your practice may be offering advanced technology, your patients may not be aware if it is not listed on your website. Many people rely on information they can gather through a practice's website to form an opinion about that particular practice.
Your patients will trust your expertise and want to keep visiting your practice if they know that you can provide innovative treatments for their conditions. Swiftly adding this information to your website shows your patients that you are not only innovative when it comes to surgical technology, but you are also dedicated to providing them with accessible and accurate information about that technology.
Maintain Your Reputation of Expertise and Innovation
Adding new and advanced technology to your website can help you maintain your brand reputation and improve the confidence of future patients. This simple addition to your website can instill a sense of trustworthiness of your practice to new and current patients.
If you are the first practice in your area to offer a new technology, it is just as important to have it listed on your website before a competitor. When searching for treatment methods, patients will look at your website and see information about a treatment they have never seen or heard of before.
Seeing this information on your website will reinforce your reputation of expertise and innovation. To remind future and current patients that your practice is equipped to provide them with the best treatment methods available, it is essential to add new technology and the benefits to your website.
Provide Your Patients With a Starting Point For FAQs
If a future or current patient is researching treatment methods, your website can be an invaluable source of information. Prior to scheduling an appointment, your patients will be able to get many of the frequently asked questions answered.
This detailed page will provide them with information about whether or not this treatment method may be an option for them. In addition, it will also allow them the opportunity to come up with questions prior to their appointment.
By having a better understanding of this new technology prior to the appointment, you will be able to spend less time describing the basics. There are many benefits to providing information about new technology to your patients on your website.
Besides increasing patient loyalty and providing accurate information about the new technology offered at your practice, you can promote your practice as an innovator in your field.
Are you interested in adding information about new technology to your practice's website? Schedule a call with a client manager from Glacial Multimedia to learn how we can help add this valuable information to your website!
---