Posted on May 12, 2022
Using AI & Machine Learning for Medical SEO
There is recent buzz around the usage of artificial intelligence and machine learning technology related to search engine optimization.
However, many marketers are misusing the term artificial intelligence (AI) and confusing it for what are in truth machine learning (ML) and deep learning (DL) technologies1.
There are essentially two categories of artificial intelligence and machine learning within search engine optimization (SEO). The first is the search engines themselves and how they incorporate AI/ML into their algorithms, and the second is the application of AI/ML models into SEO-focused tools.
These are automation tools that are excellent at collecting, extracting, and analyzing large amounts of data. Such tasks are extremely useful for SEO and can be leveraged to improve the search engine rankings of your website.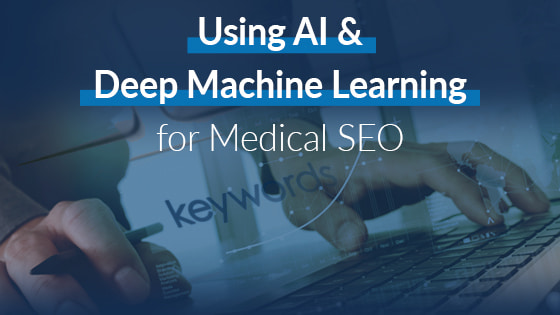 What Is AI, And How Is It Being Used For Medical SEO?
Google and other search engines are becoming semantic search engines. Over the past decade, algorithm updates have moved beyond just links and keywords to utilizing AI and ML to evaluate the authority (E-A-T), context, meaning, and relationships among the words on a page and across a website.
The more recent of Google's major algorithm updates incorporate advanced Natural Language Processing2 (NLP) that enables algorithms to recognize keywords and actually understand the content on a page.
These NLP models focus on Entities. An Entity is essentially a precisely definable thing – such as a person, organization, locations, medical codes, dates, currencies, etc. The NLP models recognize Entities and understand how all topics related to an Entity are correlated to each other and even other Entities.
While tactics such as backlinks and technical SEO still matter, it's more important now than ever to have high-quality, relevant, factual content that satisfies a user's intent, and not content merely stuffed with keywords and fluff.
How Can AI Be Used To Improve Search Rankings And Organic Traffic?
Various tools are emerging that incorporate AL/ML data models to aid in SEO-based tasks.
Some attempt to reverse engineer search engines or competitors to uncover potential opportunities. Others utilize data models for finding keywords and generating content (GPT-3). And there is also a class of tools that help writers and SEO professionals analyze their content through an NLP lens.
These tools identify and extract Entities3, helping users gain insights into how a semantic search engine (AI) might understand the content. Using these tools helps teams create or refine content optimized around their target Entities and build out topical content clusters for related topics – helping build more meaning and overall valuable depth into content on pages.
Which Specific Aspects of Medical SEO Can be Improved with the Help of AI Technology?
Over the past few years, Glacial has tested nearly every SEO tool on the market, looking for software that can benefit our clients and keep them at the top of the search results.
We've even gone a step further and built our own custom internal machine learning tools to utilize for our clients.
So far, these are the different functions we've found AI/ML assisted technology to be helpful when implementing an SEO strategy:
Keyword research
Competitive analysis
Content analysis
Sentiment analysis
Internal/external linking opportunities
Search algorithm analysis and reverse engineering
What Are Potential Risks To Using AI In Medical SEO Campaigns?
The most significant risks with utilizing AI tools in your SEO and content strategies come from over-relying on computer-generated content and taking every recommendation at face value. Just because the software program said it does not mean it's right.
Incorrect AI-Generated Medical Content
The medical content on your website cannot be wrong. Your patients and other internet users are relying on the information on your website to be 100% factually correct. Not only to build their trust but to genuinely become more informed about medical conditions and potential treatment options for their healthcare needs.
If you rely on computer-generated content, you run the grave risk of producing factually incorrect medical information. Foremost this puts patients in danger, and with search engines increasing their weight of authoritative and trustworthy content, you risk patients and search engines determining your website is unworthy of their attention.
Incorrect AI-Based Recommendations
SEO tools that utilize "AI" are great for gathering and synthesizing large amounts of data and increasing the efficiency of these tasks. Yet, AI tools have not figured out nuance and have not figured out how to perfectly replicate Google's search engine ranking algorithm.
Google claims there are over 200 individual ranking factors, and algorithm updates are now rolled out multiple times a year.
So while AI recommendations may genuinely be helpful and try to reflect some of the known ranking factors, they are generally based on analyzing a competitor's page compared to a page on your website and running the pages through an extensive checklist, highlighting the differences between them.
Some surfaced items may be valid issues to address. Still, it assumes SEO comes down to a known checklist and lacks an understanding of experimentation, nuance, and advanced tactics that come with an SEO specialist working on your site.
Thinking you can just run your site through an AI-powered site checker and come out with the winning playbook is a recipe for page two results.
Are You Interested In Utilizing AI With Your Medical Marketing?
Glacial is always at the forefront of technological advancements in the medical marketing and web development industries. It's one of the most significant competitive advantages for our clients.
If you're interested in learning more about this emerging technology or implementing it for your benefit, contact Glacial today.
---