Posted on April 7, 2021
Use these Six Vendors and Enhance the Patient Experience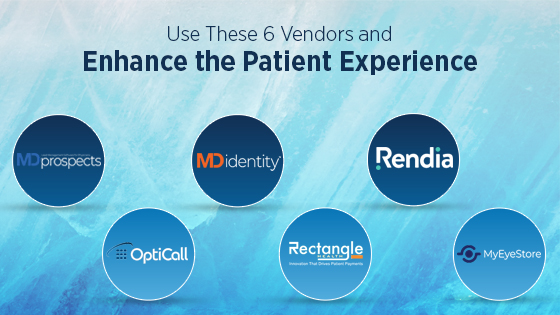 When a patient visits your website, answers a phone call from your staff, receives an invoice, or discusses their health with a physician, their perception is impacted with every interaction.
Over time, these interactions form the patient experience.
It is up to your practice to implement processes and tools that are considerate of your patients' needs and elicit a positive response, and every interaction counts.
We recommend these six vendors to wow your patients, prospects, and help to create lifelong advocates for your practice:
OptiCall

MDprospects

MDidentity

Rectangle Health

Rendia

MyEyeStore
Keep reading to learn more about why to use these vendors and how they'll take your practice to the next level!

OptiCall
OptiCall is a Medical Contact Center that helps busy practices convert more leads into patients. This team of expert communicators goes bananas for patient engagement and helps to make the first contact your patients have with your practice both positive and professional.
Since 2002, OptiCall, Inc. has specialized in initial customer contact for medical practices that offer a variety of elective procedures, surgical and other. With over two million prospective patient phone calls under their belt, they've developed a tried and true program to convert more leads into elective consultations.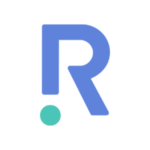 Rendia
If Rendia doesn't ring any bells, do you remember Eyemaginations? They rebranded several years ago, and have incredible eye care and ENT videos for practices to use on their website and in the practice. They have the largest, most sophisticated assets on the market, offering hundreds of videos for their practices and providers.
Rendia has been a valued partner of Glacial Multimedia for many years especially with both companies being established in 2000. We use their videos on websites to help with patient education and to keep users engaged. Rendia videos can also be used on Social Media for posts and to provide further patient education online.

MDprospects
MDprospects is a web-based software tool designed for medical practices to manage leads, maximize patient conversion rates and increase revenues. The software was developed based on the needs of ophthalmology practices who wanted to better understand the patient conversion journey from website inquiry all the way through to surgery.
MDprospects comprises three main components: Capture, Communicate, Convert. The software was designed to organize your leads and follow up process, communicate through 2 way texting, email drip campaigns, task management, online chat, and online scheduling.
MDprospects integrates with some of the top practice management systems in the country, providing more comprehensive insights into your marketing efforts.

MDidentity
MDidentity is one of the best all-inclusive medical Reputation Management platforms helping our clients promote, manage, and maintain their online reviews and reputation across the world's most popular sites and platforms.
The software is developed to custom fit your practice. MDidentity provides integration options with practice management systems to create a hands-free review request experience. If your practice prefers a more hands-on approach, you can trigger review requests at your own cadence and even upload your patient lists manually.
Our mutual clients let their reputation speak for itself with review feeds for the website, doctor bio pages, and location pages.

Rectangle Health
Rectangle Health is a payments solutions company that does some truly remarkable work for healthcare organizations, large and small. Rectangle is system agnostic and can fully interface with any software out there!
Rectangle Health works with nationwide groups like Fyzical, Aspen Dental, CCRM, all the way down to your local clinic with one provider. Most importantly, Rectangle takes pride in building custom solutions for practice owners in order to collect payments more efficiently and timely by utilizing a more digitized approach.

MyEyeStore
MyEyeStore is your behind-the-scenes partner in creating a thriving online optical shop for your practice. Providing online solutions for patients' eye care needs helps improve loyalty and fills a prevalent need.
MyEyeStore creates a custom online store for each practice they work with, allowing them to sell contact lenses, eye drops, dry eye products, and more – all through an easy-to-use customer interface. They will build your online store for you, customize your branding, handle all orders, and let you set the pricing.
Enhancing the Patient Experience
To truly enhance the customer experience, practices need to step beyond the exam room and explore every facet of patient engagement. From your practice website to your billing practices and patient education tools, each step of the patient journey should be informative, user-friendly, and put the patient first.
What vendors do you find helpful for providing the ultimate patient experience? Let us know!
Struggling to give your patients an experience that they'll enjoy and benefit from? Contact Glacial Multimedia to find out how we can help!
---