Posted on March 9, 2017
Websites Need Spring Cleaning Too: Keeping Your Site Updated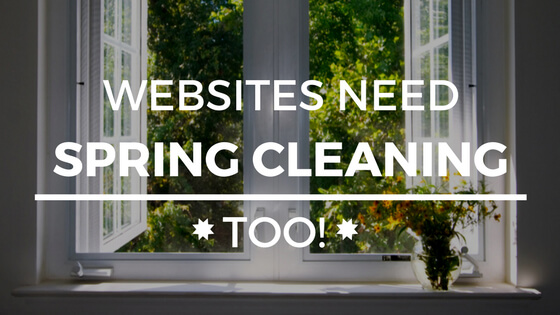 "Springing forward" this weekend means many things – an hour less of sleep (yawn), more daylight, and coming one step closer to t-shirts and flip-flops are among the most obvious side-effects. One thing that might not come to mind until it happens, though, is that those extra rays of sunshine in the afternoon have an uncanny way of revealing cobwebs and dirty windows. And doesn't warmer weather mean your unworn sweaters are bound to hit the bottom of a donation box? Why do we suddenly feel the need to clean everything?
Springtime begs for fresh beginnings, and something about it really seems to inspire people to take that mantra to heart in their lives, homes, and businesses. Springing forward? Time for some spring cleaning. Look beyond Clorox, vacuums and storage bins while the ground still thaws – because websites need spring cleaning, too.
Here are a few crucial, but simple, items to make sure are squeaky clean on your practice website this spring.
UPDATE YOUR PRACTICE FORMS…
If the patient forms on your website date back to the dawn of the internet (or even if you've had to make a small tweak in the past couple of months) it's time to make use of the scanner you just dusted down and get those over to your Glacial contact. Be your website old, or still in development, we'll happily help you get those switched out. You may be using the correct forms at the practice, but pay homage to the proactive souls trying to get ahead of the game by printing them out from home – it's frustrating to have to fill them in a second time!
…AND UPDATE FORM RECIPIENTS
You'd be surprised how often practices forget to keep this up to date. Are your online forms sending to the right people? Your staff changes, and people move to various positions over time – so make sure to let your webmaster know if the forms on your site need to go to another place. Not sure where they're going? Just ask, and we can let you know who your online forms are getting submitted to. If you aren't getting your leads, then you're missing out on new appointments and patients.
PHOTOGRAPHY
Imagine looking at your yearbook photo from high school – your hair is different, your style is different, you had facial hair – maybe you've since gotten an extreme makeover! You are different in appearance and probably otherwise. If you feel the same way about your photo on your website, we suggest getting a professional photographer involved and getting that switched out ASAP. It's best to have your picture on your website, and across the internet, be a current reflection of who you are – or you may catch your patients off guard in person!
The same goes for any imagery on your website – if you feel that anything looks outdated, tacky, or lacks a modern flair, there's nothing stopping us from switching those out for you but a simple "okay" from your practice.
CONTENT
Fresh content is great for SEO; search engines scan websites to see how frequently they are being paid attention to, and give credit to those who don't let their websites sit to gather dust. Aside from that bonus, outdated content can quickly translate into a bad patient experience. Make sure you have all the correct physicians, patient information, and services listed on your website as current as possible to avoid confusion or frustration with your patients.
A few specifics to watch out for:
Are all of your physicians listed on your website currently staffed at your practice? Are any missing?
Have you gained or lost any locations that may be missing or need to be removed?
Have your hours of operation changed at all?
Did you gain or remove any services (or change the technology you use) that may need to be addressed on the website?
Are your financing and insurance options the same as is listed?
People visit your website for one reason – information, in a number of ways. Make sure the information you are presenting to the public is accurate and helpful!
Another content item to look out for is voice – if your site reads like the Webster's Dictionary, you may want to consider freshening it up a bit with a more conversational tone.
Going through your website can be a lot like cleaning out the garage – one minute you're making leaps and bounds of progress and the next you're going through eight old photo albums and wondering how you can refurbish your old couch. In other words – the more you do, the more projects seem to arise. Don't get overwhelmed. If you need direction or assistance, we're here to help.
Happy cleaning!
---