Posted on October 22, 2018
Work With Names, Not Ticket Numbers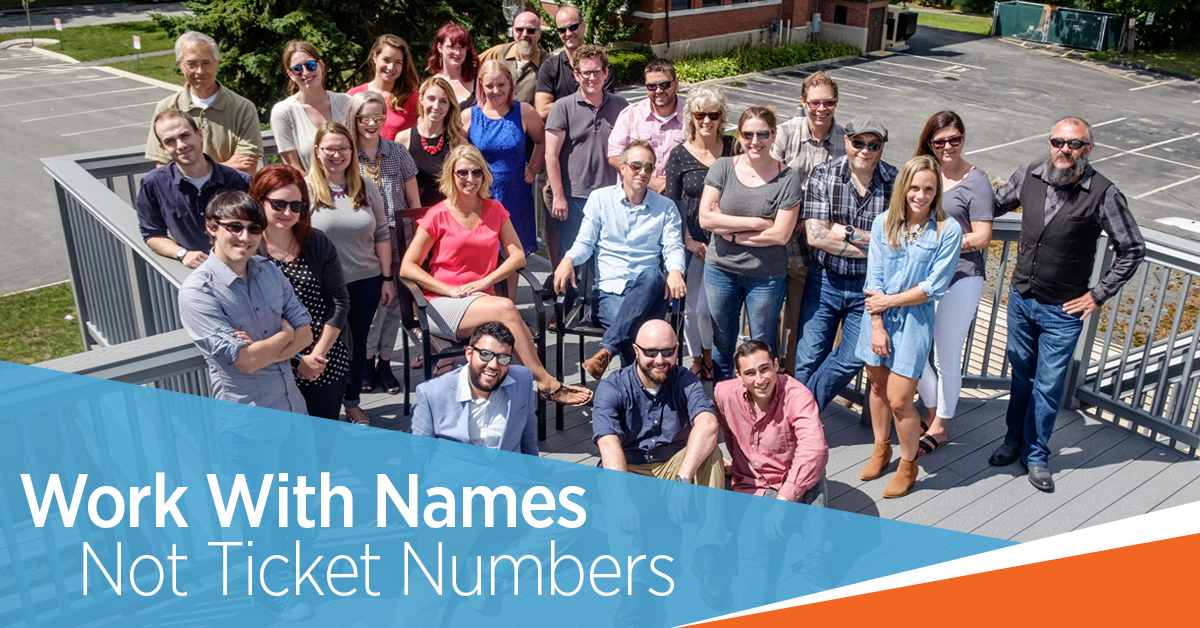 Ever tried to contact a company and talk to 10 different people before you get where you need to? At Glacial Multimedia, we're different. With our unique client management and specialties departments, we don't put you through the ringer! Instead, you'll work with names, not numbers here. Don't believe us? Check out this behind the scenes breakdown of how we work! Want to meet us in person? We will be at AAO at booth #3063 to answer all of your digital marketing questions.
The Client Managers
Let's start with our client managers. Our CM team is beyond dedicated to making sure our clients stay happy. There's something fresh and innovative about being able to call them up whenever you need them. Yes, a client manager is an "account manager" but they are so much more than that!
Your client manager is your personal internet marketing consultant for ALL things digital. This includes your website, SEO, paid search…the list goes on and on! A client manager keeps you in the loop.
They discuss your goals, and what you're trying to accomplish with digital marketing. If you're running campaigns, they'll break down how the campaign is going, and what your ROI is. This is no small feat! It's thanks to the fact that all of our CM's are experts regarding our specialties. Even if you can't verbalize what you need, they can help you.
You're never in the dark at Glacial, and your client manager makes sure of that. Get the most out of them by using them as a tool. Not every medical practice can afford a marketing manager, and with Glacial, you don't need one! We do the heavy lifting, while you see the leads and patient acquisitions pour in. Simple as that.
The Specialties
If you're going to be successful, you need to trust the work that's being completed. We're different here at Glacial because we have specialists. Yes, our client managers are experts on our specialties, but it's more than that! Each department has several specialists specifically devoted to that specialty. Instead of having people who are only okay at each specialty, we've hand selected the best of the best for these specialties.
It's no wonder we've been a Google Premier Partner since 2014! Like our client management structure, a specialist will be assigned to your account. Nobody at Glacial is off limits, including our specialists. Have questions about your SEO performance? You can talk to your SEO specialist, instead of someone who doesn't have a clue about your account!
Social Media
Social Media can be tricky for any business, but in the medical field, things can get a little trickier. With our dedicated social media specialists, you can run targeted social media ads, or let us maintain your social pages.
Social media is at the heart of why digital marketing is so important! Want to get seen where it matters? You better have a social media strategy in your back pocket.
Paid Search
Many digital marketing agencies do not have a clue when it comes to paid search. This is, even more, the case in the healthcare industry. It's all about campaign performance and optimization. If you're looking for results and an increase in the number of leads you're getting, it's time to consider paid search.
Our paid search specialists break down each and every campaign so you can understand what your budget is getting you. If you're looking for top of mind visibility, paid search is necessary.
SEO
You might think you're familiar with SEO. Maybe you occasionally show up number five for one of your preferred keywords and think you're in good shape. If you want to dominate and beat your competition, it's all about SEO. Our SEO specialists are dedicated to your success.
There's a lot more to SEO than just keyword rankings. We'll continuously analyze how your SEO is performing, on and off-page. Our SEO specialists are key if you're looking for more leads and patients! If you don't show up where your potential patients are looking, you may as well not exist. That's where we can help!
Content Marketing
When it comes to digital marketing, it is important to stay fresh and on top of the newest trends! Content marketing is about capitalizing on your current successes in digital marketing. Through the creation of content like white-papers, blogs, videos and more, we can build you a content marketing strategy.
Content isn't just about words on a page. Instead, you should be focusing on how your patients are engaging with your content. If you're creating engaging content and sharing it with the world, you can increase your SEO potential. Want to drive more traffic to your website? Content marketing can do that too! The key to success with content marketing is quality.
Most medical practices don't have the time to sit and create content, but we do. Let our content marketing specialists help you dominate your field! There's a lot more to Glacial Multimedia than meets the eye. Want to find out for yourself? We'll be at AAO at booth #3063 or get your FREE website audit!
---