Posted on June 9, 2017
4 Types of Websites You Need to Know About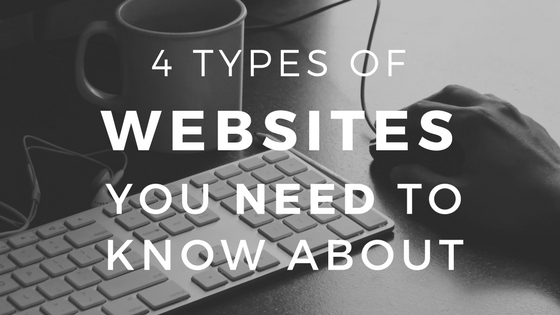 At Glacial Multimedia, we are always expanding our digital dictionary. We've even been working on our new tagline here in the Client Management world:
"There's a website for that."
So we wanted to take a moment to define the types of websites that may come up in your conversations with your Client Manager, Paid Search Specialist, or SEO Specialist here at Glacial.
RESPONSIVE WEBSITE
If your website was built before the year 2015, you probably have a fixed-width website.
You are not alone. What was once a format used to ensure a user's experience stays the same no matter which browser you used, is now the equivalent of a box television set. (Trust us, you'll know one when you see it.) As of 2016, we only design responsive medical websites. Believe it or not, in just 1 years' time we have dived head-first into a website design revolution – what we like to call Responsive 2.0.
We know, we know, you're probably sick of the word "responsive."
But a beautifully modern website that is seamless on every device is the backbone of your practice's online marketing strategy – and always step #1.
Your website is your home base. The book cover of your practice. Your website should portray your brand, your mission, and your voice. It is the first place new patients will visit before stepping foot inside your practice, and a lot of the time, it's the first instance of your practice your leads will lay eyes on after they find you through organic search. And with your website, you should be able to start the conversation with those visitors.
What are the key components of a website?<?h2>
Prominent homepage calls-to-action. A user should know where to find what they're looking for the moment they land on your website. You should have 1-3 prominent calls-to-action (what we call CTAs) above the fold, or before a user has to scroll.
About the practice. Includes your mission statement, history of the practice, motto, photos of the entire staff – you know the drill. Be human! This page is normally the second most visited page of your website, so make it count.
Doctor pages. Make sure the format of each doctor bio and headshot are consistent.
Locations pages. If you have more than one location (yes, this includes surgery centers or satellite locations), you must include a dedicated page for each. Not only will this change help these pages index, AKA rank in Google, but it allows for patients to learn more about their chosen location – written directions, parking, nearby landmarks, photos of the waiting room, etc.
Services/Centers for each facet of the practice. This is a given!
Intake forms & lead-generating tools. If your website does not have a single intake form (i.e. Contact Us, Request an Appointment, LASIK self-evaluation), you are losing leads. It's as simple as that!
Content marketing. Patient education videos, a consistent blog, and online brochures are among the many ways you can provide your audience with the answers they're looking for and are a vital part of your branded communication strategy. (Read up here!)
Social media. Whether in the form of header icons or a feed, your website visitors are looking for secondary, more personal platforms to learn more about your practice.
Patient information. Include common resources like patient forms, insurance information, online bill pay and patient portal links, and FAQs.
Testimonials/Review us Online. We've seen the trend, and it's one that's here to stay – online reviews. Get the message out to the curious before they do their own research by placing positive testimonials and online reviews on your website. (Intrigued? Click here!)
LANDING PAGE
A landing page is a unique, targeted one-page website that is designed to convert your leads into patients. They are used alongside online advertising campaigns such as your Pay-Per-Click search campaign or Facebook timeline ad. At Glacial, we believe a landing page is the soul behind your campaign's ROI.
Unlike full websites that have a navigation to include general patient information (i.e. About Us, Patient Forms, Services, etc.), landing pages normally have 4-5 sections that are anchored from the top navigation. All of your content is displayed on one page in a clear, concise format that is reflective of your campaign's goal.
Landing pages are designed with one specific goal in mind: conversion. Your ad's "hot leads" (as we like to call them) want quick, digestible information that is hyper-relevant to their initial search. They shouldn't have to wade through numerous pages to find the Contact Us form, nor should they be distracted by unrelated content. No distraction from other products equals higher and faster buyer ratings.
The best part? Google loves landing pages.
With a dedicated, relevant landing page, your campaign's Quality Score* will shine. Google rewards high-quality campaigns with a higher average ad position and lower cost-per-click!
*A value that takes into account your ad's click-through-rate, ad relevancy, keywords, budget, landing page quality, account history, and overall ad performance.
What are the key components of an effective landing page?
Callout. One that mirrors the goal of your campaign.
Intake form. Name, email, and phone number are all you need.
Relevant, digestible content. Think short, sweet, and to-the-point.
A video. A quick patient testimonial or 30-second description of the technology should do the trick.
Information about practice and/or doctor. These leads want to know a little bit about the practice, too.
Lifestyle images. Choose recognizable images that reflect your town, common hobbies of your patients, or the current time of year.
MICROSITE
Do you travel the U.S. to speak at events about your research?
Are you the sole surgeon in your state performing a new procedure?
Do you want to project yourself in your competitive market?
Are you launching a new product, technology, or service and aren't sure where to start?
If you answered yes to any of these questions, it may be time to add to your collection of online real estate.
A microsite is a branded content site, normally 5-10 pages in size, that lives outside of and separate from your practice's website and branded domain – your "mother brand". Your microsite can be used as a powerful way to communicate directly with your audience about one facet of your practice and build relationships with those cataract, LASIK, Raindrop, SMILE, etc. patients over time. To put it bluntly – it's like a landing page on steroids.
What are the key components of a microsite?
One key focus topic. Think hyper-focused like a landing page, but robust like a website.
It has a unique URL, normally in an effort to get a higher rank in Google and other search engines. (For instance – do you perform LASIK surgery in Houston? Check and see if houstonlasik.com or bestlasikhouston.com is available).
Proper resources and content marketing. Content is a huge factor here – it must be compelling and meant to generate leads (Such as a "10 Steps to LASIK" brochure or a downloadable FAQ pamphlet). Ask yourself: do you have enough custom content and marketing materials to make a quality microsite, or do you simply want to beef up the current pages of your website?
BIO SITE<?h2>
You've probably Googled yourself before.
It's okay, we all do it.
If you're a doctor, there is a 100% chance others are Googling you, too. In fact, your name is plastered all over the web – on review sites, on local directory sites, Healthgrades, you name it. Bio sites are the simple, shareable solution to house information about you. They are perfect for both doctors trying to rebrand themselves away from their practice, and those looking to stand out as a top doctor in their area.
Like a microsite, a bio site is a standalone domain, but almost always some form of the doctors' name (i.e. drglacialmultimedia.com, glacialmultimediamd.com, drmultimediamd.com).
What are the key components of a bio site?
Prominent doctor name. Right in the header, for all the world to see!
Numerous photos of the doctor. Alone, with patients, with your staff, with your family – visitors want to know the real you, too.
Accolades, awards, recognitions. Logos and award badges are always a plus.
Digestible bio. Instead of pasting long paragraphs of content, format your bio similar to your CV. Include headings and bullet points.
Video of the doctor. Introduce yourself and discuss how you first got into the field of ophthalmology.
Letter written by the doctor, to the patients. The extra personal touch goes a long way.
Intake form. A simple contact form is best.
So, ready for the quiz? (…Just kidding!)
As digital marketing experts, we aim to always to keep our clients informed of the multitude of online strategies that can help your practice. Each of these 4 types of websites offers a unique platform to market your new product, promotion, technology, service, and yes – even your doctors.
Click here or contact your Marketing Consultant at Glacial today to learn more!
---