Posted on April 13, 2022
5 Ways to Leverage Trade Shows for Content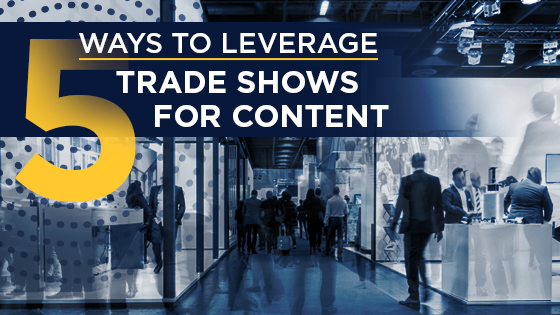 Trade shows are more than an opportunity to mingle with your colleagues or learn more about new technologies in your field. They are also an opportunity to gather valuable photographs that can provide a more personal touch to your website, blog, or social media posts.
Fresh images and videos can improve your branding and aid in forming personal connections between you and your audience. Keep reading to learn five ways to leverage trade shows for content!
1. Have Someone Take a Picture of You and Your Group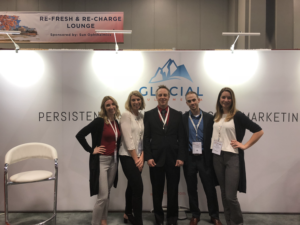 If you have your own booth, try to get a group picture in or around your booth. You'll want to do your best to showcase your booth while also still allowing the faces in the photo to be recognizable.
If you don't have your own booth, you can get a group picture in front of one of the trade show branded signs. These pictures will work great for a social media post and allow those who interact with your website or socials to form a better connection with your group.
2. Snap Some Selfies or Pictures With Your Partners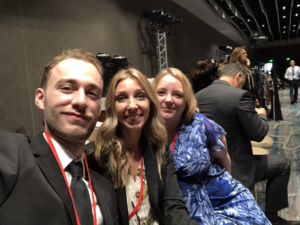 Selfies are a way to encourage interaction with your followers because it is relatable and casual. They are a fun way to share what you are doing that is more personable than a professional photo shoot.
It is also a good idea to get pictures with other professionals or people of interest that may catch your audience's attention. By tagging other professionals in social media posts, you liken your chances of receiving shares from those pages.
These shares can encourage re-engagement with your content and put your company in front of their audience. This is a great way to promote socialization on your social media channels.
3. Take Photos of the Places You Go Around the City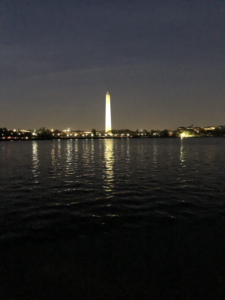 If you and your team are headed to the ASCRS conference next week, this will be a perfect place to gather image content for your social media channels. The more pictures, the better!
Take pictures of any activities you do around the city, especially if you visit any famous landmarks. This tip doesn't only apply to the ASCRS conference in Washington, D.C.
When planning your trip to a trade show, you can look ahead of time at the trade show's website for ideas for what to see and do in that location. You can plan to have a photo-op at various places that you think may be good for a social media post.
4. Make A Video About Your Favorite Parts of the Show
Videos are another great way to boost interaction with your posts on your social media channels. One option is to make a video at the end of the day talking about your favorite parts of the show that day or something interesting you learned.
You can also share any new products or technologies you are excited about. Alternatively, you can make a morning video discussing what you have planned that day or certain events you are looking forward to that day.
If you are camera-shy, another way to incorporate videos into your social media presence is through a video montage. In today's social media world, video montages are a very popular and trendy way to describe a day in the life.
To make a video montage, all you have to do is get clips of certain parts of your day and have them pieced together. This could be a short clip of your breakfast, then a short clip of you walking around the trade show.
All of these videos will work great to attract an audience to your social media pages and boost your authority.
5. Snap Photos At Special Events
Some conferences and trade shows have special events they offer to those attending. This may be an excellent opportunity to get photos of you or you and your team to show off your personality.
If the particular trade show you are at does not offer any special events, plan on getting a photo at a group dinner or luncheon. Fresh images and videos can add so much to your website, blogs, and social media accounts.
Trade shows and conferences are the perfect opportunities to showcase your team and prove your dedication to continued learning.
Do you want to learn more about how you can get the most out of trade shows? Schedule a call with a client manager from Glacial Multimedia to learn how we can help improve your social media marketing.
---