Posted on May 2, 2022
Why Machine Learning and AI Only Get You So Far with Google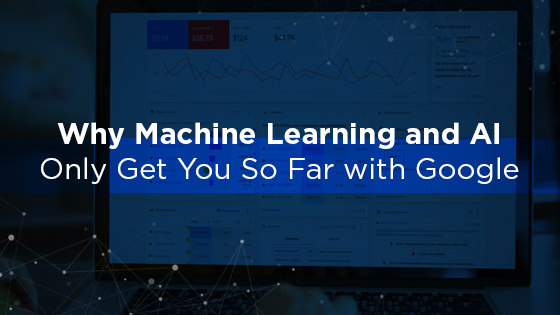 As AI becomes more popular, you may assume it is the best option, especially when running paid search ads. However, as with any tool, Machine Learning from Google isn't meant to be used exclusively. Keep reading to learn why Machine Learning and AI will only get you so far with Google!
What is Google's Machine Learning Tool?
Google's AI-based Machine Learning is a wonderful tool. It has the ability to look at a wide range of Signals – things like time of day, previous searches, browsing habits, location, and more to determine when and where to serve ads for the maximum chance of success.
Google is constantly giving advertisers new tools to leverage Machine Learning: Bidding methods like "Maximize Conversions", keyword types like the revamped "Broad Match", ad types like "Responsive Search/Display Ads" and even entire campaigns, such as the brand new "Performance Max".
Machine Learning Only Gets You So Far
However, as good as it can be, it's not perfect. Max Conversion keyword costs can skyrocket out of the blue, campaigns like Performance Max give advertisers almost no control over what keywords they can use, allowing users to see the ads inadvertently, and broad match keywords can make very wild assumptions as to what someone's intent is.
Google's at its best when you meet it in the middle: Strict, human-curated keyword lists and ad copy, regular monitoring of performance, and frequently human-driven optimization. Google can do what it excels at: Target people based on their interests and habits, serve ads at the best times and pair the best ad copy for the best keywords.
Machine Learning has come a long way in a few short years. Google attempts to shoe-horn it wherever it'll fit (or even when it won't) and it's on the advertiser to understand how it works, why it works, and when it's appropriate to use it.
Google is Ending Support for Expanded Text Ads
Google is ending support for Expanded Text Ads on June 30th, which had three set headlines and two set descriptions. What was put there was what people saw when they saw the ad. With Expanded Text Ads, Google never changed the order that you specified.
Now, Google is moving to make Responsive Search Ads the only ad option for Search Campaigns. With Responsive Search Ads, you provide Google with up to 15 headlines and 4 longer descriptions. Once you've input these, Google's algorithm determines the best combination and placement of those headlines.
With this update, Google is still only showing three headlines and two descriptions at once. However, it is optimizing what people see to ensure optimal results and leads. Not to worry if you're a Glacial client though, because we're already automatically optimizing all ads and using Responsive Search Ads.
You Won't Get the Best Results if You Only Rely on Google's AI
Google is constantly learning, changing, and adapting. When it comes to your ads, this means it's always testing headlines, copy, combinations of descriptions of ad copy, and even the time of day that's best to show your ads.
As a result, Google is always testing and refining for the best possible performance based on your set account goals. This includes optimizing for lead generation, increased visibility for traffic, and performance.
Regardless of the AI capabilities and Google's ability to optimize campaigns, if you're coming up with poor quality descriptions and headlines that don't grab people, it won't help. Google ranks its quality score from poor to excellent.
If your ad is lower than excellent, then your ad won't receive the same amount of views, visibility, and clicks. You need an expert that understands your campaign goals beyond what Google understands for AI. 
This is the only way to ensure that your campaigns perform the way you want them to. If you want to see leads and low-cost conversions, AI will only get you so far.
Although it's tempting to completely rely on Google's capabilities, you can't just set it and forget it. Get the conversions and results you want by choosing the experts at Glacial Multimedia. Contact us today to learn more about how we can help you with your paid search needs!
---