Posted on November 22, 2021
Do You Think 200 Years of Digital Marketing Experience Makes a Difference?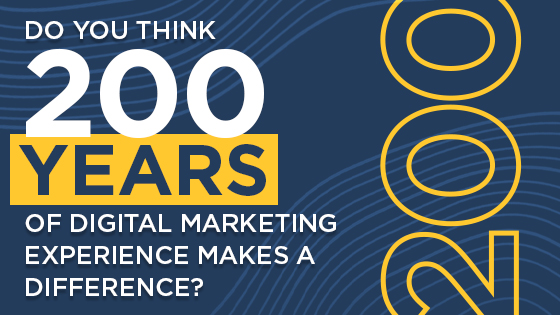 Has your practice tried to run its own marketing and failed, and you can't figure out why? When it comes to digital marketing, expertise is necessary to ensure your campaigns succeed and benefit your practice.
The digital world can be overwhelming, especially when you're using it to grow your practice. The internet has absolutely changed the landscape of many businesses forever, including the healthcare industry.
But that doesn't make it easy to use. If you don't know how to harness its power and use it to your advantage, your competition will leave you behind, leading to your patients thinking your practice is outdated.
But how do you harness this power? Keep reading to learn why working with a team of marketing specialists is better than hiring a marketing generalist!
Should You Run Your Own Digital Marketing Campaigns at Your Practice?
You're great at what you do and even considered an expert in your field. But, do you really have the know-how, time, energy, and desire that comes with running your own digital marketing campaigns at your practice? That means you need to learn how to:
Build a website

Run ad campaigns

Create organic social media content for six or more different platforms

Ensure your GMB listings are accurate and optimized

Run full SEO campaigns

Create optimized content to boost your website rankings

Use that same content to provide your site visitors with relevant information

Create graphic imagery for all these different media
After you've learned all these new skills, you'll also need to continually update, track, and adjust all these channels. If it sounds like a lot, that's because it is.
You may try to attempt it if you think that online marketing is easy. But don't assume your competition is doing the same.
What you may not realize is that by trying to do the impossible by keeping your digital marketing in-house, you're actually hurting your practice, instead of doing them any favors. To harness all these channels, you need the help of experts that can help you take your practice to the next level, increasing your leads, patients, and ROI.
No one can do it alone, and don't let anyone fool you into thinking they can do it all for anyone.
The reality is that online marketing is too deep and complex for one person to manage. To truly harness the power of internet marketing, you need a team.
If you want results, you need a team of marketing specialists because marketing generalists simply cannot compete.
Should You Hire Marketing Experts?
If you're competing in the online space, you need to use every facet of digital marketing that's available. It may be tempting to cut costs and hire a marketing generalist who has some experience in all these fields.
But that would be a huge mistake.
Expertise is the only option if you want to be a leader in your area and your field. Marketing generalists may have sufficed twenty years ago. Today, the internet is too refined and competitive to rely on a generalist.
Marketing generalists, while familiar with many aspects of digital marketing, are not experts in anything. It may be tempting to work with a jack of all trades marketer, because it may save you some money in the short term.
But in the long-term, you'll actually lose money. If you want to make money, you have to spend money, and this is never more true than with digital marketing.
When a comprehensive digital marketing campaign is effective, it pays for itself many times over. Each marketing avenue, when executed to its full potential, can boost your bottom line. But for marketing efforts to be effective on the internet today, it requires working with specialists.
Marketing is competitive and constantly changing. To lead your field, you need focus. Generalists, by definition, lack focus.
A pay-per-click (PPC) specialist spends eight hours a day, five days a week, if not more, focused on PPC advertising. Because they specialize in only PPC, they know it inside and out.
You can't say the same about a marketing generalist who spends an hour or two a week managing your PPC campaigns. There's a magnitude of difference between the time an expert spends compared to how long a generalist spends on any area of digital marketing.
The results they produce won't come close. A professional who lives and breathes every nuance of their field will run circles around a generalist who only dabbles in it.
Are Marketing Generalists an Effective Use of Time?
Even if you manage to find a marketing generalist that's an expert in all aspects of digital marketing, a team of specialists would still have an advantage over them. That advantage is the amount of work a team can complete.
Time is not a friend to the marketing generalist. The fact is, a team of four to six people can get a lot more done in a day, week, and month than one person.
Couple that with the fact that each person on that team only focuses on one skill set. This makes them faster and more efficient. A singular generalist can't compete.
A team of experts is more efficient and effective than one person doing everything for you. The results will speak for themselves when you look at ROI and how much work they produced.
Specialists Also Have General Knowledge
Marketing specialists were not born as specialists. At one point, they too were marketing generalists that had basic marketing knowledge.
There are specific skills that most, if not all, marketers need to develop. Copywriting, testing, and design are examples of these essential skills.
Everyone who is at or near the top of their field is proficient in these skills. But they were all, at some point, generalists on their path to specialist status.
A generalist is an amateur who may be on their way to becoming a specialist but they still have some work to do. Your expert web developer, at some point, has likely written copy, done design work, and used social media. That is the nature of learning digital marketing and understanding it.
A specialist does not mean this person is oblivious to what makes digital marketing work. It's quite the opposite, in fact.
They are likely just as aware of other fields as any generalist. And, if they work in an agency, they may have more experience with these other channels than a generalist.
Work With a Full Team of Marketing Experts
Working with a marketing agency like Glacial Multimedia has numerous benefits. The first and most important is that we are a collection of marketing specialists.
Everyone working on your campaigns is an expert in their field who works in one area of digital marketing. And in most cases, they've been honing their skills for years in actual markets.
Combined, the Glacial Multimedia staff has been in digital marketing for over two hundred years.
There is no theory here. Everything gets tested, practiced, and improved constantly.
Marketing expertise like this will help your practice grow. When you work with us, you have a team of experts dedicated to every aspect of online marketing.
Multiple specialists, who are all experts in their fields, will work on your campaigns. These areas include:
PPC

Local SEO

Social media ads

Organic social media

In-house web development

SEO

Graphic design

Content marketing
All are essential for an effective, comprehensive digital marketing strategy. And they all get executed by a team of experts when you work with Glacial.
Time to Talk With Your Specialists
If you'd like to discuss any aspect of your marketing with an expert working for you, you can. That's another distinct advantage we provide.
We're here to answer questions or talk with you about your account on your time. There's no rigid schedule or limitations when reaching out to us.
You'll know who your specialists are and you can work with them to get the best results on your campaigns. If a specialist is not available we have a full team of client managers that can help with your questions and set up a call with a specialist in the future.
Other agencies may give you a specified amount of time on the phone with each specialist every month. That's not very generous.
Unlike most marketing agencies, we don't give you a limited amount of time on the phone with us. If a conversation is going to run over the scheduled amount of time, that's okay. We won't kick you off because you've reached your call quota for that month.
Our mission is to ensure you get the results you desire. As part of that mission, we're happy to explain anything to you over the phone.
Do you think you could benefit from focused expertise in your marketing endeavors? Schedule a call with a client manager from Glacial Multimedia now!
---