Posted on March 31, 2020
7 of the Best Telemedicine Platforms For Your Practice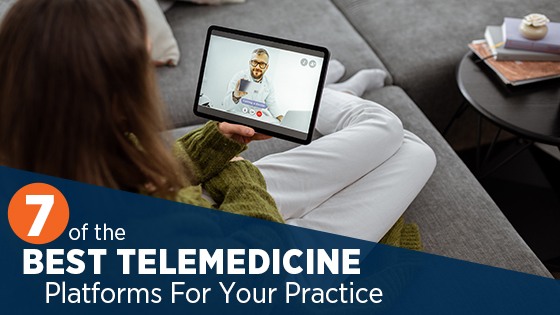 Our clients strive to provide the best possible care to their patients. But with social distancing and mandatory lockdowns, that can be a challenge.
Telemedicine allows practices to continue to provide care to their patients without needing in-person appointments. We researched some of the best telemedicine platforms so that you don't have to!
Keep reading for 7 of the best telemedicine platforms for your practice!
1. Sophrona
Sophrona specializes in ophthalmic patient portals and now telehealth! Their telehealth program is different because it has ophthalmology and billing in mind. These are a list of their top features:
Scheduling
Reporting on workflow
How to bill for each visit type
Secure messaging
2. Simple Practice
https://www.simplepractice.com/telehealth-secure-hipaa-compliant-video/
Simple Practice is an ideal telehealth solution for health and wellness providers, as well as small groups. With their telehealth system, you get a fully integrated video solution. Their system also includes:
Patient portal
Secure messaging
Note-taking and treatment planning
Online booking
Appointment reminders
Calendar syncing
Sessions are protected with bank-level encryption and security and are HIPAA compliant. You can start sessions instantly with no login or passwords required! Simple Practice also provides guides to get your clients started.
They offer a 30-day free trial, and their pricing starts at $39 per month, per user.
3. Updox
Updox telehealth is an easy to use system that can be up and running in less than 30 days. They are best for providers, physicians, community pharmacies, independent pharmacy, and hospital systems!
The Updox telehealth system offers a variety of services including:
Video chat
Secure and SMS texting
Online faxing
Reminders
Broadcast messaging
Online forms
Payments
There is no download required for the patient or clinician and works anywhere on any device. They offer a few different package options, and you can request a demo and pricing!
4. NextGen Healthcare
https://www.nextgen.com/products-and-services/telehealth-virtual-visits
NextGen offers telehealth and virtual visits for practices using or switching to NextGen! Their video service includes screen share, passing documents, and the ability to invite a third party or interpreter.
It also includes other features like clinical administration workflow, easy patient communication, and payments.
You can request a demo of their telehealth service, as well as pricing.
5. Doxy.me
Doxy.me is a web-based, HIPAA compliant telemedicine system. It is great for all healthcare professionals.
There is no download required, it's free to use, and is simple for both clinicians and patients. Doxy.me pricing starts at $29 per month, per user, but they also offer a free version!
6. eVisit
eVisit is the #1 rated remote patient monitoring system. Their system is suited for all healthcare organizations ranging from primary care to hospital systems. eVisit's system includes:
A virtual waiting room to help you triage patients and prep for visits
The ability to send prescriptions to over 70,000 pharmacies nationwide
Online billing
Create patient charts
Integrate with your EMR
You can request a free demo of their system, and pricing starts at $600 per month!
7. vSee
vSee is a web-based telemedicine tool for businesses of all sizes. Their system offers many different tools, including:
Messaging
Walk-in alerts
Intake forms
Online payment
Virtual waiting room
Patient scheduling
Chat support
vSee pricing starts at $49 per month, per user, but they also offer a free version!
If you feel like telemedicine is right for your practice, Glacial can help you integrate it onto your website! Please contact your client manager or email with any requests.
---