Posted on April 1, 2020
4 Webinar Platforms To Try While Your Practice Is Social Distancing
The COVID outbreak has put a damper on the healthcare industry making it very difficult to continue with elective marketing and continuing education courses. The good news is that there are a lot of webinar platforms that can help!
Hosting a live webinar can be challenging so we've started the process for you by outlining some of the top webinar platforms in 2020!
Think of everything you can do:
OD CE Courses & Seminars
LASIK/Cataract Q&A or Seminar
Addressing your patients during COVID
Addressing your staff during COVID
1. WebinarJam
WebinarJam covers most of your bases at a competitive price point! With WebinarJam you can handle webinar registration, including a sign-up form for your website, sell tickets, or charge for attendance (in the case of an OD CE Course), automate reminder emails, and produce reporting on attendee engagement.
You can also record and reuse your webinars "on-demand" at any time. WebinarJam includes base features such as HD video, live chat, and post-meeting reports.
Highlights of WebinarJam:
Offers the most features of all platforms
Includes your marketing automation & registration
Web-based so you don't have to worry about technical issues
Advanced analytics and reporting
Includes the most attendees at the lowest rate
Pricing
https://home.webinarjam.com/14-day-trial-checkout#_ga=2.173368675.1900425278.1585164053-489007830.1585164053
Bonus: WebinarJam is giving new customers a 14 day free trial for only $1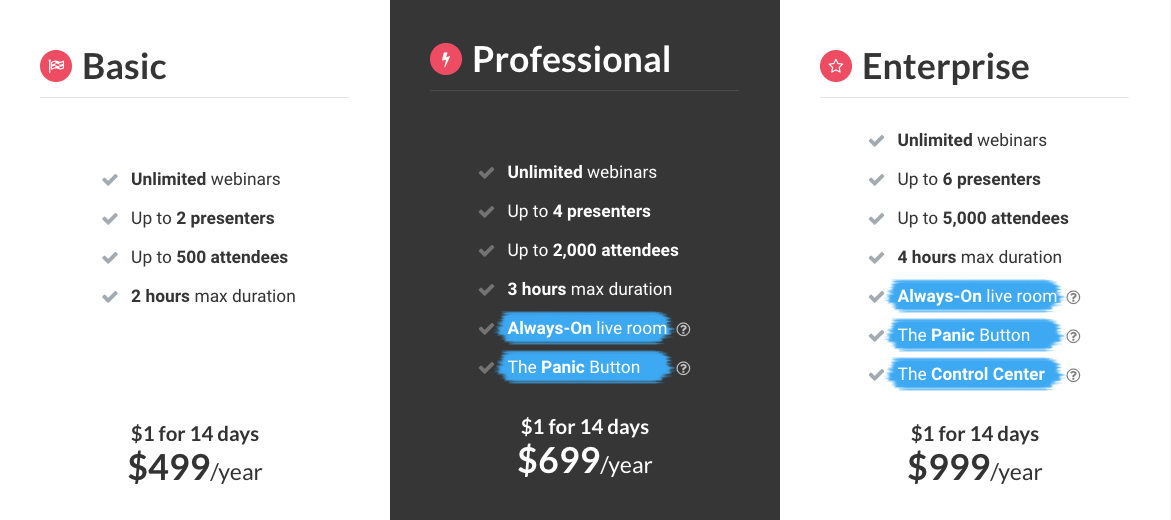 Click here to sign up: https://home.webinarjam.com/14-day-trial
2. GoTo Webinar
GoToWebinar may sound familiar because it falls under the GoTo brand with GoToMeeting, a commonly used conference call platform.
GoToWebinar is comparable to WebinarJam in terms of pricing and features. The main difference is that the presenter or host will need to download GoToWebinar on their computer – this is not a web-based platform like the others listed in this article.
Highlights:
Includes registration and email automation
Recordings for use later
Up to 100 participants on the base package
Advanced analytics and reporting
Pricing
https://www.gotomeeting.com/webinar/pricingb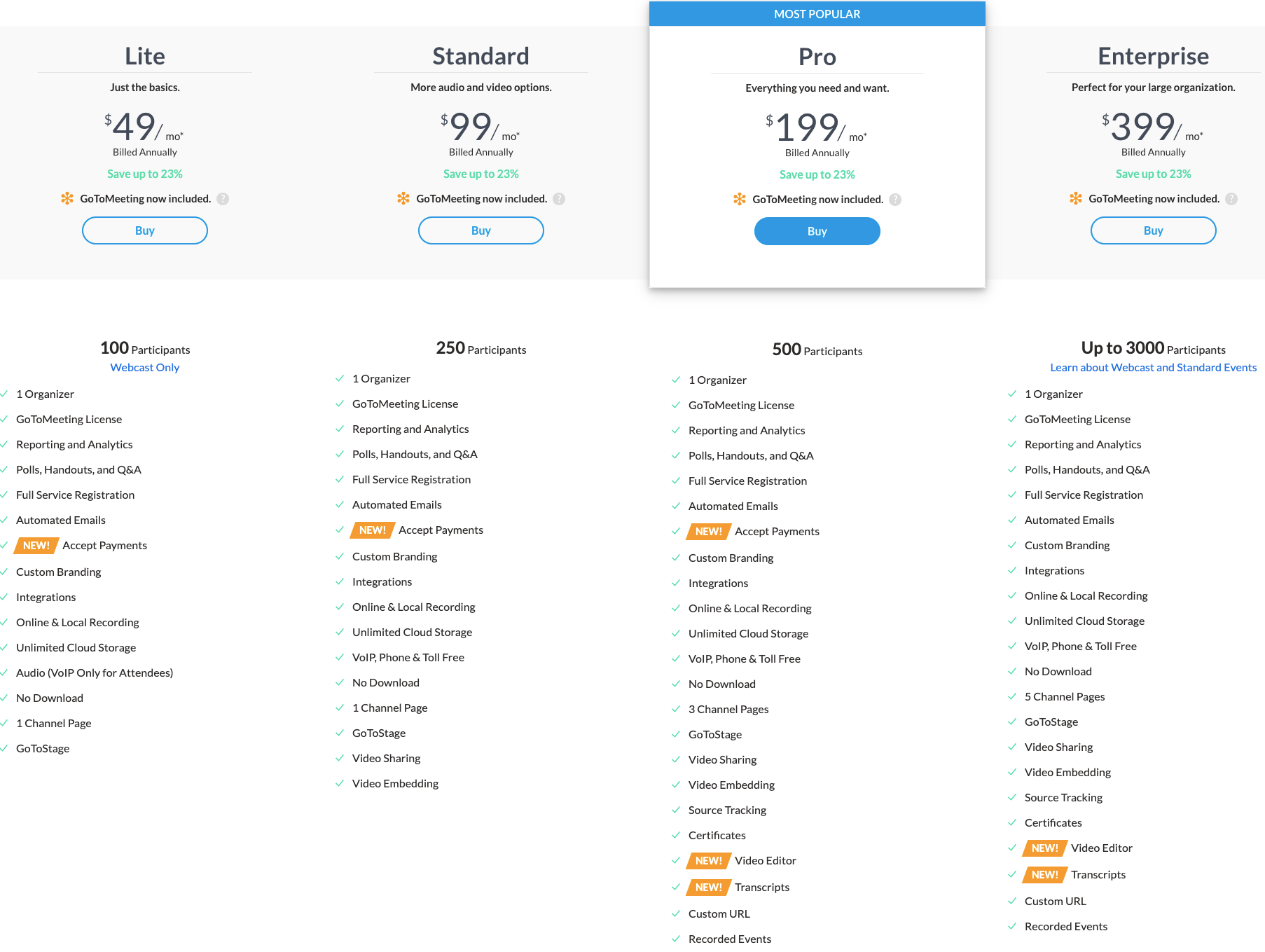 Free Trial Info:
https://www.gotomeeting.com/webinar/ features 7 days free
3. Livestorm
Livestorm includes most of the features from both WebinarJam and GoToWebinar, however, it is almost double the price at $99/month. Livestorm makes it easy for you to set up registration, including a custom branded landing page, and email automation.
Like most of the platforms we have reviewed, Livestorm offers live chat, polls, and surveys, plus it's a web-based webinar, so there's no need to download any apps.
Highlights of Livestorm:
Custom registration page with your brand
Analytics and reporting
Upcoming event widget for your website
Pricing
https://livestorm.co/pricing/#features-list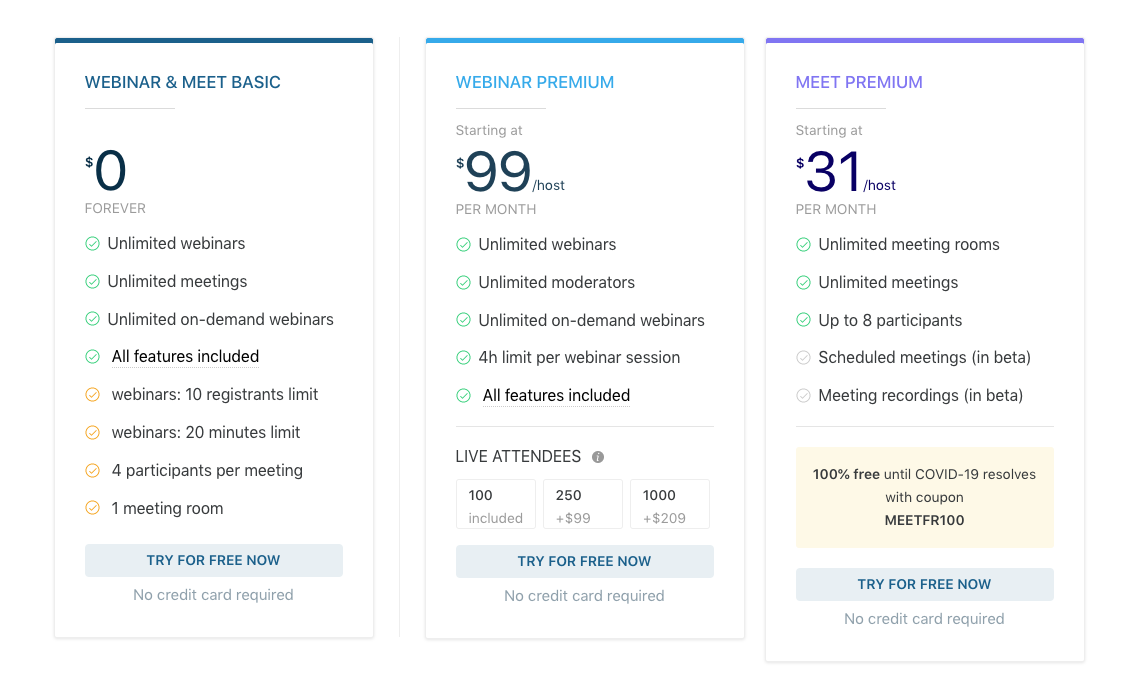 Free Trial: A trial is available for 30 days but only includes up to 10 attendees
Sign up here: https://livestorm.co/free-webinar-software/
4. ZOOM
You've definitely heard of using Zoom before for video conference calls, but they also have Zoom Video Webinars!
Zoom is an easy to use platform, although it is missing many of the marketing automation features most of the other webinar platforms include. With Zoom, you would need to set up your own registration page with your web developer and won't receive any participant reporting.
Zoom is the most basic of all the platforms, making it the least expensive.
Highlights:
App-based – everyone, including viewers, may need to download Zoom on their device
Includes live chat
Pricing:
Zoom comes free of charge with a limit of 100 participants limiting meetings to only 40 minutes.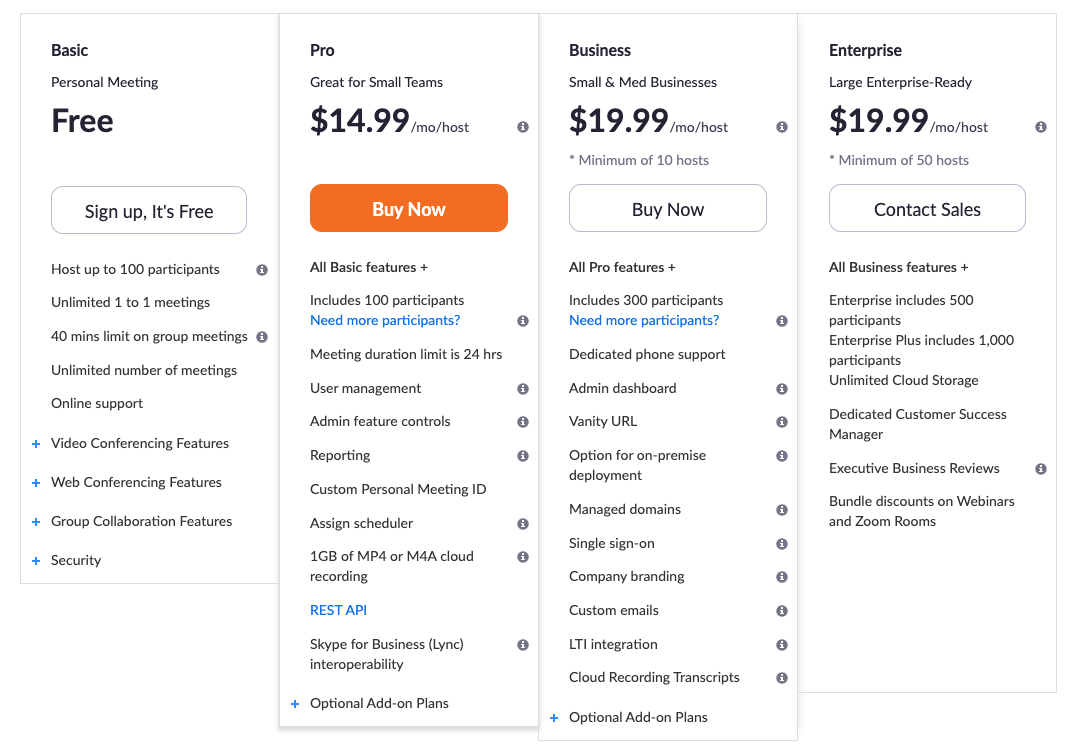 Free Trial – https://zoom.us/pricing
Features by Software: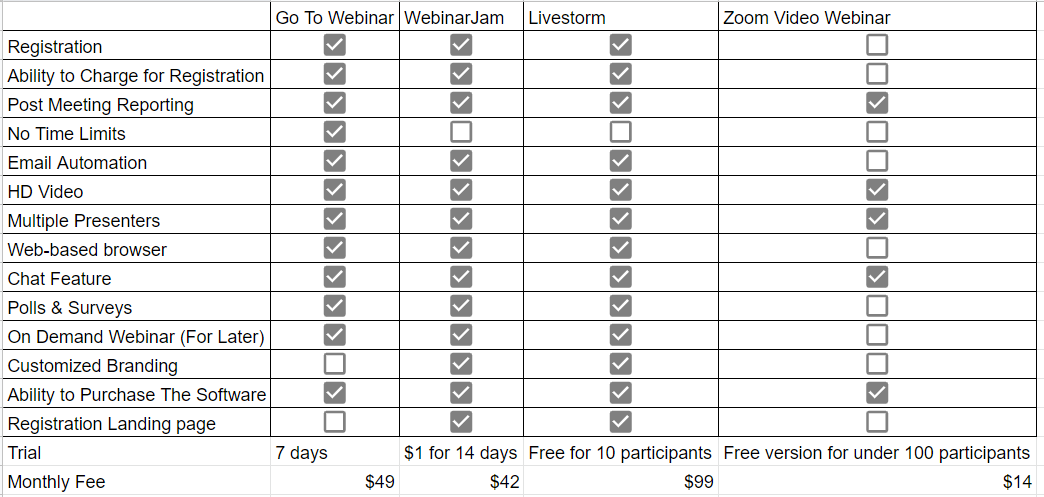 Although we're all practicing social distancing during this COVID-19 pandemic, this is still the perfect opportunity to continue engaging with patients! Contact Glacial Multimedia if you have any questions about how to set up a webinar!
---