Posted on November 17, 2016
Boost Your Leads, SEO and Reputation Management with Healthgrades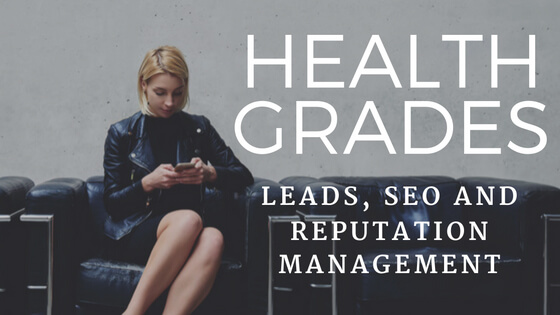 You've probably heard the Glacial team ranting and raving about Healthgrades Premium Profiles for almost a year now. But do you know why we love this premium program so much? Leads. Reputation management. Search engine optimization. Those are three of the biggest stressors that we hear from our clients, and rightfully so.
For those of you who prefer to skip this long read and jump to straight to the hard details, see the summary below.
LEADS
That's how you stay in business right? You need those leads to book surgeries and keep your practice running. But, leads can be expensive.
There has been a consistent trend in leads generated through Healthgrades Premium Profiles. On average, each month, providers in this program are receiving four new patient calls each month, and half of those are converting and making appointments during that call.
So, let's answer a couple questions:
Healthgrades costs us $199 per month for MD's. Is the cost per lead high or low?
After consulting with Spenser Pontbriand, Director of Paid Search here at Glacial, he confirmed that the cost per lead is very low. The average of 4 new patient leads each month only costs $50. With a Paid Search Campaign, the cost per lead ranges anywhere from $80-300!
This program is much cheaper. Keep in mind, these patients are looking for an ophthalmologist, so more than likely, this is not just a patient asking for an eye exam. They know they have an eye condition requiring an ophthalmologist or they're ready for LASIK.
Consider the cost per lead a little different. What is the cost per booked appointment?
It is interesting to see these numbers and it is all simple math. It only costs $100 per BOOKED appointment. These are people calling in via the Healthgrades tracking phone number, identifying as a new patient and scheduling their appointment. See the $80-300 cost per lead mentioned above? That is just for the lead that your coordinators need to track down to schedule. Wouldn't you rather spend $100 for someone to book their appointment? It makes sense to me!
REPUTATION MANAGEMENT
Healthgrades clearly outperforms their competition in the medical review market. For one, they offer the ability to schedule online and helps your seo, whereas some of their competitors don't.
Here is a quick task. Google yourself. Google the providers you work for. What do you see in the top 5 search results? Most likely you see the practice website – AWESOME, we've got you covered there!
In all seriousness, you probably see the doctor's Healthgrades profile too, which displays their star rating and number of reviews. If this is below 4.5 stars, you're probably losing prospective patients already. They've barely done any research but seeing a 2 star rating means you're not going to touch their eyes.
We have tools to help you improve your star rating and increase the number of reviews you have at the same time. Star ratings are the new Word of Mouth. If you're below 5 stars, there is room for improvement.
SEARCH ENGINE OPTIMIZATION
Remember just 30 seconds ago when I asked you to Google yourself? Where did you fall? If you don't have control over the websites that rank for your own name then there is a problem. You should be in control and fully aware of what people see when they Google you.
Health insurance has changed quite a bit over the last several years and people are doing research before they are choosing a doctor. Consider the top searched terms leading people to your practice's website — the practice name and the provider's names. Hmm.. people are Googling the provider's names. Did you like what you saw when you Googled your own? Take control.
SUMMARY
Average cost per lead – $50
Average cost per new patient booked – $100
Reviews – If you're below 5 stars you should have a profile and be actively working on improvement
SEO – What do you see when you Google yourself? Be in control of the top 10 search results
Healthgrades cost – $199/mo for MD's and $139/mo for OD's
I'm sure you're thinking to yourself … "I do want more leads", "I don't want to overwhelm my staff with setting up appointments", "Yikes, I don't have 4.5 stars", "Oh dear, I don't control those results for my name".
THE REMAINING QUESTION
How do you get in on this program? Super easy – contact your Internet Marketing Consultant or email [email protected]!
---