Posted on November 21, 2016
Event Marketing Tool-Kit: Top Tips to Avoid an Empty Room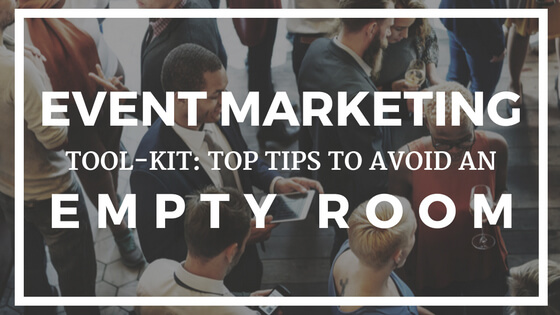 You've gotten your budget approved and the wheels are turning for an incredible practice event. Whether it's a fundraiser, seminar, or trunk show, it's likely that you've experienced a common, lingering fear: What if no one shows up?
Glacial Multimedia has helped countless practices advertise and prepare for their big community moments, and we've picked up some useful tips along the way that are proven to help keep you from facing an empty room.
1. IF POSSIBLE, START PROMOTING YOUR EVENT MONTHS IN ADVANCE.
The last thing you want is for that 'X' on the calendar to creep up on you – as soon as you have a plan in motion for your event, start generating excitement! Make sure there is signage and a "buzz" at your locations to let people know what you're planning, both in person and online.
How to do this: Flyers just don't cut it anymore, and that community board you posted on at your local coffee shop? Someone pinned their 80's punk-rock cover band flyer over it about twenty minutes after you walked out of the door. Ramp up your social media usage and share photos and videos revolving around your event – highlight the preparation going into it, and make it clear that the event has value, whether it's purely fun, for a great cause, or involves deals that are too good to resist.
Make sure your website is updated as well! Include options for online registration (if applicable) and use pop-ups or banners to announce the event is coming, with a linked page including event details.
Pro-Tip: Create an event page on Facebook where people can RSVP and track updates regarding your event! Create hashtags based on popular taglines to brand, and allocate a portion of your budget towards boosting its visibility – this allows it to be seen in the news feeds of those who don't even 'follow' your business.
Even better: Invest in radio advertising on popular local stations! This is a great branding tool, and gets the word out to a broad audience. One study by Nielsen Catalina Solutions in 2014 found a 6:1 return on every advertising dollar used in radio.
2. UTILIZE EMAIL MARKETING FROM START TO FINISH
This is important at all junctures of event planning. Encourage registrations or RSVPs by sending email blasts to your current subscribers and utilizing a newsletter system to advertise your upcoming event. Use email marketing to remind your audience at different junctures that your event is upcoming, and be sure to use eye-catching subject lines that ensure a great click-rate!
How to do this: In instances where an online registration is involved, maintain a separate email list for your registrants – this will allows you to follow through with the small touches that keep an RSVP from turning into a no-show. Let them know how excited you are that they will be joining you with automated email responders upon registration, send emails to your registrants reminding them of any important details, and (if necessary) keep them informed of any changes.
Pro-Tip: Utilizing a lead management system can take care of this process from start to finish. Track registrants and coordinate email blasts in advance – from a three day reminder that the event is coming up, to an automated 'Thank You' the day after attending – it's the little things that get people through the door, and the little things that help make sure they'll be back again.
Oh, and have a friend or co-worker look your email blasts over before hitting 'send'. You'll be glad you did.
3. INCENTIVIZE YOUR AUDIENCE
Who loves prizes? Everyone!
Branded gift bags, free food, silent auctions, promotional pricing, fun photo booths, and raffles – these are a few of our favorite things. Attendees are far more likely to follow through with (or make) their RSVP if there is something alluring in it for them.
Pro-Tip: Save the giveaway for the end of the event. This helps to make sure that your attendees stay through to the end.
4. SHARE THE EVIDENCE
Your event is over! Or is it? In a world dominated by posting, sharing, tweeting, and blogging, if there isn't any posting after the event takes place, it may as well have never happened. A few great ways to keep the fire of your (well attended, successful) event going, are to:
Thank your guests! Create social media posts and email blasts thanking all of those who made the effort to come join you – the event would have been nothing without them!
Share pictures! Designate an employee or hire a photographer to take pictures throughout the event. These make for a great viral component that capture the moment, can be used for branding, and illustrate just how great you and your community are.
Have someone blog about it! Blogs are a great way to (you guessed it) brand your practice, and what's more – custom blogs are great for SEO! Talk about the event, its success, and some highlights from the day. Include pictures and thank your community again. If you are planning an annual event, these pictures and blogs will be great to refer people to in the future.
Pro-Tip: Fundraisers and community events are incredible for branding. If you want to go the extra mile beyond photographing the event, consider hiring a videographer to capture the day. Videos are extremely viral, and can be used down the line for things like pre-roll advertising.
You did it! If all goes well, you'll be sharing an excellent time with friends and community members alike. These tips can help ensure that you've got a full house and combat Murphy's Law – but be warned, always plan for the unexpected.
---