Posted on November 15, 2016
Millennials: Five Tips on Reaching the Most Ignored Demographic in Healthcare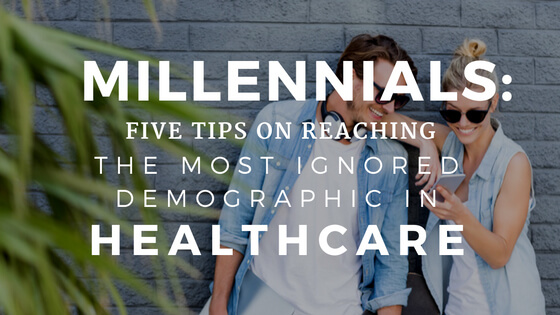 Glacial Multimedia has been stressing the importance of marketing to millennials for a while now. Millennials are often stereotyped as being entitled or lazy. Whether you think that's true or not, there's no denying that they are our future. However, successfully appealing to millennials takes more than just acknowledging their existence. What are you doing as a practice to draw in this important demographic? If the answer is "not much", we're going to change that today.
Millennials are largely ignored in the healthcare marketing sphere. Of course, there are sometimes good reasons for this. For instance, if you're an eyecare practice who only does cataract surgery and glaucoma treatment, much of this will not apply to you. For the rest of you, it's time to gear up and get those 20-somethings into your waiting room!
Millennials are not reachable using traditional advertising and marketing tricks. This diverse generation has arguably changed the entire marketing sphere. Authenticity is king now, and millennials are not easily fooled. Here are five tips you should be following if you want to target millennials.
BE. ON. SOCIAL. MEDIA.
You're probably sick of hearing this from us, but here it is once again. If you aren't taking advantage of social media as a marketing tool, you are simply not looking at the big picture. This is where millennials live. This is where many of them connect with people and brands, leave reviews, find information and even get their news. You simply cannot reach millennials without it. Develop a social media marketing strategy based in authenticity and that emphasizes real experiences.
GET INVOLVED IN YOUR COMMUNITY. TODAY.
Millennials like to know that their choices have meaning. If you are a practice who regularly involves themselves with improving or helping their community, you can easily use this as a marketing tool. Millennials are more likely to give their business to places that support their communities. Getting more involved in your community can do good in more ways than just reaching millennials, so get out there and make a difference! Donate to charities, host a fundraiser, or help raise awareness for a good cause.
STAY UPDATED.
It's no real secret that millennials care a lot about amenities and the way things look. I'm not suggesting you should do a complete overhaul of everything in your office (although, if your waiting room furniture is from the 90's, consider replacing it.)
It can be simple. Offer coffee, tea, water and small snacks in your waiting room. Update the magazines you leave out. Offer free WiFi. Keep things clean and modern. This sends a message that you care about their comfort.
This is not an end all be all marketing strategy by any means, but if you are a practice that often gets knocked on reviews for a long wait, you may want to consider these tips to make patients more comfortable. The details matter. That brings us to our next tip.
HARNESS THE POWER OF REPUTATION MANAGEMENT.
72% of opinion-seekers ages 25 to 34 turn to reviews from their peers before deciding to buy a product or seek a service. This is huge. While all generations are starting to seek out online reviews at higher rates, it is safe to say that millennials trust reviews at a much larger scale than previous generations. If people are more likely to seek out reviews before buying a pair of jeans, we can be sure that when it comes to their physical health, millennials are combing through Yelp like no tomorrow.
Making sure that happy patients are reviewing you is extremely important. Send out emails. Ask your patients to review you. If you see an unhappy patient review, reply to it. Ignoring bad reviews only serves to make matters worse.
Don't have time to keep up with reviews? MDIdentity makes it simple.
THINK MOBILE.
Here's another sentiment you're probably tired of hearing from us, but the data doesn't lie. Average smartphone conversion rates are up 64% compared to the average desktop conversion rates. Like I said before, millennials live online. This is where they find all information. If your website is not optimized for mobile use, no one is looking at your site on mobile. You will lose a large portion of your web traffic. There's no other way to say that.
If your site is updated for mobile use, great! Here's your next step: online scheduling. Online schedulers makes scheduling an appointment easy. If there's one thing millennials love, it's not having to make a phone call to get things done. If you want more info on why online schedulers are leagues better than request forms or traditional scheduling, click here.
Marketing to millennials is no simple task, but we promise it's worth it. Have more questions about how you can improve your internet marketing strategy for the upcoming new year? Let's talk.
---