Posted on March 8, 2016
Confirmed: Google Prefers Responsive Websites
A surprisingly quiet announcement, Google has confirmed what web and SEO specialists have been speculating for a long time: responsive websites are the preferred website design pattern of the world's most popular search engine.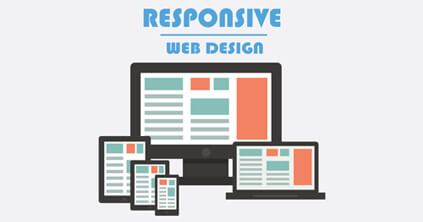 Just shy of a year ago, Google announced that they would be taking mobile friendliness into serious account as a ranking symbol, stating that it "will have a significant impact in our search results". The gist? If your website is not mobile friendly, you may see a dip in your search engine results on mobile devices. This was a big announcement, but no surprise with mobile use skyrocketing over the past several years.
Today, Google's admission that they prefer responsive websites signals an impact on all Google search engine results and showcases that user experience truly is their priority. As they raise the industry standard yet again, this announcement signifies that it's time to reconsider your fixed-width site and say goodbye to stationary website design once and for all.
What are the advantages of a responsive website?
KPCB Mobile Technology Trends- an annual report detailing important data concerning mobile use – states that mobile digital media time has now outranked desktop digital media time, with mobile ranking at 51% of digital media time and desktop at 42%.
With people spending more time on mobile devices like tablets and smartphones, your business needs to consider if, and how, you are appearing on these devices. There is no question that you need a mobile friendly website, but there are several reasons why a responsive website has become the most advantageous route.
There are many advantages to responsive websites versus integrated mobile sites. Responsive websites are the best option for providing a positive user experience to patients; they display all of the content from your website, and it morphs seamlessly to the size of the screen the content is being viewed on. A responsive website will tastefully display content regardless of whether it is being viewed on a 60" TV screen, on a tablet, desktop, or on a smart phone.
Aesthetically, responsive websites cast an undeniable shadow over fixed-width sites. In today's internet-driven economy, your website truly is the modern day version of curb appeal. To today's patients and consumers, the practice with a better website is likely to be perceived as superior to its competitors.
Responsive websites also rank better in search results. We have found that a website with up-to-date coding and responsive design is more likely to rank in search engine results and augments SEO efforts.
What does the recent endorsement of the responsive website design mean to Glacial Multimedia?
According to Google, 94% of people search for local information on their smartphones! As a local business, your practice needs to be up-to-date with this standard so you can be found and present so prospective patients can access information they need. We are urging all of our clients to get mobile friendly. Immediately.
To accommodate mobile devices, we've traditionally offered .mobi websites, integrated mobile websites, and responsive website designs based on the needs of each practice, their preferences, and budgets. Our recommendations, however, are becoming narrow: to remain competitive online, it's time to get a responsive website for your practice.
In the past, we have offered our clients the choice between fixed-width and responsive websites. In anticipation of this movement, however, we adapted to the mobile trend and began to only offer responsive websites to our clients in early 2015. From this point forward, we have continued to set the industry standard for medical website design.
Curious About Responsive Websites?
Check out our most recent website designs! At Glacial Multimedia we are always striving to create beautiful website designs that are user friendly and at the forefront of design and technology standards.
Existing clients should feel free to contact their Client Managers about creating a responsive website with Glacial Multimedia. If you are considering working with us for the first time, contact us today to learn more!
---