Posted on April 19, 2016
Glacial Multimedia is Proud to Announce Our Newest Partnership – MDIdentity
Glacial Multimedia is proud to announce their latest partnership launching this year at ASCRS. Introducing MDIdentity! A robust reputation management platform that allows you to put your reputation back in the hands of the people to whom it matters most – you.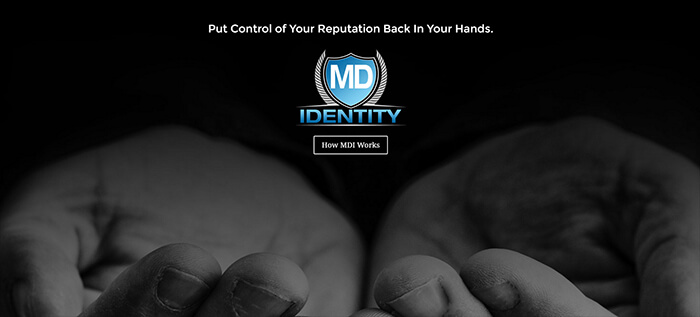 Here's the scenario – You've just started to pay attention to your online presence and what people are saying about you and you're finding it's not at all what you expected. You see bad reviews written by people you've never seen as patients or even worse people aren't saying anything about you at all. But your competition, ahhh well, they seem to have people glowing about them everywhere you turn. All of your patients tell you how wonderful you are and they seem genuinely happy with the care you have provided so how did this happen?
Chances are that you've never really paid attention to what people are saying about you and your practice; at least not online and away from your office. Suddenly you're finding you've got an online reputation issue and it's seems to be a monumental task to correct.
Sound familiar? Sadly, for many medical practices this is an all to common scenario. But rest easy, we're here to help.
Welcome to MDIdentity – the easy to use all encompassing solution to your Reputation Management problem. Our software offers you the ability to manage your reputation with very little effort. Easily gain new reviews and testimonials, quickly respond to negative criticism and showcase your positive story on your own website. MDIdentity assists you in your ongoing review and reputation management efforts.
Reputation management is an ongoing and important conversation that our partner Glacial Multimedia has had with their clients throughout the years. Through our partnership with them we have developed this wonderful unique product. As we are all aware by now, the landscape of how others view and talk about you and your practice has changed dramatically from the days of simple word of mouth. Today you need to constantly monitor what people are saying about you in the furthest reaches of the Internet. Sites you may never have heard of now play a part in how people find, research and feel about you. A single negative review can cost your practice thousands of dollars in lost revenue and countless hours of your time.
MDIdentity makes your life easier. We simplify the tasks and let you get back to the thousand other things that need your attention. Through an easy email system, you can request patient reviews on sites you choose. We can even have patients respond and leave feedback on high value review sites while in your office. And just to go that one extra step we'll even alert you when someone says something negative about you so you can respond right away
Constantly monitoring and managing your online reputation can be daunting, time consuming, exhausting and seemingly endless. Relax, we've got you.
---