Posted on March 20, 2020
COVID-19: 10 Ways Your Practice Can Communicate and Maintain Excellent Service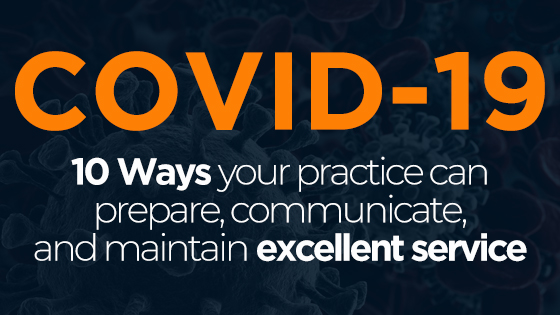 While the number of COVID-19 cases rises, all industries are experiencing the unprecedented realities of a global pandemic. More than ever, patients are looking to their healthcare providers for guidance on best practices, assurance, and a sense of preparedness.
Healthcare practices and staff are faced with new challenges and adjustments to operations as sources like the CDC and American Academy of Ophthalmology present new findings and recommendations.
As the situation evolves, we aim to help keep our clients armed with tools and advice that can help empower practices and make the best of a trying scenario. As always, we appreciate your business, hard work, and willingness to provide for your patients despite today's challenges!
With the right planning and strategy, we're confident that our medical community can come out of this stronger than ever! Here are our tips for maintaining patient communication and keeping ahead of the outbreak:
1. Continue monitoring and answering practice communication lines
Stay in contact with your patients the best you can during this time. Try to keep your phone lines open during your normal business hours even if your doors are closed. In a time of crisis, patients will appreciate that you went the extra mile to keep them informed.
Additional communication lines to keep monitored include practice emails, contact forms, and even Facebook Messenger. Someone from the practice should be available, at least during business hours, to assist patients and answer any questions.
Remember, this is a time to nurture your relationships and let your patients know you're still available.
2. Avoid using the term "closed" if possible
The word closed evokes a negative feeling and response. Furthermore, most people these days just skim and don't read the full article. We recommend starting with "We'll Be Back" or "We are open for emergencies".
If you are restricting office hours, be sure to update your online profiles like Google My Business and Facebook. Make sure you're sending a consistent message on all platforms. We are happy to assist clients enrolled in our local search services with this!
3. Follow Guidelines from the CDC
Regular updates from the CDC are available at cdc.gov. The Center for Disease Control continues to publish resources for the community to best manage the spread of COVID-19.
For example, the CDC has published this excellent guide for preparing your medical practice for Coronavirus in your community.
4. Keep communications simple
The landscape is changing at a moment's notice and it can be difficult to keep up. We highly recommend sharing information, whether it's on your website, social media, or in an email newsletter.
But if you share safety precautions that you're taking at the practice, be sure to stick to them! You are at a high risk of negative reviews if your staff is seen not following a policy that has been shared with your base of patients.
This is a time to keep up assurances and stick to them. You want to leave your patients feeling comforted and trusting in your practice.
To assist with this, we are offering our clients a complimentary COVID-19 notice bar to share updates from your practice to your patients.
5. Get Social While Social Distancing
Social distancing can be hard, and right now the world is turning to social media to communicate with friends, family, and loved ones.
Now is a great time to build and maintain relationships with your patients or potential patients. Share positive, entertaining posts, information, and updates.
Facebook Live is also a great tool for providing updates to your community. You can use Facebook Live to answer questions that may come from your patient base.
We recommend keeping the tone light. During stressful times, your patient base will be grateful for positivity!

6. Update Your Voicemail
If you haven't updated the message, you should do so as soon as possible. In your voicemail, let your patients know to check the website or your social media platforms for updates.
Again, you don't want to be too specific, as COVID-19 updates are coming in fast. Consider your after-hours voicemail too. Everything should be updated to reflect COVID-19 practice updates.
7. Don't forget about your automated messages
If your office hours have changed, appointments have been canceled, or you've closed temporarily, turn off automated appointment reminders. Patients receiving automated appointment reminders could confuse or misguide them.
This can lead to patients losing their feeling of trust they associate with the practice.
8. Reach out to booked patients in addition to sending a blanket statement to patients
This should help reduce the calls or messages coming in asking about their current appointments.
We suggest sending an email to everyone who is booked to follow up. Let them know you'll reach out again when schedules open. Mention again how they can reach you during your closure.
9. Make a list of "downtime" tasks for your staff
Although business may slow, now may be the perfect time to tackle long-term projects. Why not get value-adding projects done that you wouldn't normally have time for?
At Glacial, we've created an internal list of projects to complete. These include making updates to our own website, curating content, and running deep audits of client accounts and websites.
Is it time to write new content for your website, produce a blog, or curate social posts? Have your team review these items and come up with a plan to tackle them as a team!
10. Lean on your marketing agency for support!
Our office and staff are here to help! Although working remotely, Glacial Multimedia is fully staffed. We're maintaining regular office hours to support your practice with communication efforts and updates. Our phone lines are forwarding, and our team is eager to assist you so that you can stay focused on patient care!
As a medical marketing agency, we are keeping a close eye on COVID-19 trends, statistics, and best practices to help you manage this situation.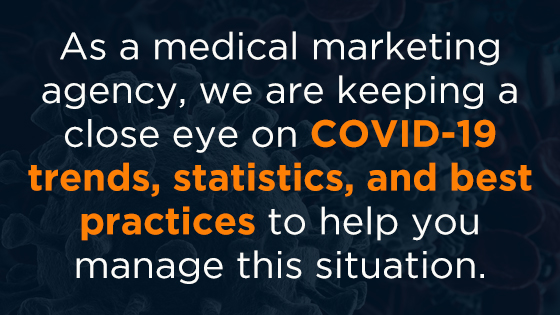 Be sure to follow Glacial Multimedia on Facebook and Instagram for regular updates, information, and the occasional picture of our work-from-home coworkers (otherwise known as pets).
Most importantly, we want to wish you all health and well-being during this time!
---