Posted on May 1, 2020
COVID-19 Paid Search Trends Part 2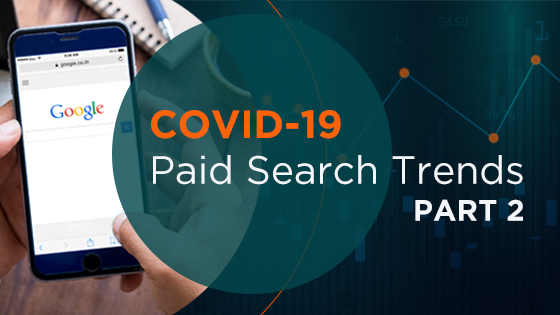 A lot has changed because of COVID-19 and we have the paid search data to prove it. Keep reading for part 2 of our COVID-19 Paid Search Trends!
Here's something you already know: COVID-19 has had major impacts on businesses large and small, in particular those of you who do elective surgery. Here's something you may not know: Doors being closed has not prevented people from seeking care online.
For many practices, the question has not been "should I advertise?", it's been "can I advertise?". Regardless of whether or not you've been able, our hope is that you find the below data useful and informative.
This data compiles information from all of our Google Ad Search campaigns that have been active for the duration of the crisis, with the dates ranging from February 1st up until April 30th.
LASIK Search Results
Let's start with LASIK – the bread and butter of many Google Search campaigns. LASIK is generally a strong performer even in down months, so it's been very interesting to watch the changes in performance over the last few months.
Below we see Clicks (blue) versus Click-Through Rate (red). Not surprisingly, clicks for LASIK related searches dropped and continue to drop. We've seen clicks start to increase towards the end of April, but generally have been massively impacted by the pandemic.
CTR, on the other hand, has seen increases month over month. More on this further below.

Clicks and CTR are fun and all, but who really cares about those when you can look at conversions? In the chart below, we have Conversion Rate (blue) versus Cost Per Conversion (red).
We saw a jump from a 15% average conversion rate and a $107 average cost in February to a 19% conversion rate and a $69 cost in April. Some practices even saw more leads than before, despite far fewer clicks. These are really extraordinary improvements that can be explained by a few different factors:
Limited to no competition. Many practices shut down their campaigns during this period, putting the practices that remained active in their markets in control. Not only did this result in cheaper click costs, but it also reduced the options people had to choose from. This helps explain both the higher CTRs and the improved conversion numbers.
The right demographic: The LASIK demographic is largely unafraid of the virus and is more bored than ever.

Have questions about paid search? Check out our video below for answers to some common questions about how it works!
Cataract Search Results
Now, let's talk about Cataract. In the chart below you'll see a very similar trend to LASIK on Clicks (blue) versus CTR (red). Unlike LASIK however, we have not really seen any major improvements in terms of clicks over the last few weeks, but they are starting to even out.

On conversions (below), though their paths are similar, the change was far less dramatic than what we saw with LASIK. Conversion Rate (blue) only saw an improvement of about 2% total, while cost per lead dropped about $19. We have a few thoughts as to why this may be:
The Cataract demographic: COVID-19 has impacted this demographic the most, and we suspect this has had the largest role in why clicks have both dropped dramatically and have yet to start recovering.
The competition: Cataract Search campaigns already had minimal competition in many markets, so even if a few competing advertisers dropped out, it would have a minor impact on overall costs.

We will continue to monitor these trends and post updates regularly, though it feels like every day we take a small step closer to a normal life. Many practices are ramping up to open their doors very soon, with others still weeks or more away and we anticipate the trends changing dramatically over the course of the month.
As it stands now if you're able to continue or start advertising, LASIK is still a safe bet, especially while many practices continue to hold off on ads. You can currently get a lot more 'bang for your buck' than you would have in February, so lower budgets can still succeed.
We are less enthusiastic about Cataract given the stagnant trends over the last few weeks, but as you saw, even within that demographic our campaign performance improved.
Nobody can predict what will come next with COVID-19. It's somewhat humbling to know that everyone in the world is dealing with the same issues, and we're all working together to make things as good as we can.
If you're considering re-starting or even starting a campaign, our paid search team at Glacial is happy to discuss your options from low-cost branding campaigns to gain some exposure or Search Ad campaigns to boost lead generation.
Contact your client manager to discuss how paid search can help your practice as we navigate a post-COVID world!
---