Posted on August 10, 2020
Creating A World-Class Optometry Website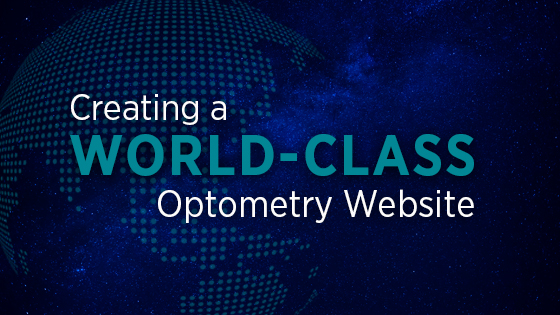 8 Things Every Optometry Website Needs To Do
It is not every day that Glacial gets the opportunity to work on developing an optometry website. Most optometry sites are very low level, template sites that don't function well.
If you're lucky, every now and then you'll meet a daring optometrist. They'll believe that websites should be beautiful, patient-focused, and above all, extremely functional.
This is obviously a major departure from creating ophthalmology websites. With an optometry website, having a retail component becomes far more important.
Glacial has had the fortunate experience of working with some great optometrists. Because of working with them, they have helped us appreciate the differences in eye care websites.
Most recently, Glacial had the pleasure to work with Blue Sky Vision's Colleen Mulder, VP of Marketing and Lindsay Briefel, Marketing Coordinator, on the new Optometrists of Lansing website. If you have not seen this yet, make sure to take a look.
This was a custom responsive website that was carefully designed and crafted over a period of six months. Attention to detail was taken.
The content and text were revised and rewritten several times. The browser testing process was thorough. Taglines and images were meticulously reviewed.
It is rare that the average practice and website company would take the time to do this right but that is what both of us were able to do.
What Makes This Website So Special?
One of the things that makes the Optometrists of Lansing website stand out is it contains an online store. It's 2020 and if your eye care practice is missing an e-commerce component, you are simply missing the boat.
This store fits seamlessly with the design of the site. The store system was designed by Compulink's MyEyeStore system. It features work by Stephannie Keller and Glacial's Onur Birsen.
Early indications of the store system's success look very positive. It seems odd that so many practices hesitate to become involved with e-commerce.
A system like MyEyeStore makes it easier than ever before to set up and be successful. MyEyeStore does all the heavy lifting, meaning it gets all the products centralized with a drop-ship system.
In other words, the practice does not have to pick, pack, or ship anything. Why let online vendors pick away at your contact revenue stream when something like this exists?
In the end, your patients get a better product, since it's one that you have endorsed. These are things that your patients take into account and find important.
1. A High-Quality Design
Have you ever heard your website is your new front door? The website is often the first impression that a consumer has of your business.
It is the first thing they see when they start their research about vision correction procedures like LASIK. The design of a website is important because it impacts how your audience perceives your brand.
The impression you make on them can either get them to remain on your page and learn about your business or leave your page and turn to a competitor. The design on this site is excellent thanks to great value proposition positioning.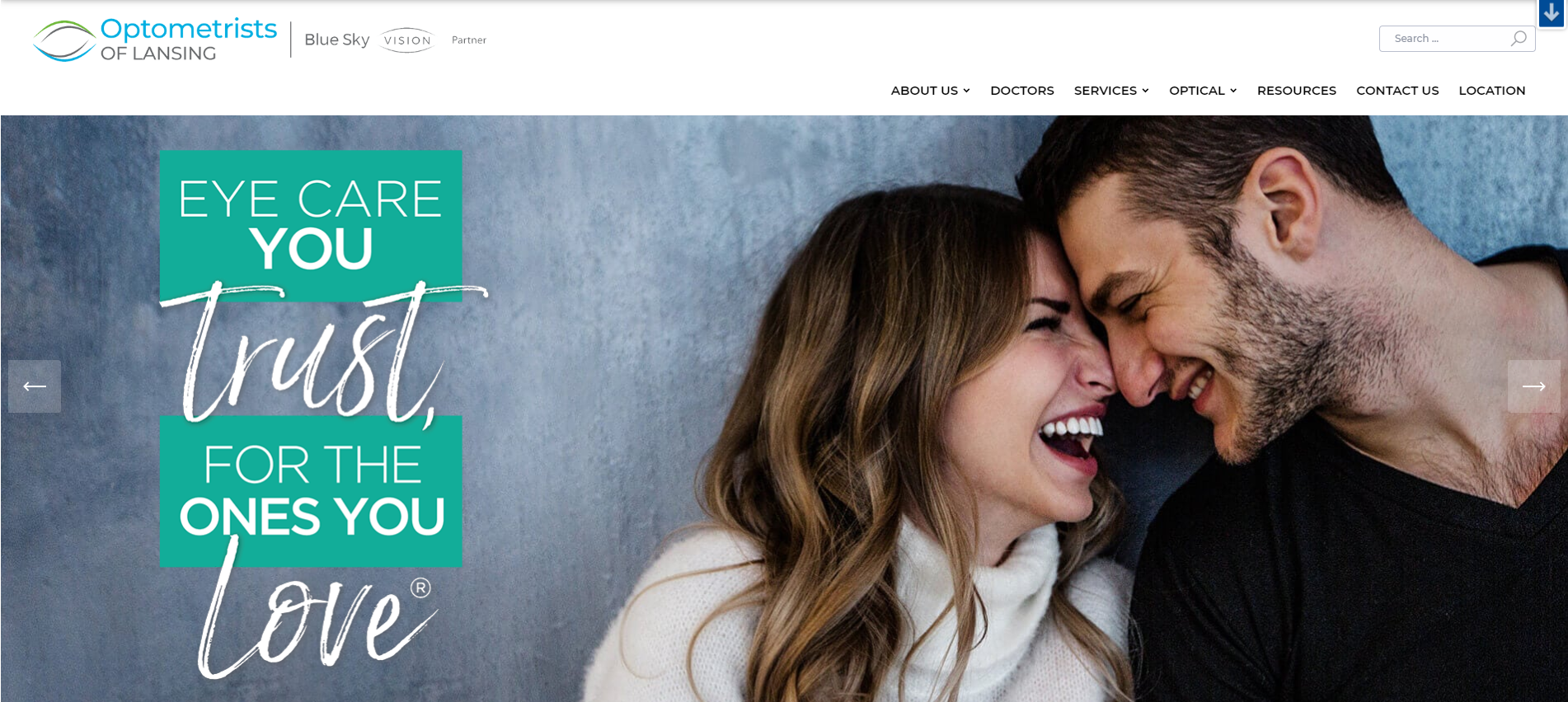 The value proposition is key to converting leads to patients and you will see that reflected in the web site's content and taglines. The tagline of "Eye Care You Trust For The Ones You Love " is brilliant and done with a font that feels like a script font. The layout has parallax scrolling with modern imagery while staying straight forward.
2. Analytics Platform
Behind the scenes is a robust analytics platform that consolidates all marketing sources into one system. You can see paid search data, visits for Google My Business profiles, social media ad data, remarking data set positions, Google Analytics metrics, and more.
This enables practices to easily see how their marketing is performing without scheduling a call with anyone. When practices know how their marketing is already performing, there is less room for errors further down the road.
3. Website Security and Performance
Whether you have one website or many, keeping a daily backup of your site is a must. You also need to make sure site code and plugins are kept up to date, as it is critical to website security and performance.
Part of having a world-class website in any vertical is making sure you have these systems in place to do these tasks regularly.
4. Robust Optical Section Designed by Jason Mansuy
If you want to have a good optometry site, it's essential to have an optical manager that's both competent and cares. Jason Mansuy directed this section at a very high level and challenged us in new ways.
With limited stock photography and using optical images of actual products, the Optical section feels much more personal.
5. Optical Pillar Page with Sponsorship Option
This was one of the first optical pillar pages we have made at Glacial. Jason and Colleen both wanted a system where they could take on a sponsor and give this sponsor some prime real estate.
For the best results, the entire header area is reserved for sponsorship. The content for the optical page is then under the sponsorship. This is a wonderful idea that we will be watching as time goes on.
6. Unique Dual Branding of Both The Practice and Private Equity Firm
Because this optometry practice is part of a bigger firm, Glacial had the opportunity to work with a wonderful firm from Chicago called Root3. This company provided amazing branding guidelines and a complete domain name rollout strategy.
At this junction, both Glacial and Root3 are using the original practice name, as well as the private equity firm's brand as well. This enables progress towards a new cohesive brand.
7. Review Feed Widget
The website also contains a review feed widget. It may seem easy, but gathering reviews is one of the most important things practices should be doing.
Having a widget on the website keeps reviews top of mind, no matter where they choose to navigate. Without great reviews, there is no sense in doing any marketing.
8. Promotions to Appeal to Retail Component
Promotional strategies are powerful tools. They can give marketing campaigns an extra edge when it comes to attracting new customers.
Because optometry has to rely on retail sales for its total revenue, getting this part of a website right is very important. Sales promotions rely on consumers' price sensitivity.
This can encourage them to try new products, or retry products they may not have tried in a while. They may also choose to buy a greater volume of products they already buy, such as contact lenses.
By not including promotions on your website, you are missing an opportunity.
Ready to give your website or digital marketing a makeover? Glacial Multimedia is here to help! Contact us to request a quote now!
---