Posted on August 31, 2021
The Fundamentals of Converting Leads to Patients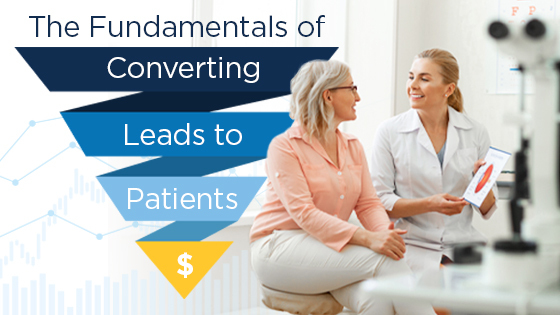 New patients are the lifeblood of your practice. Without new leads continually coming to your practice, your well of patients to serve dries up.
That is why lead generation is a continuous, ongoing process. But, when you gather a lead, whether through a self-test, financing inquiry or other lead generation tool, what do you do with their information?
Keep reading to learn about the best ways to convert new leads into patients and advocates for your practice!
Segment Your Leads
Our first tip starts with segmenting your leads appropriately. Regardless of how you're gathering lead information, you should be using a different conversion technique for each type of lead you get.
Start with a list of all of your contact forms from the website and paid ads. Can you identify which form means someone is more likely to convert? Focus your energy there first!
A lead requesting an appointment should be the top priority.

They are asking to book an appointment at your office so call them back ASAP!

Offer an online scheduling feature. Let the lead book themselves! They already know they want to come to see you so make it easy for them to schedule! Many online schedulers include options for appointment types, and can integrate into your Practice Management System to make the process hands-free.
Ask questions to gauge interest in the LASIK and Cataract Self Tests. Simple questions like "Would you like to speak with our LASIK Team?" can help identify whether a lead is serious about moving forward. Opt for responses like "I'm ready to book my consultation" or "Please call me to discuss my options" to easily identify patients who would like a phone call or other type of personal follow-up.
Optimize Your Thank You Pages. Use the thank you page or results page as an opportunity to direct the lead to the next step. Ultimately you want a lead to schedule an appointment so the self-test results page or thank you page should include a link to the schedule!

Use Drip Campaigns
A drip campaign is a prewritten email series sent to leads over time to nurture them into making a buying decision. In our industry, drip campaigns are often used for elective procedures like LASIK, cataracts, dry eye, cosmetics, and more.
Your goal is to move the lead to surgery and the drip campaign allows you to send automated emails addressing buying concerns like safety, experience, price and financing, FAQs, and more.
This means you have hands-free contact with leads at a regular cadence. Ideally, drip campaigns should run for 10-15 months which may seem long, however, the average LASIK lead can take more than a year to convert to surgery.
Drip campaigns keep you top of mind, provide education about the procedure of interest and allow you to offer incentives and deals to lukewarm prospects throughout the year.
Send an Email Blast
An email blast allows you to do exactly what it sounds like, blast an email message to any and all of your prospects. These emails are usually not pre-written drip campaign-style messages, but rather emails written, or reused, at a specific time for a specific purpose.
Holiday deals, new promotions, discounts, and more are excellent topics for email blasts. They are an easy way to communicate with cold and warm leads and nudge them to respond for a consultation or consider a new treatment.
For example, if you are offering $1,000 off LASIK for 60 days, you can email all of your LASIK leads letting them know about the offer. Focus on lifestyle changes, pricing deals and models, and convenience in these emails and you should be able to convert cold leads into new patients and advocates for your practice.
Refractive Coordinators and Call Centers – Who is Talking to Your Leads?
Do you have a dedicated Refractive Coordinator? Does your front desk handle calls and web forms? Or, do you utilize a call center?
It's important to know who is responsible for converting leads in your practice.
An in-house refractive coordinator or a third-party service provider like OptiCall can make a world of difference in your conversion rates. The sole focus of these professionals is to schedule more consultations and surgeries for your practice. They provide the personal and professional touch many prospects need in order to become patients.
Also, practices that are committed to a 15 minute or less call back are the most effective at converting their leads into patients. Only staff dedicated to converting prospects to patients can execute such rapid callbacks.
Referrals Are Your Most Powerful Marketing Tool
Word of mouth is still one of the top referral sources. That's why you should include your happy patients in your referral network.
Create a referral program so your patients can help you grow your practice. People who have good experiences with your practice and are grateful for the service and experience you provide can become your biggest advocates.
Make this easy for them, incentivize this word-of-mouth marketing with rewards like gift cards, and you won't have to work nearly as hard now to get leads. Plus, referral leads come at a lower cost than other marketing strategies.
People respect the opinions and recommendations of their peers, friends, and family. Let your patients spread the word about your practice for you.
Want to learn more about automating the lead conversion process? Contact Glacial Multimedia now and elevate how your practice converts leads!
---