Posted on January 13, 2021
Do's and Don'ts of Social Media in 2021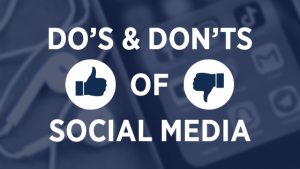 You may have a social media account, but do you know how you should actually be using it?
Not only is social media a tool that generates interest for your practice, but it's also the first impression that patients get online.
To get the most out of your social media, keep reading for a list of do's and don'ts to illustrate what the best practices do!
DO: Create Engaging Content
When creating any content for your practice, you'll want to make it engaging.
This means it's content people feel compelled to interact with. Likes, shares, or comments are all forms of engagement that you want to see on your social posts.
The more engaged you can make your audience, the easier it is to grow your social. Growing your social networks allows you to use them as tools to get more patients in the door.
Engagement with social media is a key form of building trust with your patients online. Potential patients are more likely to trust your practice if it seems like your content gets a high rate of engagement.
DO: Establish a posting schedule, and STICK TO IT
Frequency is extremely important when it comes to posting on social. You'll want to create a posting schedule and stick to it as much as you can.
If you can get your practice to commit to 2 to 3 posts on social a week, it will become something where your followers will come to expect it. They'll start to grow into that routine with you.
They'll know when to expect content from you week in and week out.
Not only does it help your followers, but frequent posting helps your posts getting prioritized on feeds, no matter what platform you're on!
Active accounts are favored more by the algorithms across social media. If you're posting on a regular schedule, it helps increase your chances of having your content discovered by users.
This goes for each social media medium you're using. Whether it's Facebook, Instagram, or Twitter, this will work!
DO: Develop (reasonable) goals for your social
You've started making content people are interacting with, and now you've got your posting schedule down. Now, it's time to figure out what you want your social media to do for you.
Having tangible and reasonable goals for your social accounts helps to focus your content. A set of goals for a brand-new Instagram could look something like this:
Post three days a week for the entire year
300 followers by next year
Average 9 likes per post
None of those goals seems too lofty. Having goals like this will help focus on what your practice will be creating for content to achieve their goals.
DON'T: Sacrifice quality for quantity
This point goes hand in hand with the schedule you need to create. You want every post you put out to have substance.
Quality over quantity is key here. If you're just posting to make sure you're posting, your posts may not be as impactful as your well-thought-out content is.
Post within your means. For some, that may mean that your practice can only do two posts a week.
That is fine! Don't increase the frequency if you can't commit to making sure each piece of content that you produce is high-quality!
DON'T: Neglect the numbers
In the spirit of honesty, most people's least favorite part of managing their social media is the analytics.
It's easy to get bogged down in the slew of numbers that Facebook can provide you. Even if you don't like looking at them, you should still give some of these numbers the time of day.
You don't need to bury your head in your analytics and monitor each click. But you should decide on some meaningful numbers to monitor.
Analytics like engagement, post reach, and looking at the time most of your followers are active are valuable. These numbers can actually help you if you want to improve your content.
Social media can be a difficult space to navigate. Having guidelines for what you should and should not post will get you on the right track to social media success!
Does your practice need help when it comes to getting social media on the right track? Contact Glacial Multimedia today to learn more about how we can help and about our social media management services!
---