Posted on January 20, 2023
Top 10 Ophthalmology Website Design Tips
For an AAO symposium in New Orleans, I was asked to provide some medical website design tips for a user's group meeting. After completing the exercise, I realized that these tips were not obvious to people with limited ophthalmology website design experience.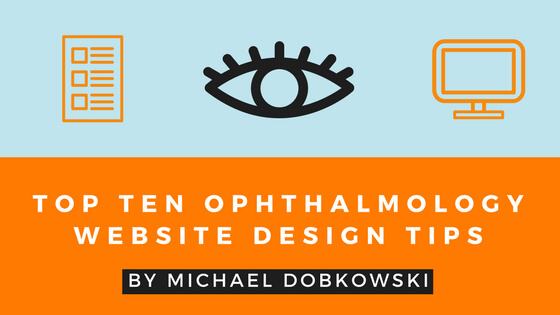 #1: All Modern Ophthalmology Websites Should Be Responsive.
Making your website responsive means designing and coding the website in a way that works on all devices such as desktop and mobile, regardless of the screen size. Responsive websites actually change and adapt to the resolution of the device it's being viewed on. In a world that is dominated by mobile usage1, you want to make sure your website is easily viewed and accessed on all devices, not just desktop. Plus, responsive sites are actually better for SEO as major search engines have adopted mobile based web crawlers as the default2. If you still have a fixed width website, it is time to upgrade to a new responsive website.
#2: Engagement Objects are Important and Should Be Clearly Visible.
If you are a web designer unfamiliar with ophthalmology, this tip might seem hard to understand. Having engagement objects on your websites (such as scheduling forms and self-tests) help patients move from interest to scheduling surgery by getting various questions answered. The practice gets the benefit of moving the patient into a system where engaging communication can happen. If you are not using self-tests and scheduling apps, you are missing out on thousands of potential patients.
#3: Secondary Pages Should Have Font Resizers for People with Cataracts and Aging Eyes.
Google analytics can clearly help you understand the ages of the traffic coming to your website. As you can imagine, there is a large number of people over the age of 40 coming to ophthalmology websites to find doctors and learn about things like cataract surgery and macular degeneration. Make sure your website is accessible and has features such as font resizers, proper text contrast, and is keyboard navigable.
#4: Make Sure Your Website has an SSL.
For any healthcare website, it is important to have a secure sockets layer (SSL) certificate installed. An SSL is an encryption certificate and keeps the website secure. There will come a time when Google will give warnings to websites that are not secure. This is a no-brainer and is very inexpensive. There is also some HIPPA value here, adding a layer of security and trust for your patient's information. Have you ever noticed the https:// in front of a website URL? That means the website has an SSL installed.
#5: Website Forms and Self-Tests Need to Be HIPAA Compliant.
Any form on your website that might handle or intake ePHI (electronic patient health information) needs to be secure and encrypted. You cannot intake date of birth or even address information on a form without this form being encrypted. Taking ePHI without encryption is a direct HIPAA violation, and can get you into trouble.
#6: Website Forms Cannot Go Directly into the Practice Email.
You need an interface system to meet HIPAA regulations. Any website forms sending ePHI cannot directly email the practice. Instead, the form must be read in a secure environment. This means the practice must log in to a secure place to read the message. They cannot receive this through regular email.
#7: Create a "Review Us Online" Page.
"Review Us Online" pages are always a great idea. These pages can assist in helping the practices get more reviews and house them in one place on their website. They can also be used to request reviews from patients, and showcase past patient experiences and testimonials. "Review Us Online" pages make it easy to direct patients to write reviews on the sites that you need help the most.
#8: Make the Design Minimal, Yet Modern and Impressive.
Having a minimal medical website design makes it easy for patients to find the information that they want. Making things overly busy is only going to detract from the user experience. There is a lot of compelling evidence that busy sites cause "cognitive overload" (too much information at once), reducing the time spent on your website and severely affecting your conversion rates. Your website design is a direct digital representation of your practice.
#9: Have Pillar Pages for Services and Supporting Secondary Pages for Additional Information.
Creating thorough secondary pages is necessary for becoming an authority on the subject matter that you are discussing. Make sure to use text, pictures, videos, and quotes where applicable to vary the engagement. Too many large blocks of text will simply go unread. The pages should be robust and thorough and not just a few basic paragraphs. Use things like FAQ sections, doctor recommendations, calls to action and symptom simulators to create an informative and engaging page design.
#10: Use a Good CMS.
Content management systems (CMS) can be very useful and save the practice tons of money. They should be used for simple text updates, like updating physician bios, hours of operation and new technology. However, you must be careful to not destroy the design of the website and muck up the secondary pages. Let the professional designers handle the hard stuff. It is not worth deconstructing your website. It will only lead to broken designs and the need for a redesign faster.
BONUS TIP #11: Commit to Regular Content and Blog Updates.
One more, because this is important too! Updating your website on a regular basis is essential. Do not launch the site and let it die on the vine. Use your blog as your publishing platform and distribute this content to social media, newsletters, email blasts and press releases. A strong flow of well-written, helpful content is the backbone of your SEO, content marketing, and social media strategies.
Building a new site is not easy, but that's what we're here for. Glacial Multimedia has long been at the forefront of web design and digital marketing for ophthalmologists. Give us a call if you're ready to pack in your old website and join us in the current year! We look forward to helping you achieve your ophthalmology web design goals.
---