Posted on April 11, 2013
Glacial Multimedia attending ASCRS ophthalmology symposium in San Francisco starting April 19th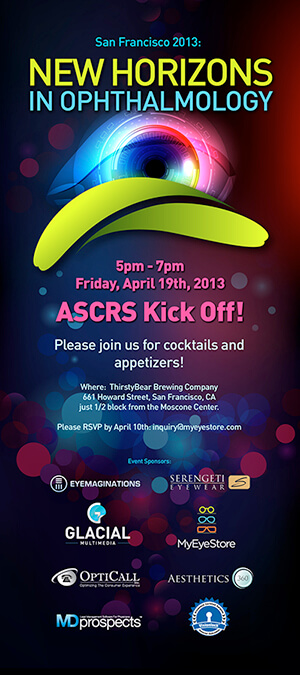 For the 12th consecutive year, Glacial Multimedia Inc. will be exhibiting at the ASCRS (American Society of Cataract and Refractive Surgery). If you are going to ASCRS, please make plans to stop by the Glacial Multimedia booth #2641.
Related events for this symposium include AMO University event on Friday, April 19th that Glacial Multimedia Inc. will be attending. Last year's event was exceptional and included lots of great commentary on the future of social media in ophthalmology. After AMO University's event on April 19th, Glacial Multimedia is hosting a cocktail event with several technology companies from Ophthalmology including: OptiCall, EyeMaginations, Serengeti EyeWear, MyEyeStore, VisionLock & Aesthetics 360. The event is at the Thirsty Bear Brewing Company, one block from the Mascone Center at 661 Howard Street, San Francisco, CA. On Monday, April 22nd, Michael Dobkowski of Glacial Multimedia Inc. will be discussing "The New Rules of SEO" and how this impacts ophthalmology practices. He will be joining Paul Stubenbordt's ASOA course lecture at 2:00 P.M. in ASOA courses area. On Tuesday, April 23rd, Karen Rogers of Glacial Multimedia Inc. will be speaking at the ASOA at 10:00 A.M. on the topic of creating your website marketing plan.
As usual we are excited for this event. If you would like to arrange for a meeting with us while at ASCRS, please feel free to call us anytime prior to the events and we can arrange a time to meet. The members of Glacial Multimedia Inc. team attending this conference are: Michael Dobkowski, Onur Birsen, Maxim Havlicek, Karen Rogers, Katherine Gifford and MDProspect's product manager, Michelle Pelletier.
---