Posted on December 14, 2017
Here's Why Marketing to Cataract Patients Is Worth It [Infographic]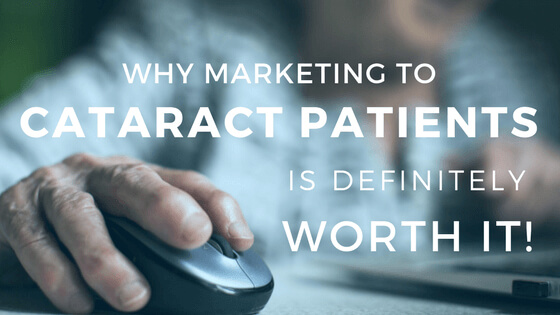 Ever wonder how you can get more cataract patients through your door? People often write off the cataract demographic as being hard to reach digitally because they are not as technologically savvy as other demographics. But that is not necessarily true! Targeting the cataract demographic is easier than you think – and we have the proof to back it up.
WHY CATARACT MARKETING CAN BE TRICKY
Your cataract marketing worries are not totally unfounded. Crafting the digital marketing cocktail that makes your cataract marketing campaign successful can be tough. If you want to increase your cataract lead generation, you'll have to be strategic. Years ago, before the advent of highly-targeted ad campaigns, reaching your target audience was hard and expensive.
Luckily, modern digital marketing allows you to target specific demographics down to the nitty-gritty details. Using these functionalities, we are able to reach cataract patients based on age, interest, and platform. Instead of casting a wide net and hoping for a few catches, you're casting a small net in a highly concentrated area. This means that your marketing dollar stretches farther online. But even so, you have to be smart about it if you want to see an ROI.
WHY IT'S WORTH IT – IF YOU DO IT RIGHT
If done right, cataract marketing campaigns are extremely successful. The end result is that you book more surgeries and, hopefully, gain lifelong patients. To get there, you have to set up your campaigns in a way that will reach your target audience. That means understanding where they spend their time and what their interests are.
We worked closely with a renowned cataract surgeon and LENSAR on a campaign that proves that, with a little effort, you can book more cataract surgeries through digital marketing.
Without further ado, here is our proof that cataract patients can be reached online – and it can be very successful.
CATARACT MARKETING CASE STUDY (THE NUMBERS + INFOGRAPHIC)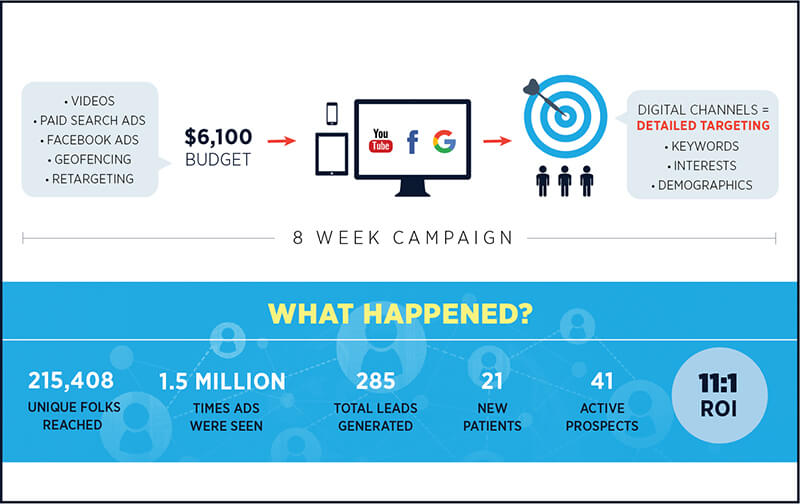 Interested in learning more about cataract digital marketing? Glacial Multimedia is on the forefront of medical digital marketing. If you'd like to talk about how you can get more cataract patients through your door, contact your Glacial internet marketing consultant, give us a call, or contact us online!
---