Posted on March 10, 2021
How New Local Google Ad Campaigns Can Impact Your Practice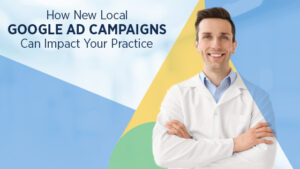 How New Local Google Ad Campaigns Can Impact Your Practice
Google knows that driving the most relevant results possible is the future of Search. It's no longer a static series of results based on how well a website is optimized for a specific search term.
Instead, Google tries to personalize results based on your intent, your past searches (for now), and most importantly, your location. Like many things in life, Google has developed different ways to specifically advertise for a relevant, local audience.
This method of using local ads can be especially confusing. Keep reading to learn how new local Google ad campaigns can impact your practice!
Local Search Ads
The first, Local Search Ads, are the oldest and are all around pretty great. How so?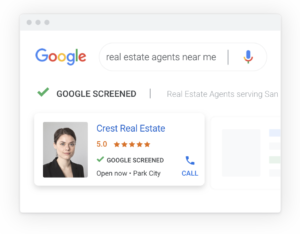 If your campaign is linked up to your GMB (Google My Business) profile, you have a chance, at no extra cost, to get a promoted listing in the Map Pack as well as the SERP (search engine result pages) map results. These can be a great asset for driving calls and relevant leads to the practice. Glacial sets these up by default because they are a great asset for practices.
Local Service Ads
Local Services Ads are a little newer. There's a chance you've seen one of these if you've looked for a plumber or electrician recently.
These are essentially beefed-up Ads for local services that feature reviews and a "Google Guarantee". There are quite a few steps that you need to take to ensure high quality for these ads.
Unfortunately, they are not available in Healthcare. Google will likely avoid the Healthcare field for the foreseeable future.
Local Campaigns
The newest format is Local Campaigns. Like with Local Search Ads, these work by tying your Ad account directly into your Google My Business profile.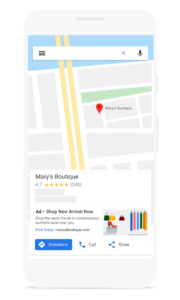 Unlike Local Search Ads, these are totally separate and dedicated campaigns in Google Ads. The idea behind Local Campaigns is to provide potential local customers the information they need to visit your location.
In theory, that means influencing someone as they walk around town looking for a local attraction (food, shopping, etc).
What do these Google ad campaigns mean for eye care?
For eye care, it may not be immediately clear how these Google ad campaigns are affecting practicing. After all, it's likely that many surgical practices don't accept a lot of walk-in visitors.
We also know that many people don't decide to have LASIK or cataract surgery as a spur-of-the-moment thing. But that didn't stop us from testing it out to see its potential as a lead driver or a branding tool.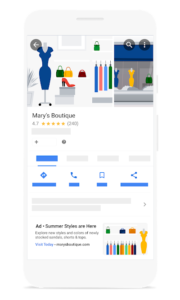 These campaigns are harder to control
It's a bit of a mixed bag. One giant caveat is that, beyond the creative itself, the campaign is completely automated and AI-driven.
That means that we have no control over when/what/where/why, or how it shows up to the end-user. That means we're completely at the mercy of Google when it comes to performance.
Case One
In case one, the campaign got an astounding 8,098 clicks and over 1.5 million impressions. The kicker is that it resulted in an abysmal 0.01% click-through rate and a 0% conversion rate.
Thankfully, the total cost was only $280, and ended with getting a million and a half local impressions!
Case Two
Case two showed more promise. This resulted in 6,300 clicks with 739,000 impressions and a slightly higher 0.03% CTR. It's still not great.
But this campaign drove 7 leads for just $154 total spend (a $21 cost per lead). In this instance, there appears to be both value in the brand (700k+ impression) and new business (7 leads).
The most frustrating aspect of Local Campaigns stems from the lack of control. There's no demographic targeting and no scheduling as well.
In both campaigns, for example, there was heavy traffic around midnight. This seems like it's very unlikely to translate into high-quality foot traffic. We also can't control or even see demographic information such as age.
The Verdict
Give it some time. As with many new features released by Google, a few kinks need to be worked out before they become useful to a broad audience.
Beyond that, we'll continue to test and experiment to see where the value lies. If you have a broader audience (OD terms, general eye care) this could very likely be a better fit. If you're a surgeon only, keep focusing on what we know works.
Looking to take your eye care practice's digital marketing to the next level? Glacial Multimedia can help! Contact us to find out how!
---