Posted on May 18, 2020
Improve the Patient Experience by Using MDidentity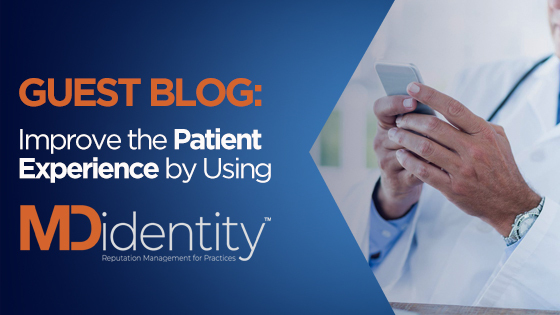 Right now, it's never been more important to make sure your patients have a good experience. But how can you make sure that they do?
There's no way to guarantee it, but if you want to own your online reputation, MDidentity is the answer you've been looking for. Keep reading to learn why!
Why do patient reviews matter?
To understand the importance of your practice's online reputation, you first must understand why patient reviews even matter. After all, it's just one person's opinion, how much influence could they really have?
The answer surprisingly is quite a lot. 72% of consumers trust online reviews as much as personal recommendations from real people.
That is why patient reviews matter. The reviews that potential patients read about your practice could be the first thing someone reads about you.
If that's their first impression of your practice, wouldn't you prefer they read something that's accurate and positive? It's much easier to show a potential patient why they should choose your practice when you are the one that's in control of your online reputation. That's how you let your practice's reputation speak for itself.
MDidentity's key feature is review generation. By using custom emails sent by MDidentity, reviews can be driven to a specific location or even specific platforms, depending on what is most important to your practice.
MDidentity gives you the tools you need to succeed
At its core, MDidentity is just that: a tool. So what is MDidentity capable of? MDidentity allows you to respond, manage, and monitor reviews seamlessly. In a single dashboard, you can:
Receive new notifications and alerts when reviews come in from platforms like Google, Facebook, and more
Respond to reviews right from the dashboard, making it quick and simple to respond, no matter where you are
Manage reviews right from your desktop or from our mobile app if you're on the go
Reviews are going to come in, regardless of whether you're at your desk. Having a mobile app is one of the ways that MDidentity makes it easy to monitor your practice's online reputation from anywhere.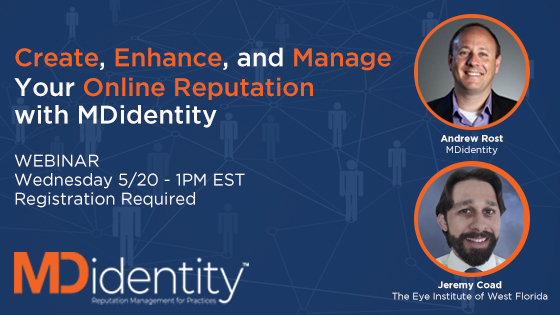 Want to see for yourself why MDidentity works so well? Check out: Create, Enhance, and Manage Your Online Reputation with MDidentity, a webinar featuring Jeremy Coad from The Eye Institute of West Florida and Andrew Rost from MDidentity to see why MDidentity has been such a success story for The Eye Institute of West Florida!
Register by clicking the link now, as space is limited: https://us02web.zoom.us/webinar/register/WN_sm7zp-9pTlG7SKMyFCv4oQ
Identify where your practice can improve
Part of the beauty of MDidentity is that it puts a great deal of information right at your fingertips. Thanks to the ability to customize the dashboard, users can identify pain points, like specific locations, platforms, a doctor who isn't receiving enough reviews, and make adjustments accordingly.
MDidentity even provides HIPAA compliant responses in the dashboard for responding to reviews. This ensures that when you send responses to reviews, they are always HIPAA compliant.
If you want to dive deep, MDidentity features an incredibly robust reporting system. This allows users to see insightful data, along with top-line account KPIs such as reviews to requests conversion.
When you can see how doctors, locations, and campaigns perform, you have measurable key performance indicators. This is the information that proves that MDidentity works, and in fact, why it works as well as it does.
MDidentity can even connect to patient information and data. This means you can set up drip campaigns after procedures. By sending these emails, you can capture a review (which may take 2 or 3 emails to convert).
MDidentity is always adding something new as well. They release new updates once a week, meaning this is a tool that will never get stale! Word on the street is that they are venturing into NPS scores in the next month, which is a Customer Experience Solution.
Ready to finally take control of your online reputation and improve the patient experience? Book a demo with MDidentity today!
---