Posted on June 1, 2020
Do's and Don'ts of Marketing Post COVID-19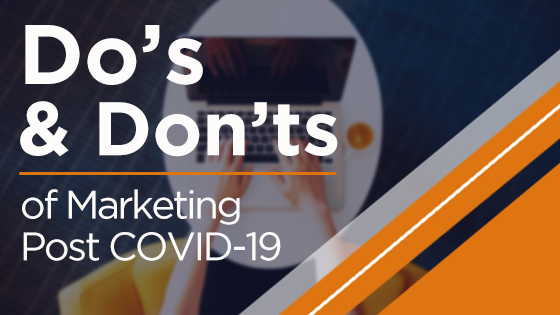 As more and more states begin to slowly open up, your practice may be wondering how to tackle marketing post-COVID. After all, there's not a one size fits all guide for how to make your patients feel reassured and ready to come back to your practice.
But if you're looking for some ideas, keep reading for some do's and don'ts of marketing post-COVID-19!
Do's
Social Media:
Make safety videos on how you're following guidelines
These videos can be fun and lighthearted, but remember that the goal is to be informative. Because so many people are working from home right now, more of your target audience is likely to see these, so make sure they fit your brand and voice of your practice.
Keep social media posting consistent
Consistency can be about posting the same amount of days per week but it's also about the tone of what you're posting. You don't want to sound like a COVID-19 expert because you're not one. Instead, be educational and informative.
Post positive reviews on social media
A little positive reinforcement never hurts, especially during a pandemic. This is a great time to highlight any positive patient reviews you've received in the past.
Make sure these aren't the only thing you're posting so that you have a good mix of social content on your platforms.
Post practice updates and how you're handling reopening on social media
Are you implementing new safety and sanitizing measures that will take effect when you reopen? This is a great example of something that you can post about on social media.
If you're going to have a smaller capacity, different waiting room protocols, or changing your check-in strategy for patients, let them know about this on social media as well. This gives them time to plan before they come in for appointments.
At the practice:
Convert paper forms to paperless when possible, making sure they are HIPAA compliant
If you can, convert all forms over to a paperless format. Filling out forms, touching a clipboard, or using communal pens is one thing that patients are going to be nervous about when your practice re-opens.
Switching over to paperless forms puts their minds at ease and reduces the amount of contact between patients. Glacial offers HIPAA compliant online forms, so make sure to ask your client manager about these if you want more information!
Don't forget about your previous leads and have a follow-up plan with them
As you plan to reopen, don't forget about your previous leads! Make sure to create a follow-up plan with them. This may mean scheduling them to come in for an appointment or putting them on a drip campaign.
Local SEO:
Don't forget to update your Google My Business listings before reopening
In the middle of reopening, it's easy to let things that seem smaller slip by. But don't let updating your Google My Business listings be one of them!
This is one of the key ways that your patients may be keeping up to date with your practice. This should include removing any notices about being temporarily closed as well.
Paid Search:
Keep things brand-centric on Google display
Right now, use Google display to back up any branding ads you may already be running. It should go without saying, but your branding should always be consistent, no matter what kind of marketing you're running.
Stick with branding and stay away from anything that feels too sales heavy right now
Leads and patients don't want to be sold to heavily right now, so don't push any limited time offers on your paid search ads. It's a delicate time for a lot of people, especially financially.
They may want to consider a procedure but the timing isn't quite right for many.
Don'ts
Social Media:
Don't pretend you're a COVID-19 expert. Keep it simple. Just tell patients how you're working your hardest to keep them safe.
Trying to seem like an expert right now is the opposite of what your patients want. If you want to make your patients feel safe at your practice, show them what you're doing and what you will continue to do to put their safety first.
SEO:
Don't change your SEO strategy right now
The last thing you want to do right now is to change your SEO strategy. By ranking for important keywords, this is another crucial way that your patients and potential patients find you.
Don't mess with your strategy if it's already working!
Paid Search:
Don't have a flash sale or an aggressive limited time offer on paid search right now.
A limited time offer could come off as being callous, cheap, or even taking advantage of the situation right now. If you're going to have an offer, make it something that people can redeem several months down the road when they are ready, instead of needing the urgency behind it.
Have more questions about how to approach your digital marketing once your practice reopens? Glacial Multimedia is always here to help! Contact us today to discuss how to elevate your digital marketing post-COVID!
---