Posted on November 1, 2016
Online Scheduler vs. Request An Appointment Form: Which One Works Best?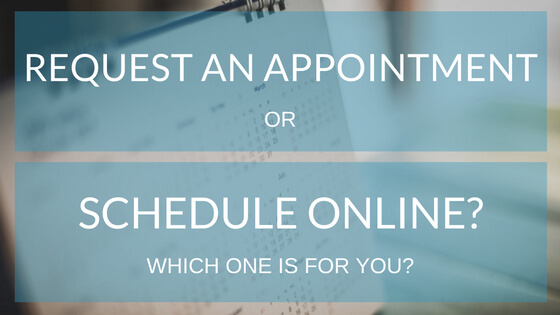 There have been tons of questions regarding online appointment scheduling for medical practices. It's going to be more time consuming for staff, right? Will no-shows increase? Will anyone use it?
Here's the thing: online scheduling will save the practice money and increase booked appointments. Isn't that what everyone wants?
Request an Appointment VS. Online Scheduler
Imagine your average Monday morning right now. You spend hours listening to voicemails and checking forms received over the weekend. After that, you spend more time following up by phone and email, attempting to book these leads. But wait! All those people are at work. You're forwarded to their voice mail. It could be days, weeks or even months before that lead checks their voicemail and returns your call.
Now, imagine your Monday morning with the online scheduling option on your site. You walk in the office to find leads have already booked their appointments. No call back necessary. You, your front desk staff, and your refractive coordinators just regained hours of lost time. Trust me, there are other things they could be doing (like managing your social media!) But that's a topic for a different day.
In a 2015 study on 13,000 appointment requests from 182 medical websites, researchers found that 34% of the appointments booked online where scheduled while the office was closed. That's a third of your total appointments from the web!
What About No-Shows?
So now, I'm sure you're thinking about the amount of no shows. They book online and never talk to a person, so what are the chances they will remember and show up?
Well, it's simple. We utilize automated appointment reminders which send emails or SMS messages to your patient. It's easy and completely hands off for your practice. In addition, another study has shown that these appointment reminders reduce the number of no shows by 50%. The average percentage of no-shows is 14% with phone calls.
So do the smart thing and book your consultation online with us to talk about online scheduling options!

Online Scheduling Demographics
It's fairly obvious that the millennial generation is more inclined to use an online appointment scheduler. Millennials are (fairly accurately) stereotyped for being tech-savvy with a low attention span, and prefer less human contact. The millennial generation is made up of 19-34 year olds… wait, isn't that your LASIK demographic?
As a millennial myself, I can say that I prefer to schedule online due to ease of use. For example, my hair stylist doesn't offer online scheduling. I've been thinking about making an appointment for about a month now, but I haven't because every time I think of it I'm driving, or at work or somewhere else where calling seems like a bad idea. Plus, I know the salon is always crazy busy, so I'm usually on hold for a while which I also don't want.
In another situation, I needed to make an appointment to see a dentist. I filled out their generic "Request an Appointment" form. In the open comments, I said I prefer to be contacted by email. I then received an email stating they cannot communicate via email, and their scheduler would be in contact with me by phone. It's been over a week and I still haven't heard anything.
Yes, a simple phone call to schedule myself would be easy. However, if they had online scheduling, I could have had my teeth cleaned by now.
The demand for online scheduling is increasing and won't slow down anytime soon. Research shows that 17% of patients surveyed had scheduled a doctor's appointment through a website or smartphone app in that past year. An additional 42% said they would if the option was there.
So what about Glacial – Can we help with finding the right scheduling software?
Well, yes. We partner with MDprospects, a cloud-based medical CRM, which among its many features, includes an online scheduler. There are certain things to look for when you are considering a scheduling software: HIPAA compliancy, functionality, useful features, and professional services.
MDprospects is fully HIPAA compliant so they can take the worry out of the security aspects of clients submitting information directly through your site. They are also primarily medical focused which gives them the upper hand on the industry standard. This software allows you to make the schedule by service, provider, location, or all of those combined!
What are you waiting for? Walk into your office to see booked appointments, reduce the time staff spends on the phone scheduling appointments, provide the 24/7 access that your patients and leads are looking for and do it all without fear of non-compliancy.
---